ROTAX MAX Euro Challenge at Salbris: Burning Tarmac in the Qualifying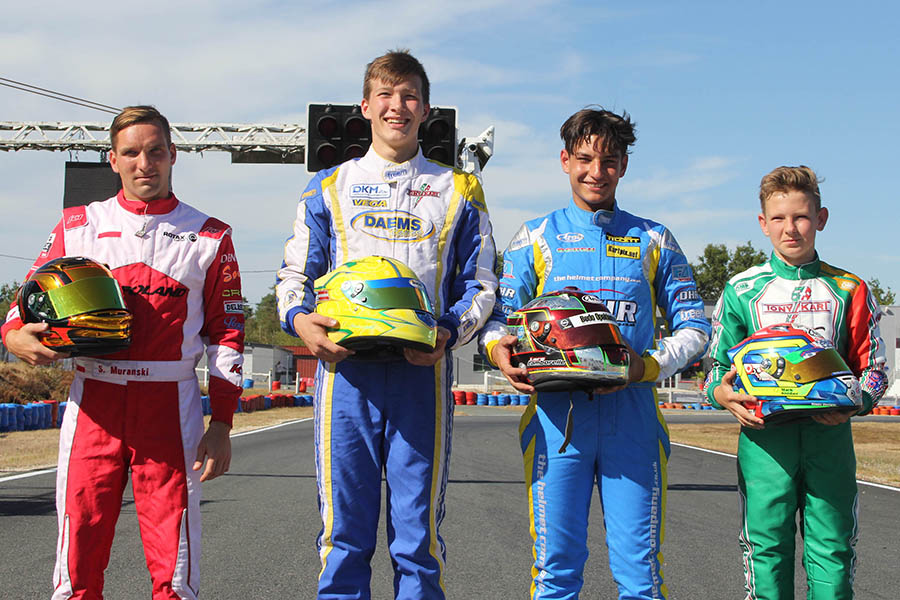 Under the blistering sun of France the ROTAX MAX Euro Challenge started into the final round of this year's championship today. Temperatures of more than 35°C put everyone to the test on and aside the 1.495 metres long track of Salbris, which ultimately was venue of some close qualifying sessions in the categories of juniors, seniors and DD2.
While the designated junior champion Axel Charpentier (Strawberry Racing) did not start for the final round, his teammate Mark Kimber (Strawberry Racing) stepped into the breach for him. By a time of 1:02.470 minutes the vice championship aspirant was more than two tenth of a second faster than Dutchman Dylan Buys (JJ Racing) in second spot. Local hero Enzo Valente (Pascal Valente) seized his home advantage and boosted himself in third place. Lucas Dunner (JJ Racing) from Austria and Jean Nomblot (Nomblot) from France completed the top five positions after the qualifying, which timed 22 drivers within one and the same second. For Olli Caldwell (KR Sport), who still had good chance for the runner-up position in the championship, the qualifying did not go according to plan. He ended up on 17th place only.
In the senior category, Nicolas Schoell (Strawberry Racing) already conquered the champion's crown at Zuera and only a potential exclusion in Salbris could have endangered his overall win, which is why he skipped the last round, leaving the way to his opponents: The first benchmark was set by Lars Lamborelle (Dan Holland Racing). The Dutchman drove a time of 1.01.293 and was only 0.066 seconds quicker than Gary Donnelly (Strawberry Racing) who underlined his ambitions for the vice championship. Turkey's Berkay Besler (Bouvin Power) followed in third place ahead of Frenchman Adrien Renaudin (Patrice Renaudin). Belgium's Glenn van Parijs (Bouvin Power) – another candidate for the vice title – complemented the top five positions, while the reigning vice champion Rinus van Kalmthout (RR Racing) had to be satisfied with seventh place behind Jordan Brown-Nutley (Dan Holland Racing).
Constantin Schoell (Daems Racing) was the driving force in the DD2 qualifying. The man from Austria set the best time of the day by 59.844 seconds. Over a tenth of a second behind followed Frenchman Alexis Coursault (Coursault) who established in a promising second place on home soil. Abdullah Al Rawahi (Birelart Middle East) from Oman impressed by a strong third place being even quicker than both championship rivals: The title candidates Ferenc Kancsar (VPDR) from Hungary and Kevin Ludi (Spirit Racing) from Switzerland completed the ranking in fourth and fifth spot, an exciting clash for the upcoming heats on Saturday.
On Saturday nine qualifying heats, which kick-off by 10:20 a.m. will set the final grids for the final races on Sunday. More information regarding reports, photos, results and live TV stream are available on the official websites www.rotaxmaxeurochallenge.com or www.telemundi.com.