MAXSpeed Entertainment Publishes Entire 2017 Event Schedule
Florida Winter Tour, US Open and US Rotax MAX Challenge Grand Nationals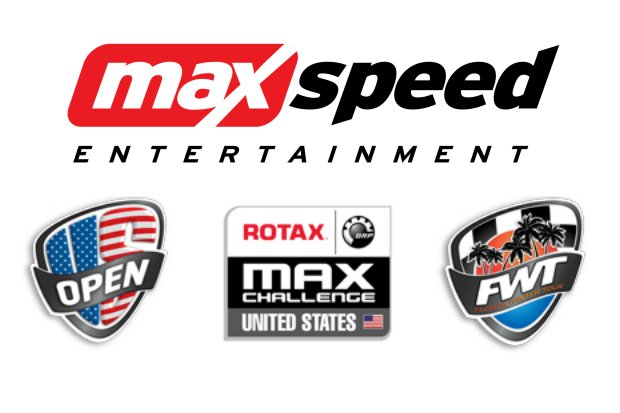 After announcing the 2017 Florida Winter Tour schedule two weeks ago, MAXSpeed Entertainment is pleased to announce today the remaining dates for the US Open series and the United States Rotax MAX Challenge Grand Nationals.
"We prefer to publish our schedule early enough to allow our teams and drivers to plan for the following year," explains MAXSpeed Entertainment's Race Promotion Director Garett Potter. "One date conflict we ran into was the first week of August, as this traditionally has been the Rotax US Grands Nationals date. Earlier this year, USPKS announced that round three of their championship would fall on this date in Pittsburg. I'm happy to say that we have retained this date for 2017. I want to thank Mark Coats and USPKS for working with us."
"The Florida Winter Tour kicks off our event season right away in January," continues Potter. "We recently announced the majority of the schedule, but we were still finalizing contracts with the second round host track. I am pleased to announce we will return to Palm Beach Karting in 2017, this time as the mid-point of the Florida Winter Tour schedule. I want to personally thank Mario Pazos, Rony Miron, Tony Schroder and Troy Mitchell. This reliable, hard working group of track owners always make for a successful FWT and we couldn't do it without you."
Following the Florida Winter Tour, the US Open series will be next for MAXSpeed Entertainment, as the series opener will head to New Jersey Motorsports Park (NJMP) in Millville, New Jersey. This premier facility features a long, flowing karting circuit that will challenge series drivers. Ideally located near Philadelphia and New York City, the US Open will commence the 2017 season June 22-25.
"We are excited to be heading to the Northeast, as this area is stacked with talent in both Rotax and shifter classes," explains Potter. "Brad Scott (COO of NJMP) and his team are looking forward to putting on another international karting event. As the former home of the United States WSK races, this track offers action packed racing."
The first week of August will mark the 18th annual United States Rotax MAX Challenge Grand Nationals at the technical and pristine Dallas Karting Complex (DKC) in Caddo Mills, Texas. Host of the inaugural US Open event in 2015, DKC will be the perfect facility to crown the 2017 US Rotax National Champions August 2-5.
"The MSE team is eager to get back to DKC," adds Potter. "If you're talking about the amazing track, or the more amazing personalities of the DKC crew, you want to come back for more."
Finally, the schedule will conclude in high style as the US Open finale is set for November 1-4, 2017 at the Rio All-Suite Hotel and Casino, located just off the famous Las Vegas Strip. For the third straight year, US Open champions will again be crowned in one of the most exciting locales in the world.
"We feel this schedule offers the best scenario for our partners, dealers, teams and drivers," adds MAXSpeed's Sales & Marketing Manager Andrew Campbell. "The Florida Winter Tour remains largely unchanged, offering everyone continuity for this popular and successful series. The remainder of our schedule will travel across the country, starting on the East Coast at NJMP, moving central to Dallas, and then concluding on the West Coast in Las Vegas. We have many technical and procedural changes in the works to better our MAXSpeed promoted events, and I am excited to see what 2017 will bring."
2017 MAXSpeed Entertainment Event Schedule
| | | | |
| --- | --- | --- | --- |
| Dates | Event | Track | Location |
| January 13-15 | FWT ROK #1 | Homestead Karting | Homestead, Florida |
| January 20-22 | FWT Rotax #1 | Homestead Karting | Homestead, Florida |
| February 10-12 | FWT ROK #2 | Palm Beach Karting | Jupiter, Florida |
| February 17-19 | FWT Rotax #2 | Palm Beach Karting | Jupiter, Florida |
| March 10-12 | FWT ROK #3 | Ocala Gran Prix | Ocala, Florida |
| March 17-19 | FWT Rotax #3 | Ocala Gran Prix | Ocala, Florida |
| June 22-25 | US Open New Jersey | New Jersey Motorsports Park | Millville, New Jersey |
| August 2-5 | US Rotax Grand Nationals | Dallas Karting Complex | Caddo Mills, Texas |
| November 1-4 | US Open Las Vegas | Rio All-Suites Hotel & Casino | Las Vegas, Nevada |
Series information, rules, registration, travel and more will be available on www.MAXSpeedEntertainment.com