Banker Bags 4 VDKA Wins at Capitol City Speedway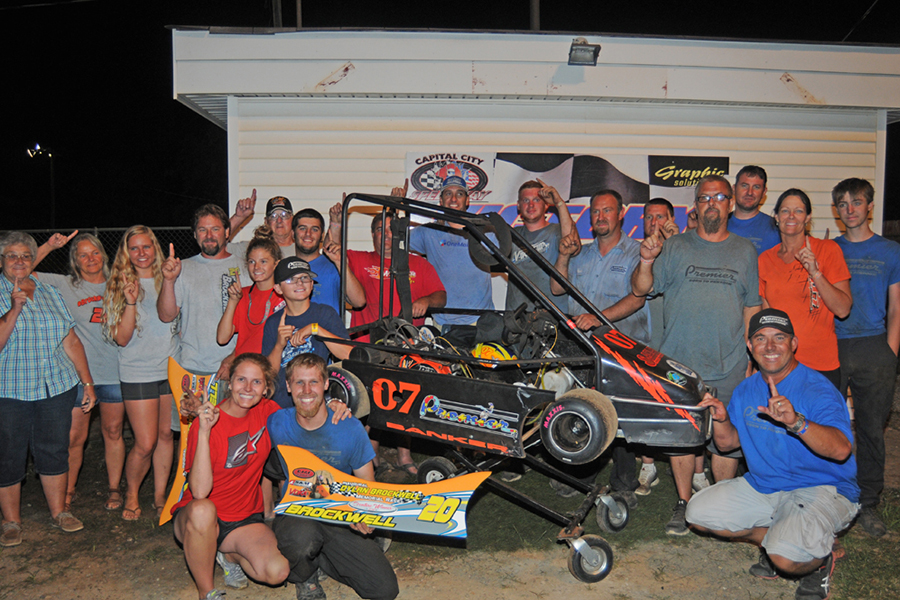 Team Austin Banker surrounded by crew, family and friends, after his fourth win
Three hundred and two kart racers packed Capitol City Speedway Saturday July 16th for a rain makeup Virginia Dirt Racing Association event.  Emporia, VA based P&P Speed Shop powered Premier kart pilot Austin Banker stood atop the podium four times that night.  Not only was he the night's standout winner, but he won both of the large purses offered that night, the Dylan Brockwell Pro Senior Champ race with it's $500.00 purse and the evening's finale PRO Clone Heavy HT 3.  Twenty-eight classes competed that Saturday.
Banker began his hat trick with a win in the 12th class raced Competition Karting Senior Champ425 lbs.  Banker was the fastest qualifier of 31 entries turning a 12.732 seconds lap reaching speeds in excess of 70 mph on the 0.250-mile banked oval.  JD Eversole, a double winner that day, earned the outside pole with a 12.763 seconds lap that was 0.033 slower than Banker. Banker led the way from start to finish.
"I was fortunate enough to start on the pole in the Senior Champ Animal points race and lead flag-to-flag. The Premier kart was really good all day and we got lucky being on the pole. We had a great day overall, that race was really good for us.  We got out there and then had a caution at the end, but luckily we were able to pull it off."
While Banker was leading the way Cory Roberts battled his way from ninth to claim second trailing Banker by just 0.142 seconds.  Roberts recorded the race's fastest lap time of 12.633 seconds reaching a top speed of 56.944 mph. Kyle Myer was third across the stripe trailed in the top five by Monk Newsome and DJ Stearly.
Roberts ruled qualifying for the Nolte Machine and Welding Dylan Brockwell Memorial PRO Senior Champ 425 race with a 12.702 seconds lap that was just 0.009 seconds faster then Banker.  The 31-racer field struggled to get a good start.  Racers began to worry about fuel before it was over.
"The Dylan Brockwell race was definitely tough.  Cory (Roberts) started on the pole. He was really good.  I had a guy pushing me from behind so I had to go and he (Roberts) got tangled up.  I hate that for him.  We were fortunate to hold the lead to the end.  I didn't have but a drop of gas left in my tank at the end. We got lucky we didn't run out of gas.  We're just fortunate that the Brockwell family is here tonight.  This is for them and what they're doing.  I just want to dedicate this win to Dylan and his family.  I want to thank my Lord and Savior Jesus Christ. Hermie Saddler for giving me this opportunity, my buddy Wormy who works his tail off working for me.  Everybody on the team works hard and I want to thank all of our customers because they make it possible for me. Without them I wouldn't be able to do this deal right here, I'm just really thankful for them and what they do."
Earlier that evening Banker earned win in Carter Surgical, LLC.  Clone Heavy HT3-375 and later that night he ended his day with the E-Z Speed Shop Clone Heavy HT3 PRO money race win both from their poles finishing each with Dagan Bowdoin and Roberts chasing him across the stripe. Banker's victory margin in Clone Heavy was 0.141 seconds and in the non-PRO class he was comfortably 1.618 seconds ahead of Roberts at the end.  Matthew Robinson was fourth in Clone Heavy and fifth in PRO.  JP Gates was fourth in PRO.
Four competitors were double winners.  Norfolk, VA racer Ryley Music notched a pair of wins.  The eight-year-old Richard Noblitt Racing
Engines powered Ultramax Racing Chassis pilot won Bavaro Motorsports Junior Star Clone Champ and B&E Small Engine Repair Junior Star Sprint 245 lbs.  Each time Georgetown, DE driver Racyn Hayes chased him across the stripe with victory margins of 2.699 and 0.482 seconds.
Music made Junior Star Clone Champ look easy.  He clocked the pole time in 15.368 seconds reaching 58.563 mph.  From there he broke into an early lead while Hayes and Chase Johnson scrapped over second.
Junior Star Sprint was a little tougher as Hayes hung with him down to the narrow finish.  Brody Bajer and Patrick Wells, Jr. followed in third and fourth.
"I wanted to win the Eagle (trophy) to take to my dad in California tomorrow.  It's my first Eagle," Music said.  "That kid (Hayes) used to be a tenth faster, now I'm a tenth faster.  We got tis Ultramax chassis when I first started racing.  We changed the fingers a lot cause some broke, but we came with this and won."
Sam Church captured the Clone Heavy offerings starting with R.J. Roberts Painting Clone Heavy EL 375 where his Matt Chaves Racing Engines powered Phantom Racing Chassis was just 0.537 seconds ahead of Robert Owens.  Seconds behind Owens in the top five of 16 were Matthew Robinson, Justin Jones and Michael Jones.
"It was no cake walk," Church, of Keysville, VA admitted about his first win.  "It was the help of my crew chief mainly. I want to thank my dad and everybody that helps me with my racing, my mother and Tony Gaylord for the good Platinum    chassis."
BDL Motorsports Clone EL Heavy PRO was another tough win for Church. Flagg was fastest qualifier at 13.451 seconds Church clocked the outside pole time 0.010 seconds slower.  Church grabbed the early going and held off Flagg's challenges down to the finish. Owens was third across the stripe followed in the top five by Cody Carlton and Connor Ezzell.
Richmond, VA racer JD Eversole showed the way in both Flathead offerings. Piloting a Higgy's House of Power powered Chaos Chassis Eversole beat Matthew Knighton to Millenium Racing Chassis Flathead Heavy 375's checkered flag by 1.165 seconds and Danny Drake to Flathead PRO's stripe by1.107 seconds.
Eversole spun Flathead Heavy's pole lap in 12.823 seconds.  Knighton was 0.063 slower at 12.886 seconds.  When the initial green flag waved the pole sitters broke away from the field for an exciting battle. But in the final laps Eversole escaped Knighton's last challenges.
Danny Drake was third, Jared Maske followed in fourth and Matthew Dail rounded out the top five of 12 entrees.
"I don't know if it helped having him pushing me from behind," Eversole described.   "When we took off the track was kind of greasy.  The kart got better as we went along.  The fastest lap was our last lap.  It came to us and we learned a lot for the next race and hopefully we'll win that one too."  Which he did.
Drake was the E-Z Tire Solutions Flathead PRO pole winner posting a 12.754 seconds lap that was 0.048 seconds faster than then Eversole's 12.802 seconds top qualifying lap.  Eversole got the jump on Drake at the start and never looked back. Behind Drake in  the top five of 11 were Dail, Blake Washburn and Dominque Guarry.
Thomas 'Matt' Crooper tamed  the Animal Heavy Classes starting with PERF Dirt Racing Engines Animal Heavy HT3 375.  Troy Rosenberger ruled qualifying with a 12.355 seconds effort.  Crooper was second fastest qualifier turning a fast time lap of 12.429 seconds, which was all he needed.  When the green flag flew so did Crooper. With Rosenberger glued  to his back bumper Crooper led  from start to finish where his James Kirby Racing Engines powered Slack Expect Chassis was 0.327 seconds ahead.  Jack Bailey, Millsboro, DE based Zach Bullis and Max Motley rounded out the top five.
"The kart handled perfect, it rotated in real well," Crooper, of Bunker Hill, VA credited.  " At first it was a little skatey, but then the tires started coming in and it just took off. It was a good ride.  James Kirby gives me good stuff."
Crooper topped Moon Ya Racing Animal Heavy PRO 375's qualifying with a 12.285 seconds run. Crooper's machine again ruled the race this time beating Dover, DE based Dustin Pleasanton with a 0.712 seconds victory margin.  Max Motley was third across the stripe followed in the top five by Bullis and Robbie Robinette filling the remaining top five positions.
Washburn, of Lawrenceville, VA was the evening's first pole and feature winner.  Piloting a P&P Speed Shop powered Primer Racing Chassis the 16-year-old Washburn posted a 13.501 second lap for BDL Motorsports Clone EL Medium 350's pole.  Cody Carlton dialed in a 13.687 seconds trip for the outside pole.
It took two tries to get the race going.  Once they did Washburn blasted into the early lead with Flagg and Justin Jones battling for second behind him.  In the final laps Flagg got a firm grip on second and tried to catch Washburn who was  0.976 seconds ahead of Flagg at the finish line.  Jones was third across the  stripe followed in  the top five by Lou Goebel and Owen.
"I had great spotting from Wormy today so I knew what was going on behind me," Wright credited.  "I just want to  thank Primer Karts, Hermie Saddler for giving me a chance to race for Hermie Saddler Kart Racing and Primer Karts. I also want to thank Jonathan Cash and everybody at P&P Speed Shop for the awesome engine.  I'd like to thank me dad most importantly cause none of this would be possible without him and I want to thank my Lord and Savior Jesus Christ."
Midlothian, VA based Ryan St. Clair captured Rage Karts Senior Champ Clone EL with a last minute burst for the front.  "It was a heck of a race right there.  We were all really bad on hard there. I was just hoping I would be able to hold them off at the end once I got out front," St. Clair described. I just want to thank everybody who helps me.  It's been a long day and a hard fought day.   The kart handled awesome.  It seemed like towards the end of the race it really came on strong right there so I could keep with them at the and make my move," added the 25-year-old Higgy's House of Power powered Titan Kart pilot.
Holts Racing Sportsman Champ 1 300lbs was captured by Chester, VA based Kendell Catlett.  Catlett and Charlie Beals broke away from the rest of the field.  While battling for the lead they opened a full straightaway lead.  Suddenly on lap 12 the race's only caution flag waved.  Catlett led the restart and held off Beals who had to defend second from Scooter Tippette.  Beals was just 0.268 seconds late and Tippette crossed 0.327 seconds later.  Carson German and Derrick McGrew were the rest of the top five.
"It was hard," 10-year-old Catlett said of the race. "The Trig kart handled really good and the P&P Speed Shop motor was fast.   "I want to thank Ken Hodges, my maw, maw and paw, paw, my dad, Kristy and Robbie, and Jonathan Cash and my mom."
Cole Neibert, of Greenwood, DE, notched a win in EZ Cuts Tire Solutions Junior Champ 360 from the pole he earned in 12.681 seconds.  Starting next to him was Austin Belski who's fastest qualifying lap was 12.843 seconds.  When the dust settled Virginian Victoria Ezell who started fourth, was just 0.569 seconds behind Neibert.  Belski lost a position finishing third. Jacob Harberts and Taylor Johnson finished fourth and fifth.
"We started off pretty good.  The Charger Legacy kart was a little hard to drive. Shane, the guy with X-Factor Preps, who does my tires, said it would be my race if I could drive it," the 15-year-old Boom, Boom Powered winner said.  "I held on to it. It got close at the end but luckily I could hold them off.   I want to thank Shane and Rebecca from X-Factor Preps, Charger Racing Chassis, and Marty Mattocks with Boom Boom Power, my mom and dad, my grandfather, Jeremy and Ty Bass and Adam."
Jody Pierce produced Avis Electric Clone X-Heavy 425 Clone's fastest qualifying lap in 12.813 seconds. He out ran second fastest qualifier Mike Mahans, whose fastest qualifying lap was a 12.843 seconds trip, by 0.147 seconds.  Billy Tweeden was third across the stripe, Brett Savage was fourth and Harry Payne capped the top five.
Landon Penbelton, of Amelia, VA was M. Wilton Construction Junior Sportsman Champ 315's fourth fastest qualifier 0.099 seconds slower then pole winner Aiden Poole's time of 13.274 seconds.  Carter Langley capered the outside pole with a 13.367 seconds trip.
When the green flag flew Poole and Langley battled nose-to-tail during the early laps. Pembelton moved up to third, and then second and then he took the lead.  Poole and Langley hung close behind Pembelton until the end where they were 0.852 and 1.051 seconds behind Pembelton's Higgy's House of Power's powered Mach 1 kart at the finish line. JoMo Bates was fourth.
"We just had a good kart right there," said the 11-year-old winner. "I want to thank Higgy, Henry Murray and Andy Murray, Stanley Pope, my mom and dad and my sister for helping."
Zach Ventura led a 20-racer Sam Church Racing Restricted Junior Sprint 320lbs field across the finish line.  Behind Ventura in the top five were Denton, MD driver Trent Reed who, crossed 0.210 seconds later, Dalton Casto, Dylan Smith and Preston Curtis.
Landon Pleasanton posted Surles Enterprises Junior Heavy Sprint 265's win with Derrick McGrew chasing him across the stripe 0.116 seconds later.  Blake Wynn, Preston Lee and Kendahl Erb.
Bobby White won all Huckstep Construction Company UAS had to offer.  White was the pole winner blistering the track in 11.784 seconds.  From there he won the heat and feature races taking the final win with a 0.907 seconds advantage over Nick Cole.  Pete Decker was third, Cameron Wood was fourth and John Decker capped the top five.
Payton Abbott struggled in qualifying for Holts Racing Junior 2 Sprint. Abbott's qualifying run was 13.139 second forcing Abbott to start from 6th.  Abbott got a good start and threaded his way to the front in time to take it from pole winner Cody Wright.  Pembleton was third, Kyle Nester fourth and Colin James fifth out of 11.
One of the event's most exciting race, with the night's closest finish, was Avis Electric Junior Champ Heavy PRO where outside pole winner Victoria Ezell, of South Hill, VA, piloting a Tim Fisher Racing Engines powered Primer Racing Chassis, held off Jacob Harberts by just 0.016 seconds for the win.
"It feels great!" Ezell beamed after her win,  "I guess it was my tire man, Shane Bass, she credited. "He's awesome. He put the right tires on to get me to the front.  I want to thank God for keeping me safe, and looking after me.  I want to thank George Brown for all he does for me, my dad and mom, Tim Fisher, Primer Racing Chassis and everybody else that's helped me I couldn't have done it without them."
Pole winner Cole Neibert, 12.701seconds, finished fifth, Ryan Matthews was fourth and Preston Curtis was third across the stripe for the top five.
Josh Pierce produced CKE Boom Boom Power Clone X-Heavy PRO425's win from the pole, which he earned with a 12.788 seconds rounding.  Michael Mahanes and Brett Savage completed the top three.
Aiden Poole was the S&M Auto Repairs Junior Sportsman Champ 2 PRO winner beating Carter Langley to the stripe by 0.184 seconds.
Dalton Casto commanded S&M Racing Engines Restricted Junior Heavy feature from the pole he earned with a 12.596 lap.  Casto crossed the stripe with a comfortable 1.046 seconds edge over Ventura.  Neibert, Reed and Sean Bavaro rounded out the top five.
VDKA have one more race on their 2016 schedule September 17th at Brunswick Speedway.  For Capitol City Speedway racers they still have a lot of the 2016 season left. Points races are still scheduled for August 27, September 3rd and 10th. In October they have races on the 1st and 29th where day racing begins and gates open at 10 am with practice starting a noon. November 5th and 12th are the final points races and on the 19th they will hold their 9th Annual Turkey Trot.  Action Enterprises, Inc-Action Sports Photos will be at the Turkey Trot with same day photo sales.
For speedway information visit the Capitol City Speedway website at: www.capitolcityspeedway.com or call the speedway at: 804-499-0928
Please follow and like us: