EKN One-on-One: Roger Ruthhart – Rock Island Grand Prix
22nd annual event set for Labor Day weekend as race continues to evolve with the sport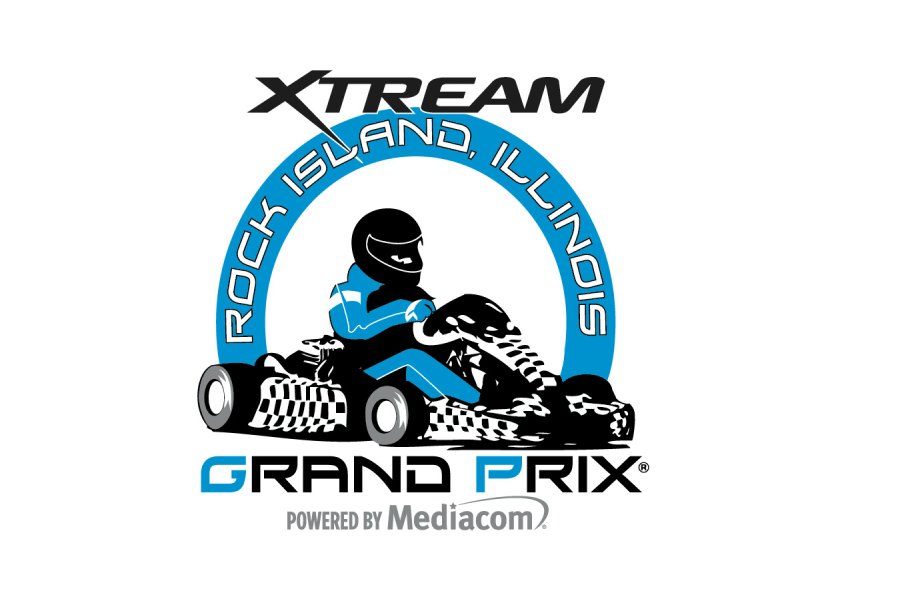 Each Labor Day weekend, the streets of Rock Island, Illinois are turned into a 6/10-mile race course attracting karters from coast-to-coast and select countries around the world to take part in what is currently the largest street race anywhere. The 22nd annual Rock Island Grand Prix is set for September 3-4 in the Quad Cities area of Illinois/Iowa as part of their Labor Day festival, providing a chance for karters to once again break the local speed limits in front of hundreds of spectators who will surround the course.
The event is like no other, with a melting pot of classes to combine for 15 race groups over two days of competition – including everything from the King of the Street shifterkarts to decades-old karts in the three different vintage categories. Drivers from as far west as Washington and California are expected to attend, with big names coming from Texas, returning champions in nearly every category, international drivers from Canada, Bermuda and other countries and, of course, the local Quad Cities heroes that the fans love to cheer on to the checkered flag. Racers still have a chance to enter to be part of this year's event by visiting rockislandgrandprix.com
Those unable to attend can listen in all weekend with Tim Koyen substituting for EKN's Rob Howden on the microphone duties for the EKN Trackside Live broadcast. Along with daily reports and social media updates throughout the weekend, race fans can listen in at www.ekartingnews.com/live all weekend.
During the last few days of preparation, we were able to track down RIGP leader Roger Ruthhart to discuss the current state and things to expect at this year's event.
eKartingNews.com: Before the SKUSA SuperNationals, before the Rotax Grand Nationals, before any other annual event that is currently held in the United States, the Rock Island Grand Prix began and continues to take place every Labor Day weekend as one of the longest running events in the country. What has helped to make the event reach its 22nd edition?
Roger Ruthhart: We appreciate and support all of the other events, series, and sanctioning bodies that are working to make our sport better for the competitors and raise its profile. We are happy to work with anyone who wants to work with us. But our event has thrived because it has an entirely different focus.
For us, the goal is to provide a great event for the racers and the community. There are few other events in karting where you can race in front of thousands of spectators who aren't family members, and the festival event weekend makes this a "can't miss" event for racers and race fans. When not racing, there is a casino, comedy clubs, a dinner theater, live music venues, retail shops, restaurants and nightly outdoor concerts — most within an easy walking distance — that make this an exciting holiday weekend for all.
For the racers specifically, this is the only place I know of where 4 cycles, 2 cycles, gearbox and vintage karts all race at the same venue. The event is really positioned as a one-off special event — whether for national racers who want the challenge of a major street race, or local racers who want one big, fun race weekend to look forward to beyond their local track racing each year. Because there is so much going on besides the racing, this is that one event that racers look forward to bringing their families, sponsors and friends to.
Over the years we have made a number of changes and adjustments as the sport itself has changed and evolved. But one thing that hasn't changed is the quality of the event, the officials we bring in to run it, and the philosophy of race organizers to balance a fair and competitive racing atmosphere with making sure we do all we can to make everyone who comes has a good time — even if they don't go home with a Rock.
It's challenging high-speed racing with lots of fun when the race day is over. Plus, it offers the unique challenges that only a street race can offer.
EKN: 2016 brings a new partnership with Mediacom Communications as the title sponsor. The Xtream Rock Island Grand Prix is a great way for the company to spread their brand awareness throughout the Quad Cities area and beyond, while the event itself is receiving some great promotional avenues with Mediacom. Spectators have been very loyal over the two decades, but this new partnership allows for a chance to introduce the event to a new generation of gearheads and racing fans.
RR: Absolutely. Mediacom was looking for a high-profile, speed-oriented event that they could use to promote their high speed service throughout the Midwest. We think it's a perfect partnership because the exposure they are providing as part of the partnership will not only allow us to expose more potential spectators to our event but the thousands of TV spots included each year will also expose many new people to kart racing. Hopefully that will mean more new faces at local tracks too.
This is also a multi-year agreement so there is great potential for us to see what works this year and improve things for the future. There are other opportunities out there that they are willing to talk about while at the same time they expect to continue to launch faster and faster levels of service.
EKN: The Rock Island Grand Prix is a melting pot of karting genres with 4-Cycle, 2-Cycle, shifterkarts, TaGs and vintage all racing at one event. What helps steer the classes chosen to take part at the Rock Island Grand Prix?
RR: Our goal has always been to offer something for everyone, but obviously with all the classes there are in karting we can't do that. So it's really a pretty simple formula … if racers support a class we will continue to offer it.
We've been around so long that we've seen all the transitions… Yamahas, Animals, US 820, then direct drive Yamaha and ICA, to ICC shifters to Honda shifters, to TAGs, then Rotax, etc., then Clones and now Briggs & Stratton LO 206 and Ignite are the dominant classes.
But we will continue to offer classes as long as racers support them and obviously with our purse structure, the more entries there are, the more we will pay out in prize money. Again, it's the racers who determine that by entering the classes.
Sometimes its difficult to make decisions on classes and rules in December that don't play out until September, but occasionally we have added classes along the way (like 80cc shifters this year), or dropped them due to lack of entries (like Clone Medium last year). Really, we are trying to accommodate what it is the racers want.
EKN: The event is one-of-a-kind where you race on the city streets, for an affordable entry cost, with prize money and one of the most prestigious trophies in the sport – the Rock – for all the race winners. Where did the Rock trophy come from, and express in your view, what it means for racers to win one?
RR: For many years our race has had the nickname of "The Rock." One year, many years ago, I was standing on a street corner with our former race director Tom Argy Jr. and explaining to him that when he returned the next year the city would have torn up the main start/finish straight and rebuilt it. He said, "You should keep pieces of the street and give them away as trophies." While we didn't go that far, that's how the idea of "The Rock" trophies was born.
As you have noted, it's one of the most coveted and prestigious awards in karting because it's not an easy one to win. If you look at our track, it doesn't seem very technical compared to purpose-built kart tracks, but it is extremely technical in its own ways and those are not always easy to comprehend — especially in your first visit. It's show up, practice and tweak your setup, put down some rubber, and race. It can be pretty intense.
… and then there are the barriers that we have trained to reach out and grab racers as they go by!
When newcomers ask me for advice, my response is always the same two things: 1) You can't win the race in the first corner, but you can lose it there; 2) You can't win if you don't finish.
Racers come here with different expectations. For many, it's the hope to win a Rock. But there are many others who want to finish in the Top-10 or just want to finish with faster lap times than they started with. And for some, it's just to say they saw 'The Travoltas' and made it home before sunrise! We're fine with any of the above.
EKN: There is no doubt street racing is among the most intense and exciting venues for karting. What the Rock Island Grand Prix brings is fun and excitement off the track. From the time racers arrive on Friday until Sunday evening, there is a lot to do in Rock Island and around the Quad Cities area. Each year, we are seeing new places to check out around the city.
RR: As always Grand Prix weekend will offer a full entertainment lineup for all tastes.
We will be offering a great weekend of outdoor entertainment on the plaza stage courtesy of the Rock Island Brewing Company. Friday Sept. 2 will feature Trippin' Billies, a Dave Matthews tribute band, with opening act Jason Carl. Saturday and Sunday will feature the return of The Travoltas, a sing-along, dance along disco act from Canada who are worth the trip in theri own right. Opening acts for The Travolta's have not yet been announced. All shows start at 8 p.m..
Comedy Sportz at the Establishment Theater, located between turns 3 and 4, will have shows both Friday and Saturday night. Comedy Sportz features a fun, fast-paced, family-friendly improvisational comedy show where two teams of players compete for laughs and points and you decide the winner. There is also a 9:30 p.m. show for ages 17 and up.
Friday, Sept. 2 is the opening night for "Million Dollar Quartet" the smash-hit musical inspired by the famed recording session that brought together rock 'n' roll icons Elvis Presley, Johnny Cash, Jerry Lee Lewis and Carl Perkins for the first and only time. Saturday and Sunday Sept. 3-4, Rozz Tox, located on Third Ave. two blocks east of the track, will feature its Labor Day Benefit Fest with all profits going to the Center for Worker's Justice in Eastern Iowa.
Editor Note: Dinner plans are Friday at Huckleberry's Great Pizza and Calzones, Saturday at El Patron Mexican Restaurant and Bar prior to Travolta's, and Osaka Japanese Steakhouse Sunday to celebrate the Rock trophy
EKN: We always love the Travolta's show and glad to hear they are back after missing last year. Something returning from last year is the heat races that replaced qualifying on Saturday. As a racer, it brought in a new element, and provided a second session of wheel-to-wheel action. It seems overall all the racers last year approved of the change, would you agree?
RR: Absolutely. As most racers know, it's not always the fastest driver who wins the race. The blind draw / heat race system rewards drivers for their overall race craft. Heat race points are assigned based on a combination of points won from the finishing position in the heat race and points gained by overall positions advanced during the race. I think the change was a big reason why our entries jumped last year and are continuing on the same pace this year.
But beyond that, Saturday racing is also more exciting for spectators than watching karts go around and around trying to log fast laps when they can't see the times. Where's the drama in that for the spectators? In the end, the best racers will get to the front, but we think this is a more equitable way of doing it for our race. It's a win-win all around.
EKN: One easy way for anyone around the country, North America or even the world to take part in the Rock Island Grand Prix is to take part in the Ignite Shootout, coming back to the event for a second straight year. Margay Racing is among the top American karting manufacturers and their new 'Ignite' package with the popular Briggs and Stratton 206 engine is growing at tracks around the country. Just a decade ago, the paddock was full of big tents with teams from all over. Is it good to see a company and manufacturer get back behind the Rock Island Grand Prix once again?
RR: We are excited about the Margay program, not only to see them involved in the Grand Prix, but more importantly to see the exploding popularity of an affordable package that makes it easy for newcomers to get involved in our sport. We are happy to work with any company in the sport and have had a long and on-going relationship with Margay, Briggs & Stratton and Wagner Rossi and MG and now LeCont tires, as well as TAG USA. This year, TS Racing and Vega have also provided a great contingency program for our racers. We work hard with all of them, as well as our other non-karting sponsors, and would like to think these partnerships are not only mutually beneficial but good for the sport as well.
Margay is offering a really economical arrive-and-drive program again this year. You get the kart, tires, shared mechanic, tent space and catered meals for a really reasonable rate. If that's not enough, you get to share tent space with David Cole — how cool is that? Following the success of the Ignite Shootout last year, we have added a Junior class version for ages 12-15 this year. Anyone interested in the arrive-and-drive program should contact Margay directly. I think there are a few slots still available.
The big teams are nice and always welcome. We also had the Valiante's Italian Motors group here last year and this year too. They were a great group of racers. The other big teams, I think, have become very focused on junior drivers and we don't offer a lot of opportunities for them to race here. Either that or they don't come because they just don't like to have fun off the track.
EKN: Throughout the 21 editions of the Rock Island Grand Prix, there have been a number of people who have been influential or had a major impact with the event. A few that are no longer with us remain with the event some how. Those include Tom Argy Jr., former SKUSA CEO Jim Murley, and longtime racer Travis DeVriendt. What is this year's RIGP doing to remember these individuals?
RR: Last year, we lost long-time karter and former Rock Island winner Travis DeVriendt to suicide — something no one saw coming and which shook the local racing community. We will continue to remember him and try encourage people to talk about the suicide issue by running the LO 206 Heavy 1 race as the Travis DeVriendt Memorial Race. It is sponsored by Gett Industries, and Modern Woodmen Financial agent Joe Schurr's support allows us to offer an extra $250 to win, $150 for second and $100 for third on top of the designated purse for that race, which I believe has already surpassed 30 entries.
This year, we also lost former Superkarts! USA executive Jim Murley. Jim had a big impact on our race by bringing King of the Streets here and promoting our event with the SKUSA teams. He also had a huge impact on shifter kart racing in the U.S. so we will remember him during King of the Street ceremonies.
This year, we also lost our original race director, Gus Traeder, and Don Janowski, who was from Moline and encouraged us and insured us when no one else would. We will remember them both as well during opening ceremonies.
And, of course, Tom Argy's Jr.'s memory lives on her in so many ways. Not only was he a giant in karting both here and with the Europeans, he was a NASCAR safety official and brought a much-needed eye for safety to our race which continues today. A banner at the Start/Finish line remembers him and of course his son, Tom III, grew up at our event and is our Starter and key element of our amazing race team. We also remember Curt Hoegner, one of our committee members, with Curt's Corner signs at Turn 6.
The sad part of being an event that's been around for 22 years is that you lose some dear friends along the way. The good part of being around for more than 20 years is that you make so many good friends along the way.
EKN: Each and every year, the event is not possible without the volunteers that help build the course at 5pm Friday evening, staging the haulers and trailers earlier that day, all the corner workers that keep racers and spectators safe throughout the two days, and turning the area back into normal city streets by Monday morning. It is something you have to see to believe that it can be done so quick and organized. Is it just the 22 years of experience or just the right people doing the jobs that make this event run so smooth?
RR: This is by far the biggest challenge we face each year. And, of course, this process has evolved over time as well. I can remember one year when we were picking up broken straw bales with rakes and snow shovels as the sun rose. We didn't have a place to dispose of it, so we put it on a flatbed and drove fast down the highway. As you can see, we've come a long way and made the race safer at the same time.
We are often contacted by people who want to do a street race in their town and I'm pretty sure the thing that discourages nearly all of them is the organization and cost of it all. Many people think it's just Friday night set up and Sunday night tear down, but it's really a 10-day process. Just think about where you might get all of the barriers we use, the cost to rent them and the logistics and cost of trucking them to Rock Island, loading and unloading them and then sending them back. That alone is eight truck trips to coordinate!
It's really mind-blowing if you don't have it all organized and that's where having the right people to do the job comes in. There are teams that put out barrels and fence and the sandbags that hold them in place, and teams that hang the fence once the streets are closed (and teams that close the streets). There are crews to put the larger barriers in place and crews for the small ones. Other teams place the giant crash pillows and there are teams to empty trash bags all weekend, work as crossing guards, man the pit gates, sell t-shirts and souvenirs, play host in the VIP Hospitality area, work the scales, hang banners, run transponders back and fourth and handle registration. When we're done they have to take it all down again.
Then, of course, there are our volunteer corner workers who the racers know are amazing, who are often within inches of being hurt and blend seamlessly with the professional race officials we bring in to run the race and do tech.
I tell people this is organized chaos and that's the only way to describe it. We have a key group of people who form the committee that plans the event and another key group of volunteers we can count on showing up each year to do their part. It's an amazingly passionate and committed group!! The process has been fine tuned over the years — including a number of changes this year — and that's probably what makes it virtually impossible to copy.