So Cal Oval Karters at Wheel2Wheel in Victorville on Saturday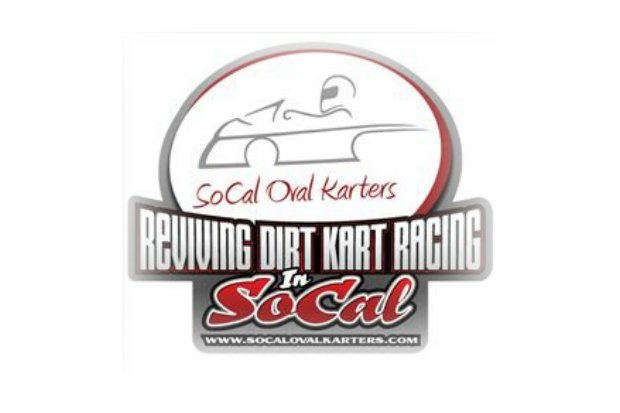 For the sixth time this year, the So Cal Oval Karters will make the trip up the hill for a night of racing at Wheel2Wheel Raceway on the San Bernardino County Fairgrounds in Victorville this Saturday, August 20th.  The three divisions of Speedway Sprints and the Wheel2Wheel Dirt Karts will also be in action.  Gates will open at 5:00 PM with racing at 6:00.
Wheel2Wheel Raceway local Chris Southern of Hesperia and Lakewood's Joe Gibb will have a showdown in their season long war in the KT100 class.  Southern won the first four main events of the season before Gibb snapped his streak by reeling off two wins in a row.  At the last race at The Grand Arena at the Industry Hills Expo Center two weeks ago, Gibb's father, Chris, beat everyone to the Craig Zimmerman checkered flag.  Son Joe placed second with Southern finishing fourth behind San Diego's Randy Truax.  Joe Gibb's second place allowed him to close the gap to a mere 10-points behind Southern in the championship standings going into Saturday night.
Things have been a bit easier for Joe Gibb in the Open class as he has won six of the first seven main events of the year including two weeks ago at The Grand.  He has a 90-point lead over Fountain Valley's Scott Bohle.  Bohle is only five points up on Dillon Hoffman of Cathedral City in the battle for second.
Whittier's Steve Juillerat has won four of the seven main events in the F200 class and is 35-markers ahead of Banning's Scott Gaynor in the season long standings.  Gaynor took his first win of the year at The Grand and became the fourth different winner in the class in 2016.
Lake Elsinore's Ryan Sherman hopes to make it two wins in a row after picking up the win in the Senior 4 Cycle Class at The Grand.  The former California Lightning Sprint Car racer's first SCOK win was a shocker as it ended the five-race win streak of Don Holdsworth of Menifee.  Holdsworth still has a commanding 89-point lead over Banning's Desiree Gaynor in the standings.
After Saturday, the SCOK will take three straight Saturdays off before returning to Wheel2Wheel on September 17th.
The So Cal Oval Karters would like to thank the following sponsors for helping make the 2016 championship series possible.  Burris Racing, Cory Kruseman Sprint Car Driving School, Hubcapmike.com, Perris Auto Speedway, R&J Motorsports, THC Home Medical Services, T-MAC Racing and Yamaha of America Racing Engines.  If you or your business would like to become a partner of the So Cal Oval Karters 2016 season, please call or E-mail Mike Nigh at (805) 857-2595 or mailto:scokart@gmail.com.
Point Standings
KT100
Chris Southern – Hesperia – 1040
2. Joe Gibb – Long Beach – 1030
3. Rob Marion – Oxnard – 970
4. Thomas Southern – Hesperia – 944 *
5. Randy Truax – San Diego – 774
Open Class
Joe Gibb – Long Beach – 1080
2. Scott Bohle – Fountain Valley – 990
3. Dillon Hoffman – Cathedral City – 985
4. Norm Reynolds – San Marcos – 940
5. Chris Southern – Hesperia – 675
Senior 4 Cycles
Don Holdsworth – Menifee – 1070
2. Desiree Gaynor – Banning – 981
3. John Leonhart – Norwalk – 782
4. Ryan Sherman – Lake Elsinore – 680*
5. Tony de Almeida – Chino Hills – 651
*Non Member
F200
Steve Juillerat – Whittier – 1045
2. Scott Gaynor – Banning – 1010
3. Justin Garcia – Riverside – 825
4. Troy McIntosh – Lake Elsinore – 350
5. Jason Voss – Lake Elsinore – 320
KT100 Main Event Winners
3-12 Wheel2Wheel – Chris Southern
4-23 Wheel2Wheel – Chris Southern
5-14 Wheel2Wheel – Chris Southern
6-4   Wheel2Wheel – Chris Southern
6-18 Perris Auto Speedway – Joe Gibb
7-23 Wheel2Wheel – Joe Gibb
8-6 Grand Arena at Industry Hills – Chris Gibb
F200 Main Event Winners
3-12 Wheel2Wheel – Jason Morheiser
4-23 Wheel2Wheel – Steve Juillerat
5-14 Wheel2Wheel – Troy McIntosh
6-4   Wheel2Wheel – Steve Juillerat
6-18 Perris Auto Speedway – Steve Juillerat
7-23 Wheel2Wheel – Steve Juillerat
8-6 Grand Arena at Industry Hills – Scott Gaynor
SR 4 Cycle Main Event Winners
3-12 Wheel2Wheel – Jason Morheiser
4-23 Wheel2Wheel – Don Holdsworth
5-14 Wheel2Wheel – Don Holdsworth
6-4   Wheel2Wheel –  Don Holdsworth
6-18 Perris Auto Speedway – Don Holdsworth
7-23 Wheel2Wheel – Don Holdsworth
8-6 Grand Arena at Industry Hills – Ryan Sherman
Open Class Main Event Winners
3-12 Wheel2Wheel – Joe Gibb
4-23 Wheel2Wheel – Joe Gibb
5-14 Wheel2Wheel – Joe Gibb
6-4   Wheel2Wheel – Chris Southern
6-25 Perris Auto Speedway – Joe Gibb
7-23 Wheel2Wheel – Joe Gibb
8-6 Grand Arena at Industry Hills – Joe Gibb
Please follow and like us: