CRG Squad All Set for the Fight of Kristianstad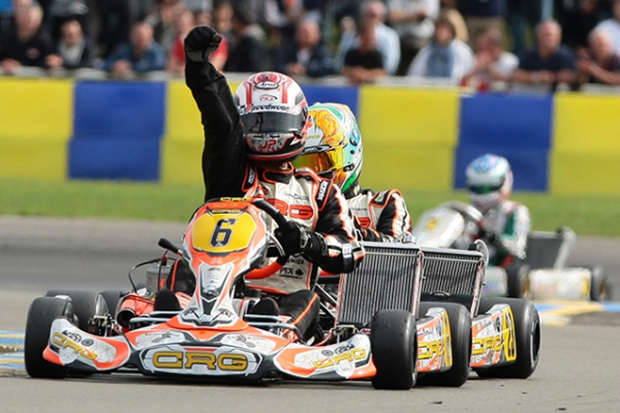 Among the novelties of the forthcoming KZ World Championship to be held in Sweden next September 4th, Kozlinski at the start with CRG. The Italian outfit will line up its complete works team with a great presence also in KZ2's International Super Cup.
The final sprint of the season with CIK-FIA's World Championships is approaching fast, and CRG works team is ready to face the first world appointment of the KZ World Championship and KZ2 International Super Cup, race to be held next September 4th in Kristianstad (Sweden) with all its drivers and with some new arrivals.
This is going to be another useful occasion to aim to a prestigious result after the recent success at the European Championships, where CRG secured two titles with Pedro Hiltbrand in OK and Fabian Federer in KZ2.
THE NEW ARRIVAL KOZLINSKI
The novelty of KZ is the comeback of "Koko" Arnaud Kozlinski as CRG works driver, after a season spent by the French driver to help the young Dennis Hauger taking him very close to the European title of Junior. In Sweden,  Kozlinski will have the chance to show everyone that he is still among the best in the world, ready to get another good result in KZ (he was third in the World Championship last year) after winning the Super KF 2009 World Championship with CRG in Macau.
CRG'S LOT FOR KRISTIANSTAD
CRG will line up an extraordinary squad in KZ. Teams drivers will be led by 2015 KZ World Vice Champion  Paolo De Conto, 2015 European KZ Champion  Flavio Camponeschi and by Simo Puhakka, who was very close to the victory in the latest round of the KZ European Championship in Genk. De Conto and Puhakka will employ the new TM engines, while Camponeschi will use the Parilla works engine instead.
CRG lineup in Kristianstad will also be strengthened by Jorrit Pex, who won the World Championship in Le Mans last year awarding yet another title to the Italian outfit, while his brother Stan Pex has been promoted to KZ for the occasion, following a good season in KZ2. Both drivers will wear CRG Holland colors. Team Nuova 3M will field 2014 KZ2 European Champion Andrea Dalè.
Category KZ2 will see a stunning 89 drivers entered in the world round of the International Super Cup. CRG works team will field the new OK European Champion Pedro Hiltbrand, Felice Tiene, Fuma Horio, Fabrizio Rosati, Gerard Cebrian and José Enrique Brito.
A novelty in this category is the presence of Tom Joyner who has secured several wins in direct drive karts so far and ended second in the OK European Championship this year. Joyner will be back on a shifter kart, the Zanardi-Parilla after competing in the KZ 2014 European Championship held in Kristianstad.
Several other drivers will employ CRG chassis in Kristianstad. Team SRP Racing will field the new European Champion of the category Fabian Federer, Kaspar Kallasmaa and Daniel Stell. Team CRG Keijzer will line up Dylan Davies, while CRG Holland Benjamin Tornqvist, Andreas Johansson, Bent Viscaal, Max Tubben, Max Weering and Henri Kauppi.
CRG / TININI GROUP PALMARES KZ-KZ2
CIK-FIA World Championship KZ-KZ2 (and previous equivalent categories)
2015: Jorrit Pex (NL), KZ, CRG / TM / Bridgestone
Le Mans, 13.09.15
2013: Max Verstappen (NL), KZ, CRG / TM / Bridgestone
Varennes, 22.09.13
2012: Jordon Lennox-Lamb (GB), KZ2 (World Cup), CRG / Maxter / Vega
Sarno, 02.09.12
2011: Jonathan Thonon (B), KZ1 (World Cup), CRG / Maxter / Dunlop
Genk, 04.09.11
2009: Jonathan Thonon (B), KZ1 (World Cup), CRG / Maxter / Dunlop
Sarno, 06.09.09
2008: Jonathan Thonon (B), KZ1 (World Cup), CRG / Maxter / Dunlop
Varennes, 07.09.08
2007: Jonathan Thonon (B), KZ1 (World Cup), CRG / Maxter / Dunlop
Sarno, 02.09.07
1993: Alessandro Piccini (I), FC 125 cc, CRG-Kalì-Kart / Pavesi / Dunlop
Val Vibrata, 05.09.93
1992: Danilo Rossi (I), FC 125 cc, CRG / Pavesi / Dunlop
Mariembourg, 06.09.92
1989: Gianluca Giorgi (I), FC 125 cc, CRG-Kalì-Kart / Kalì-Kart / Dunlop
Olomouc, 03.09.89
1985: Piermario Cantoni (I), FC 125 cc, CRG-Kalì-Kart / Balen / Dunlop
Laval, 01.09.85
1984: Gabriele Tarquini (I), FC 125 cc, CRG-Kalì Kart / Balen / Dunlop
Axamo, 09.09.84
CRG / TININI GROUP PALMARES KF
CIK-FIA World Championship KF (and previous equivalent categories)
2013: Tom Joyner (GB) (Tinini Group), KF, Zanardi / TM / Vega
Rd1 Brandon, Rd2 Bahrain
2012: Felice Tiene (I), KF (World Cup), CRG / Bmb / Vega
Zuera, 23.09.12
2011: Matthew Graham (GB) (Tinini Group), U18, Zanardi / Wke / LeCont
Rd1 Ortona, Rd2 Essay, Rd3 Sarno
2011: Nick De Vries (NL) (Tinini Group), KF1, Zanardi / Parilla / Bridgestone
Rd1 Wackersdorf, Rd2 Zuera, Rd3 Genk, Rd4 Sarno, Rd5 Suzuka
2010: Oliver Rowland (GB) (Tinini Group), Super KF (World Cup), Zanardi / Parilla / Bridgestone
Suzuka, 24.05.10
2010: Nick De Vries (NL) (Tinini Group), KF2, Zanardi / Parilla / Dunlop
Zuera, 19.09.10
2009: Arnaud Kozlinski (F), Super KF, CRG / Maxter / Bridgestone
Macau, 08.11.09
2009: David Da Luz (P) (Tinini Group), KF2 (World Cup), Zanardi / Parilla / Dunlop
Alcaniz, 20.09.09
2003: Wade Grant Cunningham (NZ), Formula A, CRG / Maxter / Bridgestone
Sarno, 26.10.03
2002: Giedo Van der Garde (NL), Formula Super A, CRG / Maxter / Bridgestone
Rd1 Mariembourg, Rd2 Alaharma, Rd3 Braga, Rd4 Salbris, Rd5 La Conca
2001: Vitantonio Liuzzi (I), Formula Super A, CRG / Maxter / Bridgestone
Rd1 Montreal, Rd2 Salbris, Rd3 Sarno, Rd4 Mariembourg, Rd5 Kerpen
2000: Lewis Hamilton (GB), Formula A (World Cup), CRG / Parilla / Bridgestone
Montegi, 26.11.00
1999: Danilo Rossi (I), Formula Super A, CRG / CRG / Dunlop
Mariembourg, 19.09.99
1999: Vitantonio Liuzzi (I), Formula Super A (World Cup), CRG / CRG / Bridgestone
Suzuka, 28.11.99
1997: Danilo Rossi (I), Formula Super A, CRG / CRG / Dunlop
Salbris, 14.09.97
1994: Alessandro Manetti (I), Formula Super A, CRG / Rotax / Vega
Cordoba, 18.09.94
1994: Luca Casazza (I), Formula A (World Cup), CRG / Rotax / Vega
Suzuka, 29.05.94
1993: Paolo Moro (I), Formula A (World Cup), CRG-Kalì / Italsistem / Vega
Suzuka, 30.05.93
1992: Danilo Rossi (I), Formula K (World Cup), CRG / Rotax / Dunlop
Suzuka, 31.05.92
1992: Alberto Pedemonte (I), Formula A (World Cup), CRG-Kalì / Rotax / Dunlop
Suzuka, 31.05.92
1992: Danilo Rossi (I), Formula K, CRG / Rotax / Dunlop
Ugento, 20.09.92
1990: Jan Magnussen (DK), Formula K, CRG / Rotax / Bridgestone
Jesolo, 16.09.90
1990: Danilo Rossi (I), Formula A, CRG / Rotax / Dunlop
Jesolo, 16.09.90
1989: Mike Wilson (GB), Formula K, CRG / Komet / Dunlop
Valence, 17.09.89
1988: Emmanuel Collard (F), F. Super 100, CRG / Rotax / Dunlop
Laval, 18.09.88
1988: Mike Wilson (GB), Formula K, CRG / Komet / Dunlop
Laval, 18.09.88
1985: Mike Wilson (GB), Formula K, CRG-Kalì / Komet / Dunlop
Parma, 22.09.85
1984: Joern Haase (DK), Formula K, CRG-Kalì / Komet / Dunlop
Liedolsheim, 16.09.84