SKUSA BULLETIN: Westgate Las Vegas Resort and Casino Host Hotel Information for SuperNationals 20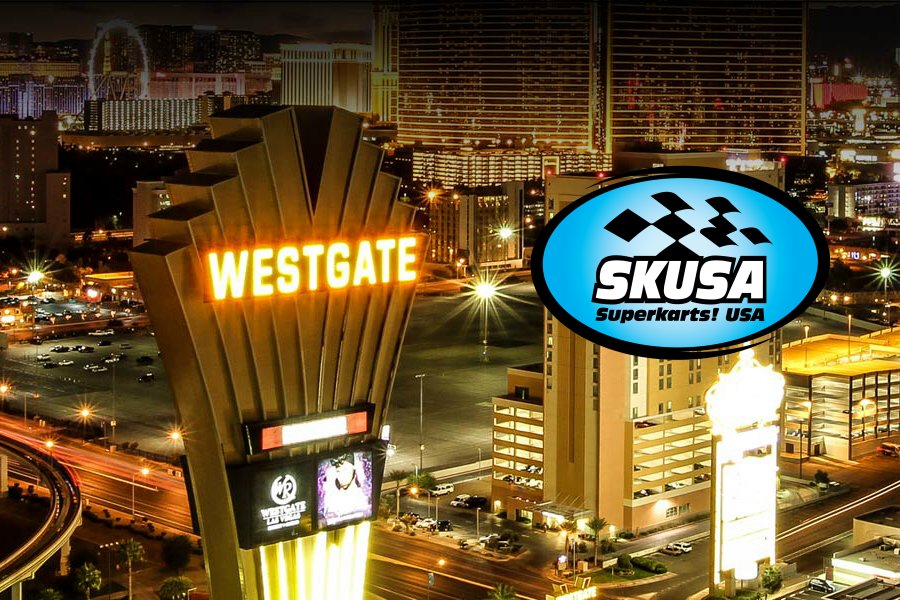 The opening week of registration for the Superkarts! USA SuperNationals 20 presented by VCI Mexico / GP Racing Kart has kept things exciting and very busy for the office staff. The X30 Master division sold out the 44 spots in less than 30 minutes after entry opened to the public on August 10. X30 Senior competitor Josh Sarchet was the first driver to register, submitting his information within the first minute of the online site skusastore.com going live. He is one of over 200 competitors to register thus far in the 10 categories set to compete November 16-20 at the Las Vegas Convention Center.
Just across from the LVCC parking lot, site of SKUSA SuperNationals 20, is the host hotel. The Westgate Las Vegas Resort and Casino is just a five-minute walk from the lobby area to the paddock, again providing three beautifully remodeled styles of rooms under the Superkarts! USA special room rate. Premium Rooms are $79+tax/night, Signature Rooms are $99+tax/night, and Concierge Rooms are $164+tax/night. The cut-off date is October 11 to book these rooms under the special SKUSA pricing — unless they sell out first. The special SKUSA pricing block is good for any days of stay between November 9 and November 28. To book now, visit the Hotel Information section on the SKUSA website here.
The event schedule for Superkarts! USA SuperNationals 20 is the next item to be confirmed, and will be published on the SKUSA website in the near future. For more info on anything related to Superkarts! USA, please visit the website – www.superkartsusa.com and be sure to follow the Superkarts! USA Facebook page, Twitter and Instagram accounts – or call the SKUSA head office at 951-491-0808.