d'Orlando House Divided Comes Together for the US Rotax Grand Nationals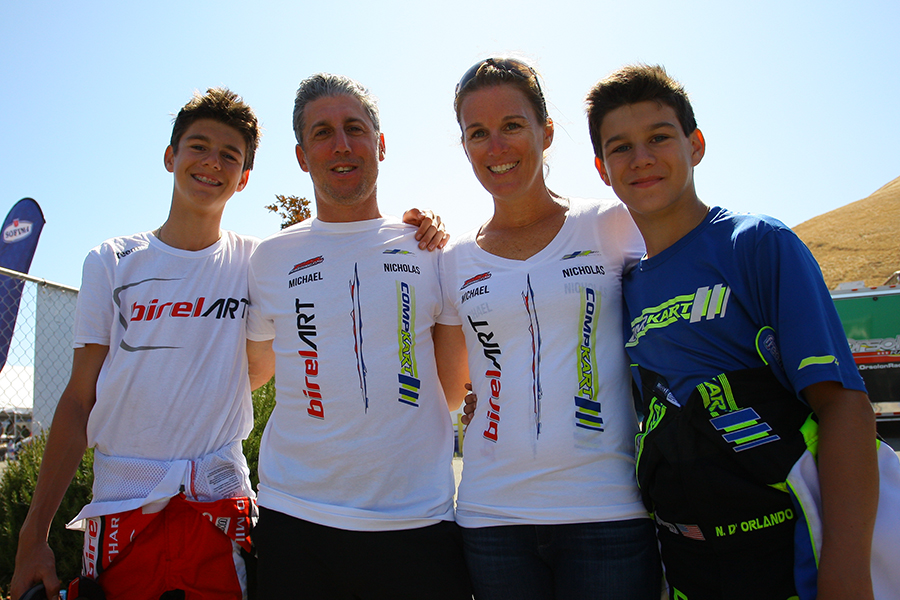 It was a very busy 5-week schedule for the d'Orlando Racing squad, as Michael & Nicholas d'Orlando's travels spanned 7 countries, 4 US states and 2 continents, but the dynamic duo were finally together again at Simraceway Performance Driving Center in Sonoma, CA for the 2016 Rotax US Grand Nationals.  Competing separately since the Florida Winter Tour back in March, the Brothers d'Orlando were now competing on separate teams, but on track together, for the first time in their 8-year careers.  Although they are a 'house divided', the boys were looking to work together to bring home another Rotax US Grand National championship title, and for Nicholas, a ticket for a spot to join his brother on Team USA at the Rotax Grand Finals in Italy this October.
It would be an impressive performance for Michael d'Orlando, competing under the direction of North American powerhouse team PSL Karting/Birel ART North America.   From the first practice session on Wednesday through Thursday's performance 4/10 of a second clear of the field in Super Pole, Michael would dominate the field going into Saturday's Pre-Final and Final races with three convincing victories in Friday's heat races.
Nicholas d'Orlando had his work cut out for him being considered one of the top rookies on the grid.  Competing under the watchful eye of North America's legendary race squad, J3 Competition, on their Compkart chassis, Nicholas would show progression throughout the week starting with a 10th place qualifying effort and progressing up from 15th to 10th to 7th in Friday's heats.  His performance was strong enough to earn an impressive 6th spot to start Saturday's Pre-Final.
With a grid of over 28 drivers looking to take the title, 24 of them also looking for that Grand Finals ticket, the junior grid would be considered the premiere event of the day.  The only pressure felt by Michael d'Orlando at this point came from veteran & fellow New York driver, Dylan Tavella, but the start of the Junior Pre-Final event showed a field determined to throw whatever they could at the dominant d'Orlando.  Getting pushed back to the 3rd spot in the opening corners and now looking at over a three  second gap, Michael remained focused, working his way back up to the front to leaders Aidan Keel & Dylan Tavella, making it a 3-wide last corner drag race to the checkered flag. Michael would finish a very narrow 2nd to Keel, with Tavella a close 3rd.  Nicholas would also have a solid performance and hold strong in his group to finish 7th, and it would be his first inside row starting position he'd seen all week, for the main event.
Heading into the main event, Michael would have to first survive the opening corners from the outside position on the front row and Nicholas would have to focus on making his way up front throughout the 22-lap Final.  But the hard knocks and bad luck would rear its ugly head early.   Another tough break for Michael after he was pushed wide and off track in the opening corners, from an aggressive starting grid, and he would fall back to as far as sixth to lose sight of the leaders Keel & Tavella as they pulled away once again.   And for the young rookie, Nicholas would fall victim to opening carnage and be forced to retire from race action with severely compromised equipment, and to watch the rest of the main event from the sidelines, cheering on his older brother.
"It is hard to end our US Grand Nationals' weekend the way we did," said Nicholas d'Orlando.  "We (J3 and I) had a fast kart and I was looking to bring home at least a podium finish and earn a ticket to Italy. I was looking for that opportunity in the final but it's disappointing to not even get the chance to fight for it. It was great though, to be back at the track with my brother and to be able to compete against him again."
While Tavella and Keel battled up front, Michael was turning some impressive times 3/10 – 4/10 of a second quicker than the leaders. Pushing his No. 251 PSL Karting Birel ART kart to its limits, he was able to lay down one impressive lap after another, and would put the pressure on.  As Michael came upon Keel with 9-laps to go, Keel would make an unfortunate mistake exiting turn one that allowed Michael to slip into the second place position, but also result in giving Tavella a little larger gap out front.   Michael's eyes were now set on Tavella but he would not be easy to catch.   Continuing again to put down consistent lap after consistent lap, Michael did all he could to get within striking distance, but he would merely run out of time to really challenge for the win as he would bring his kart home to a second place finish by a mere 0.296 seconds behind Tavella.  However, it was still an impressive result after such a massive deficit in the opening corners.
"It is tough to have had such a dominating weekend and come up just short of the win," said Michael d'Orlando.  "We were fast all race weekend and I could not be any prouder of this team. We came up just short of our goal to win, but we still had a great weekend here in Sonoma. It was also nice to have been able to race against my brother again and be back at the track with him, but it is very upsetting that he had such bad luck in the final. He had the speed to run up front with us."
Michael & Nicholas would like to extend their sincere Thanks and gratitude to New York's design/build contractor DB Collaborative (db-collaborative.com) and owner John Macones, for their support for the Rotax Grand Nationals this year.  Furthermore, a special Thank you to the entire squad at PSL Karting, Birel ART factory tuner Ricciardo Messana, power plant guru Dan St. Germain, and the continuous support and dedication of J3 Competition's Jim & John Giacomelli and Justin Stefani.  Further appreciation to Fyshe USA/Adidas Motorsport , Iona Preparatory School and Focused Project Management.
For more information on Michael & Nicholas d'Orlando, please visit www.dorlandoracing.com. Be sure to follow them on Facebook (Michael d'Orlando Racing and Nicholas d'Orlando Racing), Twitter (@dorlandoracing) and Instagram (@dorlandoracing) to stay up to date on news, information, photos and results.