Calgary Kart Racing Club – Round Nine Report
Hot Weather and strong grids continue at North Star Raceway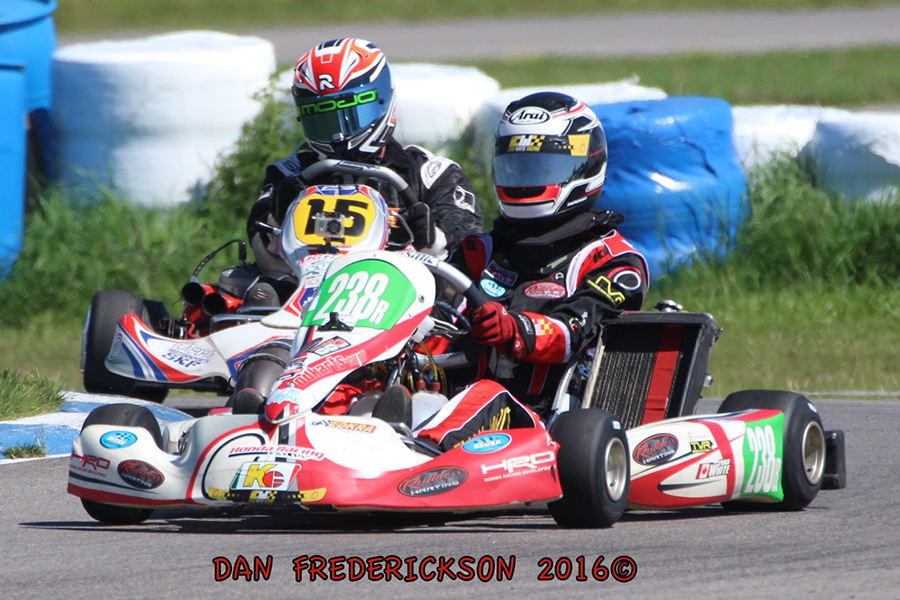 71 entries for the 3rd last race of the season with several new faces joining late in the season. The 3 week break since the last race has given the club a chance to get a few upgrades brought in.   As with any relatively new facility there is always some improvements to be done at the facility and CKRC has banded together as a club very well to get many projects done.  For 2016, several improvements and upgrades have been occurring at North Star Raceway.  CKRC just took delivery of the Pixel Motorsport Track Lighting System and a 32' permanent washroom building.  We have also installed a motion sensitive security camera system and supplemental LED lighting.  Another large fixture (20'x60') at the facility is what we call the BBQ shack which is a half enclosed structure to provide shade for competitors and spectators during lunch and after the races.  We look forward to hosting our largest race of the season, the 3rd and 4th rounds of the Alberta Shoot-Out,  on September 10 & 11.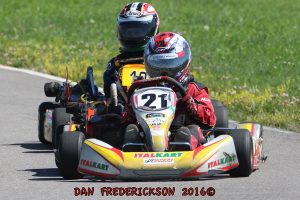 Shifter (9 competitors)
Evan White continues to impress with Pole, Pre-Final and Final win on a very hot Sunday.  John Kwong pressured Evan for most of the Pre-Final but didn't have anything for him in the Final as White cruised to a 4 second margin of victory.  Brennan Peters and Alan Haggerty battled for third.
1. Evan White
2. John Kwong
3. Brennan Peters
Junior 1 Briggs (10 competitors)
Kiefer Peet is unstoppable this year with yet another feature win and with a 4.3 second margin of victory over Enzo Sartor.  Nikolas Ruhrman challenged for second briefly and then had a late race battle for third with Matthew Hanna who has improved immensely since the Junior Driver Development Program.  August DiStephano was the driver on the move from 8th to 5th.
1. Kiefer Peet
2. Enzo Sartor
3. Nikolas Ruhrmann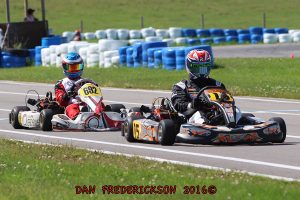 Senior Briggs Light (12 competitors)
Alan Haggerty put in a blistering qualifying time and was the only competitor in the 1.02 bracket.  In the Final, John Kwong was able to stretch out a large lead but in the last 4 laps, Chris Patterson had the hammer down with 1.02.xx qualifying level times and closed the gap.  As Patterson put it on the podium, "Kwong made his kart as wide as the Trump Wall to keep him from passing."  The margin of victory was 0.235 seconds.  Vinnie Surdhar had his hands full battling with Kevin Canning and Denny Simon as a few other top running competitors had mechanical issues.
1. John Kwong
2. Christopher Patterson
3. Vinnie Surdhar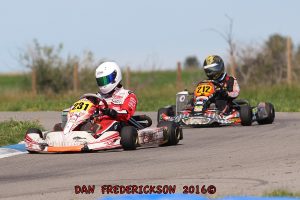 Senior Briggs Masters (6 competitors)
The Masters class is growing and enjoyed one of its largest fields.  New to karting this year, Dave Nelson took his first win of the season over Uncle Jimmy from EDKRA and Wilson Dolan.
1. Dave Nelson
2. Uncle Jimmy
3. Wilson Dolan
Rotax Junior (3 competitors)
Levi Schmidtke went unchallenged with a 15.7 second win over Connor Peet and Adam Krumes in his first Rotax race this year.
1. Levi Schmidtke
2. Connor Peet
3. Adam Krumes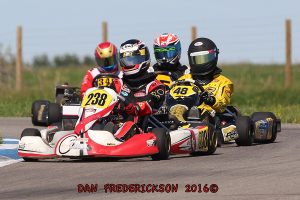 Rotax MiniMax (4 competitors)
James Altamirano picked up his 9th win of the season.
1. James Altamirano
2. Kiefer Peet
3. Spencer Perreault
4. Enzo Sartor
Rotax Senior (5 competitors)
Evan White took pole but Mark Newson took the Pre-Final and got the early in the Final before White was able to make a move and make a gap.  White won with a 2.8 second margin of victory.
1. Evan White
2. Mark Newson
3. John Kwong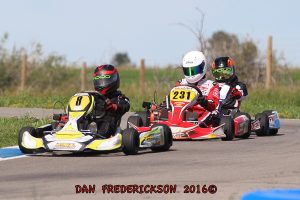 Junior 2 Briggs (9 competitors)
James Altamirano and Levi Schmidtke had a good battle in the Pre-Final with 3 lead changes.  In the Final, they turned up the heat and brought Jill Altamirano into the mix as the passing was fast and furious between all three in the first 5 laps.  They settled down into a draft chess game but James and Levi let it all hang out with 3 lead changes in the last 3 laps of the race for the race of the day.
1. James Altamirano
2. Levi Schmidtke
3. Jill Altamirano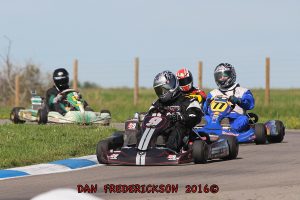 Rotax Masters (13 competitors)
Josh Carter dominated the day taking Pole, Pre-Final and the Final win.  Mario got by early second place holder Dan Peet who was then chased down by Brendon Sanguinetti.  Peet and Sanguinetti tangled on Turn 2 and Lonnie Ganz was the beneficiary.
1. Josh Carter
2. Mario Gimenez
3. Lonnie Ganz
Next event Alberta Shoot-Out/CKRC Races 10 & 11
Please follow and like us: