Awning Company Super One Series: Larkhall Report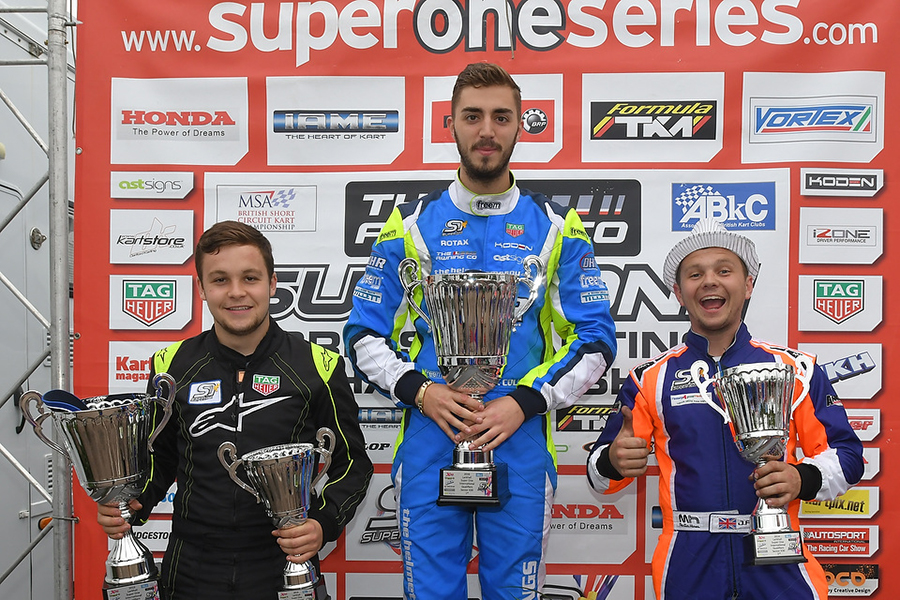 (Photo: Kartpix)
The series moved north to the Scottish circuit of Larkhall, where Sunday was dry but only 14 degrees after rain on Friday practice.  X30 and KZ1 have just one round to run, whereas Rotax classes have two.  The circuit is well liked, although only 852m, but with exciting expansion plans in place for next year.  Several local drivers took guest positions and in Senior Rotax Max in particular were uncatchable by the regulars.
ABkC Honda Cadet National Championship
Oliver Bearman took the spoils in two hard fought Honda Cadet finals but it was Harry Thompson the early protagonist heading timed qualifying from Sam Heading and Wesley Mason in the first session.  The second session was much slower topped by Astin Wigley.  Thompson won both his heats, Caden McQueen the other.  Slightly disadvantaged at the start of the first final, Thompson went back to third whilst Lucas Ellingham forged ahead of Bearman.  The trio traded the lead, joined by McQueen, until Bearman finally escaped to leave the battle for second raging.  Thompson nipped past Ellingham for runner up on the penultimate lap, Mason fourth ahead of McQueen.  In the second final Ellingham and Bearman broke away with Bearman soon taking up the lead and holding to the chequer.  Thompson fell back from third to 20th with mechanical issues whilst McQueen leapfrogged Mason for third.  Seven drivers had warnings whilst Archie Swinscoe was excluded for driving standards.  Normally a front runner, Ben Kasperczak had a terrible time with a DNF and a 28th.
Final 1: 1 Oliver Bearman (Project One); 2 Harry Thompson(Synergy); 3 Lucas Ellingham (Zip); 4 Wesley Mason (Project One); 5 Caden McQueen (Zip); 6 Archie Swinscoe (BRK).
Final 2: 1 Bearman; 2 Ellingham; 3 McQueen; 4 Mason; 5 Alex Eades (BRK); 6 Sam Heading (Project One).
MSA British Short Circuit Gearbox Kart Championship
No one could touch Scott Allen in KZ1 as he moves to the top of the standings for the British short circuit gearbox crown.  Allen was fastest from the off, in TQ, winning both heats and both finals.  Less than three tenths split the five karts entered during timed qualifying, hopefully more will appear for the last round.  Dan Kelly inherited second in the first final when Allen's team mate Danny Keirle failed to finish the last lap with a seized engine.  Starting at the back Keirle rocketed through to second in the second final, beating Kelly on the tenth lap.  Erstwhile championship leader John Pike had a lack lustre weekend and fell to third in the standings behind Kelly and Allen.
Final 1: 1 Scott Allen (Gold/IAME); 2 Dan Kelly (Birel/TM); 3 John Pike (Octane/Modena); 4 Hannah Lang (Tonykart/Vortex); 5 Danny Keirle (Gold/IAME).
Final 2: 1 Allen; 2 Keirle; 3 Kelly; 4 Pike; 5 Lang.
ABkC MiniMax National Championship
Although Jenson Butterfield was in charge through the Saturday heats after topping TQ from Dexter Patterson and Tom Canning, Patterson out witted him in both finals.  Tom Canning and Jonny Edgar both came off at the first final start, Canning black flagged whilst Edgar recovered to tenth.  Butterfield had taken the lead but Patterson crept closer until past and through with Lorcan Hanafin joining them for a blanket finish. Patterson and Butterfield broke away in the second final and stayed in that position to the chequer whilst Hanafin had a steady third.  Canning charged through the pack from the back and eventually beat Edgar for fourth.  Butterfield is still well ahead in the points table and maybe did not wish to take any risks.
Final 1: 1 Dexter Patterson (Kosmic) 2 Jenson Butterfield (Tonykart); 3 Lorcan Hanafin (Tonykart); 4 Finlay Bunce (Tonykart). 5 Clayton Ravenscroft (Tonykart); 6 Evan Smillie (Gillard).
Final 2: 1 Patterson; 2 Butterfield; 3 Hanafin; 4 Tom Canning (Kosmic); 5 Jonny Edgar (Esprit); 6 Smillie.
ABkC Junior Max National Championship
Joe Turney had been fastest in the time trials with Myles Apps in fourth but it was the local Scottish Champion Tony Logie who won the first heat with Turney taking a front fairing penalty, then Turney winning the second.  Apps led off from pole and successfully held off Rory Hudson and William Pettitt until Hudson plunged to the back.  Apps went clear for the win over Pettitt, Tyler Chesterton losing out at the end to Turney and Jonathan Hoggard.  Logie was sixth but excluded for a non-compliance.  Apps set off in the lead for the second final but was quickly relegated to fourth as Turney and Chesterton pulled clear.  But Chesterton fell to fourth leaving Turney out on his own and Apps could not challenge for Hoggard's second place.  Turney stays in the lead with 9 points over Hoggard and Pettitt.
Final 1: 1 Myles Apps (Tonykart); 2 William Pettitt (Tonykart); 3 Joe Turney (Kosmic); 4 Jonathan Hoggard (Tonykart); 5 Tyler Chesterton (Tonykart); 6 Tommy Foster (Tonykart).
Final 2: 1 Turney; 2 Hoggard; 3 Apps; 4 Chesterton; 5 Pettitt; 6 Mark Kimber (Tonykart).
ABkC Senior Max National Championship
Scottish guest drivers Mark Ross and Paul Stewart set the scene in timed qualifying, out driving all the regulars from the top teams.  Ross won both heats although Stewart was only 7th and 4th.   Jack McCarthy, Josh White and Rob Ellis all failed to finish the second heat so were back on the first final grid.  So Ross had it all his own way whilst McCarthy battled past Harrison Thomas and Stewart but could not close the gap to the leader.  It was a similar story in the second final, the locals pulverising the rest with Ross and Stewart nearly 2s clear of McCarthy and Thomas. Josh Collings was fourth in the first final but took a front fairing penalty and fought back to fifth in the second one.  McCarthy has a 4 point lead over Josh Skelton.
Final 1; 1 Mark Ross (Birel); 2 Jack McCarthy (Tonykart); 3 Paul Stewart (Tonykart); 4 Harrison Thomas (Tonykart); 5 Josh Skelton (Tonykart); 5 Josh White (Tonykart).
Final 2: 1 Ross; 2 Stewart; 3 McCarthy; 4 Thomas; 5 Josh Collings (Alonso); 6 Skelton.
Junior X30 International Qualifier
Gordon Mutch has had his exclusion for not having his helmet done up at Llandow overturned so is back in the hunt for points, some 21 behind Angus Fender.  Fender had the edge on Saturday with best qualifying time and winning both heats.  Fender set off in the lead of the first final with Max Jeanne on his tail, until Oliver Clarke powered up behind.  Going into the two double lefts after the start line Clarke tried a pass on Fender but was rebuffed and cut over the grass, both drivers dropping back and letting Mutch take the win over Jeanne.  Fender finished seventh, and Clarke was given a 10s penalty.   Mutch led the second final with Fender leapfrogging into second over Shane White.  But Clarke was on a mission, carving past his opponents and by lap 6 was into second over Fender and chasing down Mutch.  That pass was quick to follow as Clarke won with 1.26s in hand.
Final 1: 1 Gordon Mutch (Mad Croc); 2 Max Jeanne (TBA); 3 Shane White (Tonykart); 4 Harry McQuillan (Tonykart); 5 Teddy Pritchard (Birel ART); 6 Ethan Pitt (Mach 1).
Final 2: 1 Oliver Clarke (Tonykart); 2 Mutch; 3 Angus Fender (Gold); 4 Pritchard; 5 White; 6 Angus Moulsdale (TBA).
Senior X30 International Qualifier
Brett Ward took TQ honours and he and Josh Collings took the heat wins, putting them on the front of the first final grid.  Ward got a flying start, Collings going back to 8th and working hard for 6th.  That became third after Matt Davies overhauled Ward, and Matthew Hirst fell from third to fifth behind Dean Hale.  Matt Gilliland fared worse, going from grid 4 to last and only reaching ninth and would DNF the second final.  In that Collings was quick to take over the lead from Davies and eke out 1.46s with Hale and Ward battling for third.  Collings has 19 points in hand over Ward.
Final 1: 1 Matt Davies (Tonykart); 2 Brett Ward (Mach 1); 3 Josh Collings (Alonso); 4 Dean Hale (Gold); 5 Matthew Hirst (Kosmic); 6 Scott Mackrell (Tonykart).
Final 2: 1 Collings; 2 Davies; 3 Hale; 4 Ward; 5 Matt Gilliland (TBA); 6 Mackrell.