Two IONIC Edges and Six Wins at Thompson AKRA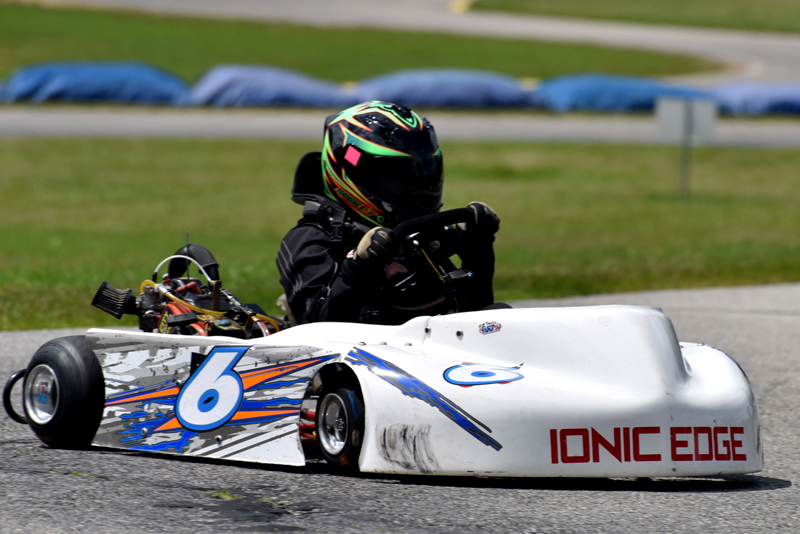 Three-time Thompson AKRA winner Alex Vrabel (Photo: Bruce Walls / Action Enterprises)
Alex Vrabel and Dustin Demattia carried the IONIC Edge Chassis banner high at Ohio's Thompson Kart Raceway this past weekend at the third round of the AKRA American Sprint Cup Series Northern Tour.
Both Vrabel and Demattia scored multiple feature wins at Thompson on their IONIC Edge karts.
Demattia kicked off the weekend with a $300 win in Friday night's CKRA Senior 4-Cycle Money Race. The Ohio driver out-ran Colin Warren and Sarah Luoma to the finish in an exciting 16-lapper.
Dustin backed up his Friday night win with scores in Saturday's CKRA Senior 4-Cycle Local Option main event and Sunday's AKRA 206 Senior Medium feature.  Great job by Dustin and DJ Keener on keeping their No. 71 IONIC Edge out front all weekend at Thompson!
Vrabel, competing in the Junior divisions, scored the hat trick at Thompson.  Alex won both Pro Gas Animal Junior and 206 Junior on Saturday, outrunning several local drivers on his way to victory.  On Sunday, Alex scored the 206 Junior victory and retired early from Pro Gas Junior while leading.
Vrabel continues to show speed on his new IONIC Edge Chassis and clearly is one of the top Junior 4-cycle drivers in the country.
"Great job for Dustin and Alex at Thompson," IONIC Edge Chassis owner Kyle Luttrell stated, who attended the Thompson event with his wife, Sarah. "We're really pleased with their success at Thompson. Alex has been following the entire AKRA Northern Tour this year and has won every time out. Dustin really enjoyed the AKRA series in his first time attending on of their events. He sure was fast all weekend and had some tough competition along the way. We're looking forward to New Castle for the Gold Cup."
Both Alex and Dustin, along with a number of other IONIC Edge competitors, will travel to Indiana this weekend for the third round of the WKA Gold Cup Series at the famed New Castle Motorsports Park.
Here's what's on IONIC Edge Chassis racers schedules for the remainder of the summer. If you're interested in our chassis, programs and support, visit IONICEdgeChassis.com or contact Kyle Luttrell today at 404-516-8934 or kyle@luttrellracing.com.
August 6-7: Briggs 206 Cup – Delmar, Iowa
August 5-7: WKA Gold Cup – New Castle, Indiana
August 26-28: AKRA Northern Tour – Chestertown, Maryland
Sept. 23-25: AKRA Southern Tour – Bushnell, Florida
IONIC Edge Chassis is a go-kart chassis manufacturer based in White, Georgia. Owned by Kyle Luttrell, Ionic Edge builds chassis for sprint, road racing and oval-track applications.
From the team's official website: "Our goal at Luttrell Racing is not to sell the most karts to the most people, but rather to sell you a kart that fits you and your needs. We make sure the kart is built especially for you, from the powder coat color to the perfect seat. Our ultimate goal is to make sure each of our customers is 100% satisfied with their final product."
Visit our official website at IONICEdgeChassis.com