Tommaso Mosca and Maranello Kart Very Quick in Closing Round of European KZ2 Championship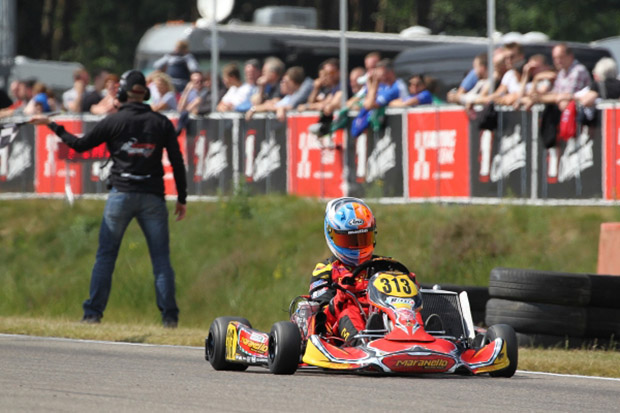 Tommaso Mosca has confirmed to be among the best in the European Championship of KZ2 held in Genk (Belgium). An incident in the Final stripped him from the chance of fighting for the podium, after displaying great speed throughout the weekend.
A good competitiveness has been shown by Tommaso Mosca and by Maranello Kart in the closing round of the CIK-FIA European KZ2 Championship held in Genk (Belgium).
The young driver of Maranello Kart assisted by Stefano Griggio's SG Race and by Rizzi for TM engines, has shown to have what it takes to shine on the International scene after scoring great results in national races. In Genk, Tommaso Mosca has always been among the front runners since qualifying, when he posted the sixth time of his series, which was the tenth absolute (out of the 54 drivers present) in  51.353s, a time that was only two tenths short of the pole position.
Mosca's weekend in Genk continued even stronger in the heats, where he claimed two fifth places and a fourth, results that earned him the fourth position on the starting grid of his Prefinal, race in which he has been shining with the final fourth place. The first corner of the Final went wrong and prevented him to end the weekend on a high. Mosca started from the fourth row of the grid, and due to a series of contacts at the melee of the start, he was involved in an incident that took him out from the fight for the podium.
The Maranello Kart driver managed to rejoin after the incident in the Final, and recovered up to the 19th place, putting in a series of very quick lap times that were worth the absolute third fastest lap of the race in 51.336s – a time that was in line with qualifying laps. Without this incident, Mosca could have well fought with the best in the leading group. He ended the Championship in 13th position.
The next international round for Maranello Kart Racing Team is the World Championship KZ-KZ2 to be held in Kristianstad (Sweden) next September 4th.