Michael d'Orlando Back on Home Turf After Learning Experience at Genk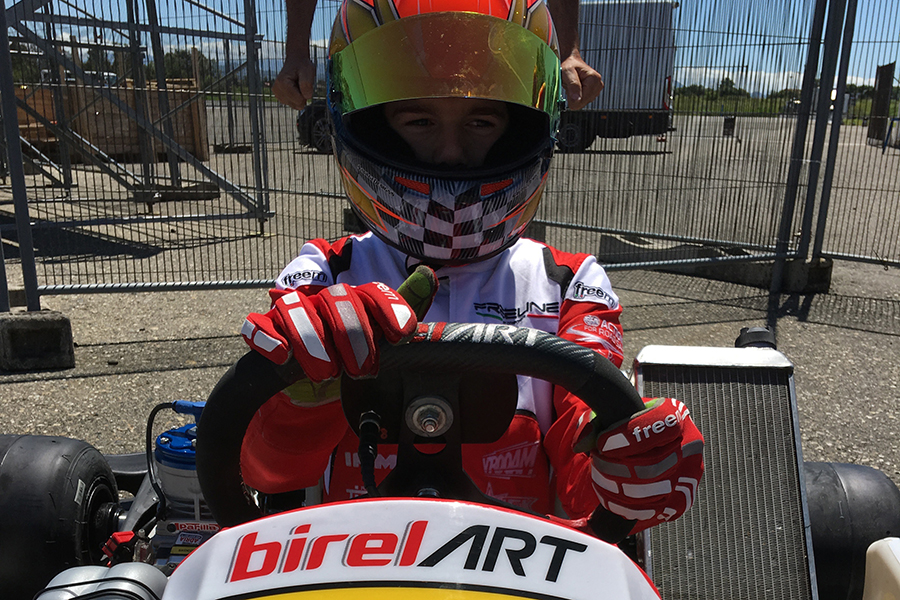 It was a heartbreaking race weekend for Michael d'Orlando as he and the Birel Art Racing Team took on the final round of the CIK FIA European Championships in Genk, Belgium.. With a stellar field of 70+ world class drivers who were all within 1 second of each other, it would be a race weekend full of some hard fought battles combined with some bad luck that would prevent any chance of advancement for the young American driver into the PreFinal & Final events of the series' Championship weekend. For Michael he gave it all he had with the incredible support of his Birel ART team but they would come up short as Michael's race weekend would end early.  But with the heartbreak, still came a learning experience.
"It was just one of those tough race weekends where nothing seemed to go right," said Michael d'Orlando.  "I battled back as best I could; the goal was to make it to the final and we came up short. I hated it for myself and for my Birel Art team. We work so hard and to not reach our goal is always very disappointing. All I can do is learn from this weekend and just keep working toward getting better and better."
Straight from the track in Genk, Michael will make his way back to North America this week for the 2016 Sofina Foods Rotax MAX Challenge United States Grand Nationals Presented by Fikse Wheels at Simraceway Performance Karting Center in Sonoma, CA.  This will be Michael's second race back on North American soil since winning the Florida Winter Tour Junior Rotax Championship earlier this year.  This will also be his second race competing under the direction of Birel ART North American importer, and powerhouse race team, PSL Karting with whom he brought home 1st and 3rd place finishes in the Eastern Canadian Karting Championship in Mont Tremblant, Quebec back in July.
Michael will face a tough field this weekend, of some of the best American drivers, including younger brother Nicholas d'Orlando who will be racing for J3 Competition in the COMPKART chassis.  This will be the first time the brothers have competed on separate teams in their 8-year racing career.  Nicholas will look to earn a ticket to the 2016 Rotax MAX Challenge Grand Finals in Sarno, Italy and join Michael on Team USA, as Michael earned his spot back in March when he took home the Florida Winter Tour Junior Rotax Championship.
Michael d'Orlando and the PSL Karting Birel ART racing team head to Sonoma, CA for the  2016 Sofina Foods Rotax MAX Challenge United States Grand Nationals Presented by Fikse Wheels at Simraceway Performance Karting Center starting August 3rd – 6th.  Be sure to follow the race weekend at www.maxspeedentertainment.com and catch live race action @ http://maxspeedentertainment.com/mse-live/.
For more information on Michael d'Orlando, please visit www.dorlandoracing.com. Be sure to follow him on Facebook (Michael d'Orlando Racing), Twitter (@dorlandoracing) and Instagram (@dorlandoracing) to stay up to date on news, information, photos and results.