WKA Gold Cup Heads Back to the Midwest This Weekend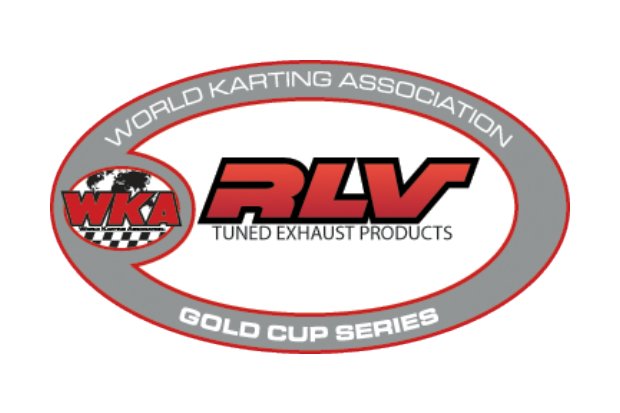 While it's been a few years since the RLV Tuned Exhaust Products Gold Cup Series has visited New Castle Motorsports Park in Indiana, the return to the crown jewel of the Midwest will indeed be a welcome sight, as competitors will converge on Mark Dismore's facility this weekend for the Kart City Performance Nationals, stop #3 for the series.
In addition to the 11 national classes vying for top honors this weekend, New Castle also will be offering their very successful LO206 Senior Class as a Local Option in addition to the weekends activities. Running CIK Bodyworks specifically, the winner of the weekends activities will receive $150, plus a set of tires, with 2nd place receiving $100 and a set of tires. 3rd place will be netting a $50 Gift Certificate from Comet Kart Sales, as well as a set of tires, with 4th and 5th getting a set of tires as well.
Additionally, there will be 4 Money Races Friday night, kicking off the weekends festivities, with Senior LO206 drivers vying for a payday as well, similar to that of the Senior Pro Gas competitors, with a 75% payback based on kart count. While drivers have all day Friday to sign up for the event, early entries include Jacksonville, Florida's Corey Towles, the current points leader in the LO206 Senior National class. Montville, Ohio's Sarah Luoma will return to the series this weekend, as well as Joseph and Matt Skaggs from Murfreesboro, Tennessee, Zachary Linsell from Wind Gap, Pennsylvania, Ponte Vedra Beach , Florida stalwart Sean Meier, as well as Kyle Robinson.
Luoma will be doing double duty Friday night, also participating in the Senior Pro Gas Shootout, joining the Galena, Maryland tandem of Jacob and Jimmy Heavlow.
Prior to the Senior events, the Sportsman and Junior Pro Gas drivers will take to the track for their qualifying and 10 lap Shootout events, sponsored by Brad's Heating and Cooling. At present, many different states will be represented, including Elijah Skaggs from Murfreesboro, Tennessee, Elmer Edmonson from Fort Myers, Florida, Blake Boon from Rochester, New York, and Adam Maxwell from Greenwood, Indiana.
The Junior side is loaded for bear, with the best of the best signed up, including Perry Hall, Maryland driver Matt Miller. Also entered are Alex Vrabel from Cleveland, Ohio, Stonington, Illinois's Talia Moffett, Aurora, Ohio's David Kalb Jr, Austin Williamson from Appling, Georgia, Cape Coral, Florida's Jimmy Cole Jackson, and Yorkville, Illinois's Brian Van Cleve.
The top 3 will be receiving awards and payouts, with the winner netting $200, $100 for 2nd, and $50 for 3rd.
First up on Saturday for points action will be the Coyote Motorsports and Jim's Marine Senior Pro Gas Medium class. To date, Jacob Heavlow has dominated victory lane, taking all 4 national event wins at Jacksonville and Kershaw, and currently sports a 135-point lead over brother Jimmy. Glen Burnie, Maryland driver Jacob Connors will also be on hand to duel with the top 2, as well as Rochester, New York's Jim Lipari, and Sarah Luoma.
The Junior Pro Gas Lite class has been a tale of 2 races, with Perry Hall, Maryland's Matt Miller sweeping Jacksonville, and Ohio's David Kalb Jr leading the charge at Kershaw in both races. To date, Miller has a 120-point edge over Illinois's Brian Van Cleve, with Talia Moffett, Alex Vrabel, Austin Williamson, and Jimmy Cole Jackson also entered.
The MattMillerRacing.com/Spooner General Contractor Sportsman Pro Gas Lite class has become a two horse race between Rochester, New York's Blake Boon and Fort Myers, Florida driver Elmer Edmonson with Boon holding a 45-point edge in the current standings. Ironically, both drivers are still looking to score their first national win in this particular class as Aiden Baker Crouse took the Jacksonville wins, while Danny Dyszelski swept the Lite class at Kershaw.
The Briggs & Stratton Racing/Inferno Racing Clutches Senior LO206 Heavy class will be a hard fought battle this weekend, with Corey Towles, the current points leader, as mentioned earlier, holding a 95-point edge in the standings over Michael Clark. Towles has maintained his win consistency this year, taking a win at both Jacksonville and Kershaw, while his Florida counterpart Sean Meier, also has a win to date as well. Joining this duo will be Jacob Heavlow, Sarah Luoma, Joseph Skaggs, Zach Linsell, Alpharetta, Georgia driver Matthew Horst, as well as fellow Peach State driver Haley Kummer from Conyers.
The Water Medic sponsored Junior LO206 class will be one of the most closely watched, with just a 25-point gap separating Jacksonville winner Matt Miller from Kershaw winner Jimmy Cole Jackson. Also set to do battle in this class will be Pectonica, Illinois driver Justin Wishard, Aaron Maxwell, Kannapolis, North Carolina competitor Cade Frazier, as well as Talia Moffett, and many others.
The Bordeaux Dyno Cams/Trackside Kart Supply Senior Pro Gas Heavy class is the second class that Maryland's Jacob Heavlow has swept so far this season. Heavlow currently owns a 120-point edge over brother Jimmy, with Jacob Connors also trying to close the gap.
The L&A South Tire Sportsman LO206 class will also be one to watch closely, as Midland, North Carolina's Caleb Gafrarar and Rochester, New York's Blake Boon registered their first wins of the season in this class at Kershaw. Nestled in between the 2 drivers is Madison, Alabama's Kevin Lanyi, just 35 points back in the bid for the title. Boon is 75 back, but hungry for another win to tighten the race, while Gafrarar has an edge by virtue of racing at New Castle twice in July in the Bridgestone Manufacturers Cup Series, as well as the SKUSA Summer Nats just one week later. Other drivers primed for a win include Elijah Skaggs, Sykesville, Maryland's Brady Atwood, Elmer Edmonson, and Greenwood, Indiana's Adam Maxwell.
Matt Miller leads the charge in the Briggs & Stratton Junior Pro Gas Heavy class, still looking for his first win in the class, with Cody Hall and David Kalb Jr sweeping wins so far this year. However, Millers consistency has netted him a 135-point lead over Ohio's Alex Vrabel, with Justin Wishard, Austin Williamson, Brian Van Cleve, and David Kalb set to do battle at the Indiana speedplant.
The all new Briggs & Stratton Masters LO206 Senior class has been filled with quite a bit of excitement, with 3 winners in 4 races so far. Murfreesboro, Tennessee driver Matt Skaggs looks to get back on the winning track after missing the Kershaw event, but posting a win in Jacksonville. Florida veteran Brad Farmer will be making the long haul to the Midwest with Kyle Robinson joining the pack as well.
Finally, in the Brads Heating and Cooling Sportsman Pro Gas Heavy Class, Florida's Elmer Edmonson looks to erase the 40-point deficit staring him in the face, with Landen Lewis currently holding down the top spot in the rankings. Local Indiana product Adam Maxwell will be one of the many providing stiff competition to Edmonson, as this class will wrap up the weekends action.
In addition to the points battles, the battle for chassis supremacy will continue, with Arrow sporting a 4-win lead over Coyote and Razor. Here's a look at the current chassis standings.
Arrow: 12
Coyote: 8
Razor: 8
Ionic Edge: 6
Bandit: 5
Comet Eagle: 2
The battle for the top spot begins with qualifying each day, following a round of morning practice. Fast Time for the National classes will again be brought to you by Mikim Motorsports. Special thanks also to Noram Clutches as an Associate Sponsor for the series, Boon and Sons, as well as GT Machine, proud sponsor of the Grand National event coming up October 7-9 at Carolina Motorsports Park in Kershaw, South Carolina.
To view the info for this weekends Kart City Performance Nationals, click here.