European Championship at its Grand Finale in Genk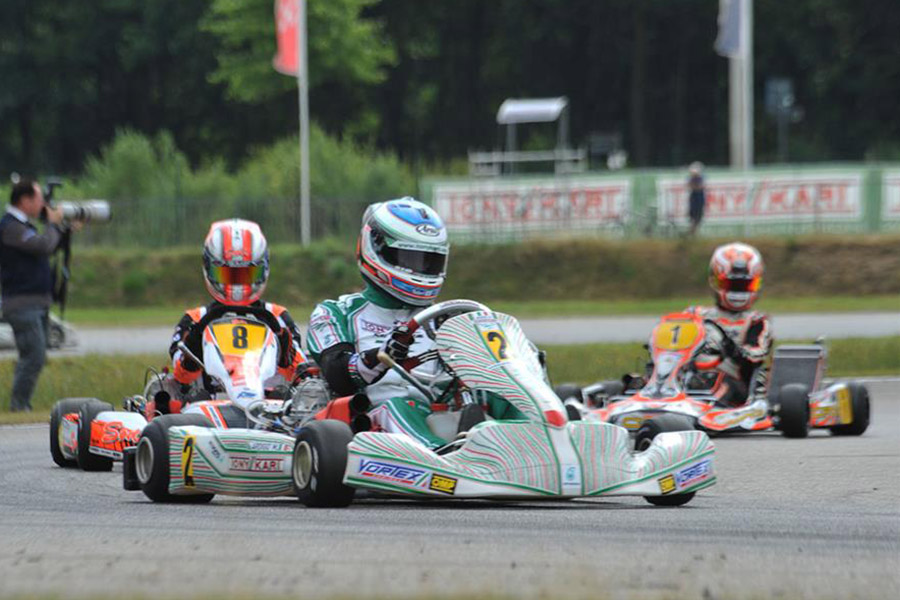 The frontrunners of the CIK-FIA European Championship, after the end of the Heats, are heading fast towards the finishing line of the last round in Genk, at the Horensbergdam Circuit in Belgium.  The facility is hosting, this weekend, the last event of the CIK-FIA European Championship of the OK, OK Junior, KZ and KZ2 categories. Apart from the top drivers – those who are aiming at the title – there is a large number of participants eager to make themselves conspicuous and to achieve a prestigious result. This is another reason why tomorrow's outcome of the race is going to be unpredictable and, as usual, motorsport fans will be able to follow the whole final stage of the round thanks to the live streaming on cikfiachampionship.com and cikfia.tv. The live broadcast will start with the drivers' parade. Don't miss the after race special report on Motors TV.
Italian Marco Ardigò (TonyKart-Vortex-Vega) finished unbeaten his session of Heats in KZ: he will be the pole-sitter in the Prefinal. He will be able to defend his leadership of the Champ starting from the front row. French Anthony Abbasse (Sodi-TM), in the 2nd slot, Dutch Jorrit Pex (CRG-Vortex) and Czech Patrik Hajek (Kosmic-Vortex) – both in 2nd row – are ready and eger to attack Ardigo's position. In OK, German Hannes Janker (CRG-Parilla-Vega) finished the Heats in 1st place ahead of French Clement Novalak (Tony Kart-Vortex). The two drivers will be the pole-sitter of the Prefinal A and B. Next to them Spanish Pedro Hiltbrand (CRG-Parilla) and Marta Garcia (EvoKart-Parilla): two dangerous opponents for the Champ leader, Tom Joyner (Zanardi-Parilla), who placed only 11th today. In KZ2 German Alexander Schmitz (BirelArt-Vortex-Vega) finished ahead of Italian Alex Irlando (Energy-TM). They will be both in pole-position in the Prefianal 1 and 2, with Irlando ready to battle against the leader, Fabian Federer (CRG-Modena), to win the title. Federer will fill the 2nd slot next to Schmitz; he will have another Champ frontrunner behind, Dutch Stan Pex (CRG-Vortex). Next to Irlando there will be Italian Luca Corberi (Tony Kart-Vortex), who is also among the favourites for the European title. In OKJ the pole-sitter of the Prefinal 1 is French Victor Martins (Kosmic- Parilla-Vega). Next to him the Norwegian Dennis Hauger (CRG-Parilla), while in the Prefinal 2 the pole was grabbed by English Finlay Kenneally, with Moroccan Sami Taoufik in 2nd place (both on FA Kart-Vortex): everybody is in pursuit of the current Champ leader, Noah Watt who placed only 15th.