Michael d'Orlando Heads Back to Europe After Strong Performance in Canada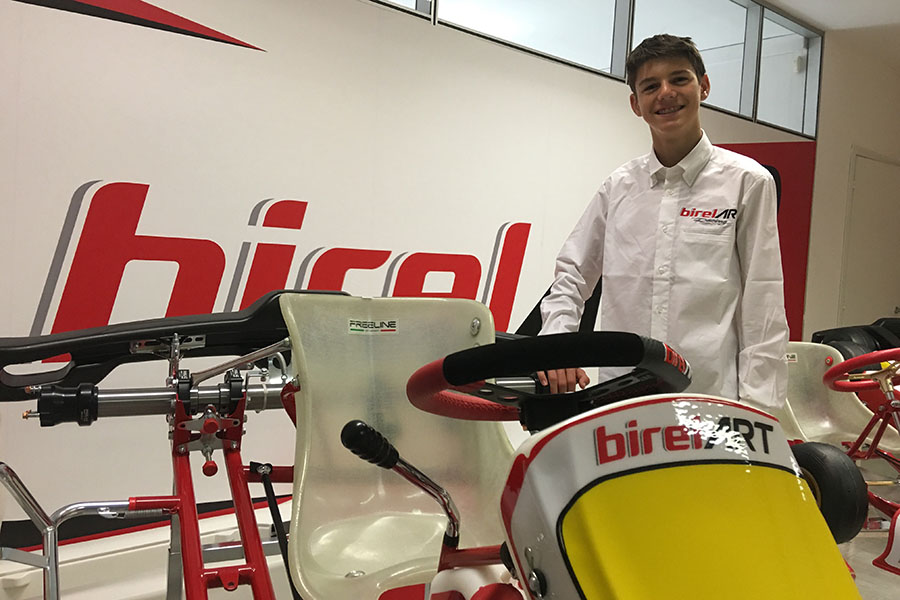 Michael d'Orlando heads back to Europe this week for the final round of the CIK FIA European Championship in Genk, Belgium. The Hartsdale, NY native is coming off an impressive performance at the Eastern Canadian Karting Championship collecting a third place result in the mixed weather main event #1 and another dominating victory in main event #2 at Circuit Jim Russell at Mont-Tremblant, Québec. Michael has made great strides these past two months and is looking to keep his momentum going as he prepares for his upcoming race in Genk, Belgium.
Michael spent the first part of last week logging plenty of quality laps testing with the Birel ART Racing Team for two days at 7 Laghi Kart International Circuit in Castelletto, Italy, in preparation for this week's competition.  He will be looking to build on his solid performance from both Quebec and Portugal last month.
For the first time in his European debut season, Michael has some experience at a track he is to be racing on as he tested last year at Circuit Horensbergdam, Damstraat in Genk, Belgium but this will be his first head-to-head action on the famous circuit. The competition will once again be incredibly tough as he will be racing against the highly experienced and best drivers in the world at the CIK FIA European Junior Championship.  Michael's main goal for this weekend is to remain consistent and to put his Birel ART kart in Sunday's main event as he did in Portimao, Portugal.
"I had a great two-days of testing last week," said Michael. "I was able to learn a lot and get a lot of laps in at Castelletto.  I am looking forward to racing at the circuit in Genk. I tested there last year and I really like it."
"I have made a lot progress since my first European race in Spain just a few months ago." continues Michael. "It was great to come away with strong finishes in the finals at Mont-Tremblant, Québec and I feel really good going into this weekend's race in Genk.  My goal for this race weekend is to remain consistent and continue to improve my race craft and to put my Birel ART kart in good position for a solid finish in the finals like I did in Portimao."
Michael d'Orlando finished up the testing week in Italy with a visit to the Birel ART factory in Milan, Italy where he was able meet with some of the workers at the factory and got a personalized tour with some of the team personnel he's been working with so closely these past few months. This in-depth tour was extremely informative and exciting for the 14-year old driver and now he looks forward to joining them on their trek to Genk, Belgium.
Michael and the Birel Art Racing Team will head to Circuit Horensbergdam, Damstraat in GENK, Belgium this weekend. The CIK FIA European Junior Championship starts on July 30-31st.  You can catch the race weekend live on www.cikfia.tv on July 30-31st.
For more information on Michael d'Orlando, please visit www.dorlandoracing.com. Be sure to follow him on Facebook (Michael d'Orlando Racing), Twitter (@dorlandoracing) and Instagram (@dorlandoracing) to stay up to date on news, information, photos and results.