Nicholas d'Orlando Gaining Momentum with a Sweep at WKA at NCMP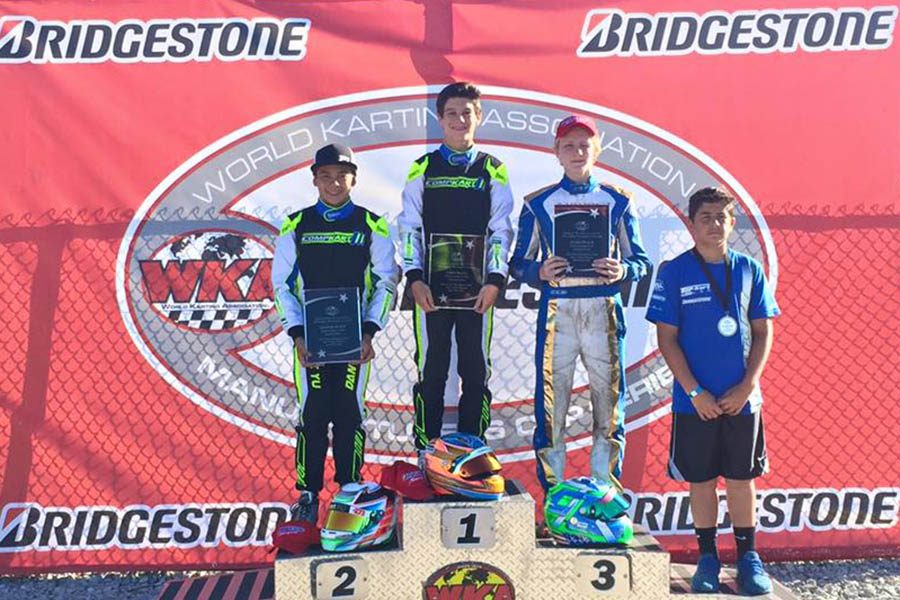 What a month of July it has been so far for Nicholas d'Orlando and the J3 Competition team as they are on a roll sweeping both finals in rounds five and six of the WKA Manufacturers Cup Series, in the Woltjer Racing Engines Pro IAME Junior class at New Castle Motorsports Park in New Castle, IN last weekend. Nicholas and his J3 Competition COMPKART chassis were hard to catch all weekend long as they dominated the field in qualifying and the heats, and went on to take the victory in both final events of the race weekend. Sunday was a perfect day for the young rookie claiming the qualifying pole position and taking the win in all three head-to-head races.  Joining Nicholas at the front of the grid was teammate Dante Yu, to give J3 Competition's COMPKART a lockout of the front row, as he contended against Nicholas all weekend long but came up short as the Californian would finish second to the Hartsdale, NY native.
"This was a fun weekend of racing. It was a tough field," said Nicholas d'Orlando. "I had a great kart and we were fast right from day one. My teammate Dante Yu was up front with me and we worked great together throughout the event producing great results for J3 Competition. The team and I have gained some great momentum this month and I have been learning a lot over these past events.  Everything is starting to come together for us.  Our goal for the weekend was simple, to bring home another strong finish here at New Castle and we exceeded it."
Prior to the WKA Manufacturers Cup Series, d'Orlando returned to the United States Pro Kart Series action in "Race City, USA"  – Mooresville, NC, at the acclaimed GoPro Motorcomplex.    d'Orlando was solid all weekend long in the very experienced IAME Junior class bringing home a ninth & a fifth place result in the main events.
Nicholas and the J3 Competition team are looking to continue their momentum as they head back to New Castle Motorsports Park in New Castle, IN for this weekend's SKUSA Pro Tour Rounds 3 & 4 – SummerNationals. The Junior rookie d'Orlando had a solid first round at the SpringNationals in April, with two finishes just outside the top ten and a pole position qualifying effort, and he now looks to improve that result at the record-setting attendance SummerNationals in a field of over 40 Junior drivers in the X30-Junior class.
SKUSA Pro Tour Rounds 3&4 – SummerNationals kicks off its weekend in New Castle, IN July 22nd – 24th. For live action of the event go to http://www.superkartsusa.com than click "live" on the website.
For more information on Nicholas d'Orlando, please visit www.dorlandoracing.com. Be sure to follow Nicholas on Facebook (Nicholas d'Orlando Racing), Twitter (@dorlandoracing) and Instagram (@dorlandoracing) to stay up to date on news, information, photos and results