So Cal Oval Karters Return to Wheel2Wheel Raceway in Victoryville Saturday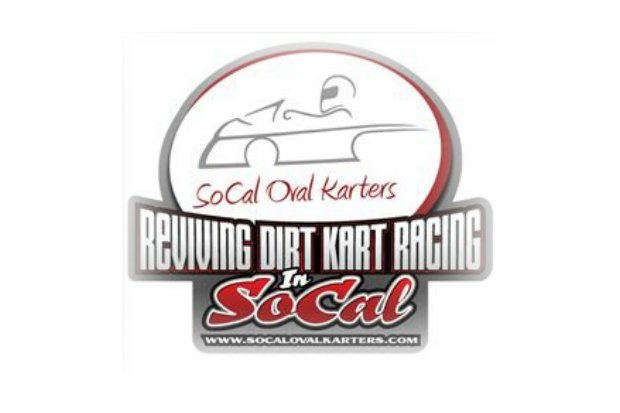 After four straight weekends off, the So Cal Oval Karters end their summer break this Saturday, July 23rd, when they head to Jon Aden's Wheel2Wheel Raceway on the San Bernardino County Fairgrounds in Victorville.  Saturday will be the "3rd Annual Flyin' Hawaiian Race" and it will also feature the resident speedway sprints and dirt karts on the program.  Spectator gates will open at 5:00 PM with racing at 6:00.
Local karter Chris Southern of Hesperia, who won the first four KT100 main events of the year at Wheel2Wheel, will be out to start a new streak on Saturday on the 1/8 of a Mile-High Desert oval.  At the last race at Perris Auto Speedway on June 23rd, Long Beach racer Joe Gibb put an end to Southern's streak with a convincing win.  Heading into Saturday's race, Southern has a 40-point advantage over Gibb, who last week scored a win in Hanford, in the championship standings.  Oxnard's Rob Marion, who was in the midst of a hot streak exactly one year ago, is third.
In a flip flop in the Open Class, Southern ended the three race win streak of Gibb at Wheel2Wheel on June 4th, but Gibb started a new one when he won his second main of the day at Perris on the 23rd.  Gibb will carry a 60-point advantage over Fountain Valley karter Scott Bohle into Victorville.  Dillon Hoffman of Cathedral City is only 5-points behind Bohle.
Another win streak going into Saturday's race is held by Don Holdsworth in the Senior 4 Cycles.  The Menifee racer has reeled off four straight wins and has the largest point lead in all of SCOK.  Banning's Desiree Gaynor is second, but trails Holdsworth by 74-points.  Norwalk's John Leonhart is third and is only 6-points behind Gaynor.
Whitter's Steve Juillerat has won three of the first five races in the F200 class this season including two at Wheel2Wheel.  Thus he tops the points charts in the class by 40-points over Banning's Scott Gaynor.  Riverside's Justin Garcia is third.
In addition to the adults, the Junior/Junior class will also be at Wheel2Wheel getting valuable laps for tomorrow's karting stars.
After Saturday's race, the club will head to the Grand Arena at Industry Hills for its only 2016 appearance on August 6th.
The So Cal Oval Karters would like to thank the following sponsors for helping make the 2016 championship series possible.  Burris Racing, Cory Kruseman Sprint Car Driving School, Hubcapmike.com, Perris Auto Speedway, R&J Motorsports, THC Home Medical Services, T-MAC Racing and Yamaha of America Racing Engines.  If you or your business would like to become a partner of the So Cal Oval Karters 2016 season, please call or E-mail Mike Nigh at (805) 857-2595 or mailto:scokart@gmail.com.
Point Standings
KT100
Chris Southern – Hesperia – 720
2. Joe Gibb – Long Beach -680
3. Rob Marion – Oxnard – 655
4. Thomas Southern – Hesperia – 624 *
5. Matt Drotz – Long Beach – 495 *
* Non Member
Open Class
Joe Gibb – Long Beach – 720
2. Scott Bohle – Fountain Valley – 660
3. Dillon Hoffman – Cathedral City – 655
4. Norm Reynolds – San Marcos – 635
5. Chris Southern – Hesperia – 510
Senior 4 Cycles
Don Holdsworth – Menifee – 720
2. Desiree Gaynor – Banning – 646
3. John Leonhart – Norwalk – 640
4. Ryan Sherman – Lake Elsinore – 500 *
5. Tony de Almeida – Chino Hills – 486
*Non Member
F200
Steve Juillerat – Whittier – 710
2. Scott Gaynor – Banning – 670
3. Justin Garcia – Riverside – 655
4. Troy McIntosh – Lake Elsinore – 350
5. Jason Voss – Lake Elsinore – 320
KT100 Main Event Winners
3-12 Wheel2Wheel – Chris Southern
4-23 Wheel2Wheel – Chris Southern
5-14 Wheel2Wheel – Chris Southern
6-4   Wheel2Wheel – Chris Southern
6-18 Perris Auto Speedway – Joe Gibb
F200 Main Event Winners
3-12 Wheel2Wheel – Jason Morheiser
4-23 Wheel2Wheel – Steve Juillerat
5-14 Wheel2Wheel – Troy McIntosh
6-4   Wheel2Wheel – Steve Juillerat
6-18 Perris Auto Speedway – Steve Juillerat
SR 4 Cycle Main Event Winners
3-12 Wheel2Wheel – Jason Morheiser
4-23 Wheel2Wheel – Don Holdsworth
5-14 Wheel2Wheel – Don Holdsworth
6-4   Wheel2Wheel –  Don Holdsworth
6-18 Perris Auto Speedway – Don Holdsworth
Open Class Main Event Winners
3-12 Wheel2Wheel – Joe Gibb
4-23 Wheel2Wheel – Joe Gibb
5-14 Wheel2Wheel – Joe Gibb
6-4   Wheel2Wheel – Chris Southern
6-25 Perris Auto Speedway – Joe Gibb