Brandon Lemke Racking Up National Wins, Selected For Generation-Ganassi Mentorship Program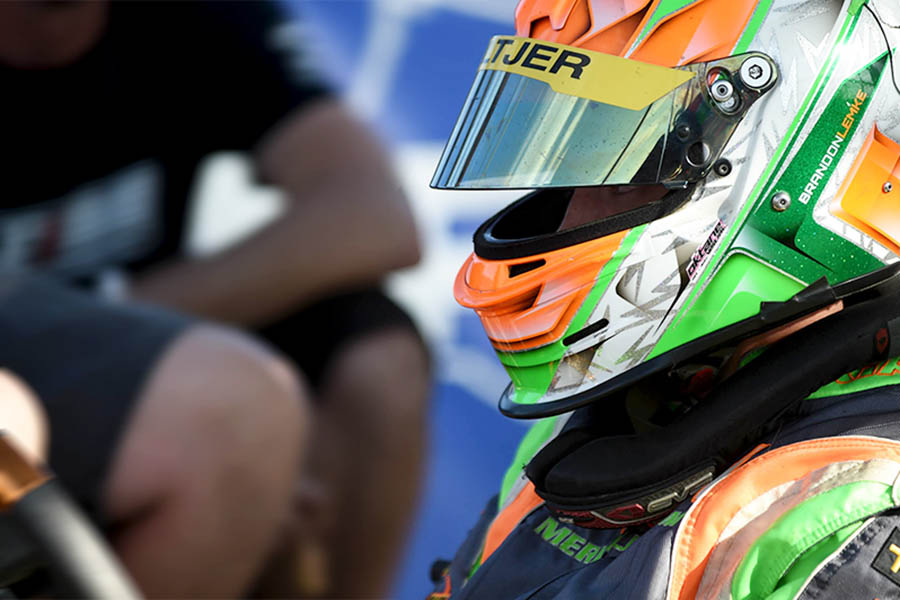 Wisconsin's Brandon Lemke has surged to become one of the country's top TaG racers in 2016 during his rookie season in the senior category – winning races and driving to top finishes between SKUSA, USPKS and WKA national series.
Lemke's success has not gone unnoticed as the 16-year-old recently received a great honor in being selected over some 100 applicants as a winner of the Generation Ganassi (Gen-G) Mentorship Program, a brand-new program created by championship race team owner Chip Ganassi to help identify young racing talent and provide mentorship via a pairing with a current Ganassi driver, competition person and others from the team's business operations team.
Lemke, a 13-time national karting champion, will join several of the best racers in the world between the ages of 13 and 18 in the program, identified as "Ones to Watch" in the world of auto racing.
Chip Ganassi Racing will be releasing more details on the new Gen-G program in the coming weeks.
On the track, Lemke hasn't missed a beat since advancing from the Junior ranks to the Senior category. He opened the year with a WKA Winter Tour championship in the IAME Senior classification and he's racked up eight national final wins thus far including winning four of six finals thus far in the ultra-competitive Pro IAME Senior class in USPKS.
Lemke's most recent success came at GoPro Motorplex in Mooresville, N.C., where he swept the headline Pro IAME Senior class's finals with dominating victories both days of competition.
"It's been an excitingseason so far," Lemke commented. "We've been awesome in USPKS whereas (WKA) Man Cup we haven't won as many races, but we've still been very competitive. Our main focus this year is USPKS, and we've been fast in it, so I can't complain. I'm looking forward to the SKUSA SummerNationals this weekend, too. I'm confident we are going to run well, and hopefully we can pick up a couple wins after we missed the win at Phoenix in the spring."
As of July 1, Lemke sits P3 in the eKartingNews.com TaG Driver Rankings, a tabulation including approximately 400 TaG and Stock Moto drivers that are ranked using results from the major series and one-off events across North America.
Karts are not the only machines Lemke has been wheeling this year. He recently tried his hand in a U.S. Legends car in the prestigious Summer Shootout at Charlotte Motor Speedway. Driving a car owned by Scott Mayer, Lemke learned the ropes quickly and ran competitive during both Monday and Tuesday's competition.
Lemke has also seen time in a micro-sprint on the dirt at Port City Raceway in Oklahoma.
"I enjoyed the Legends car at Charlotte and I'd love to get back into it this season," Lemke said. "A big thanks to Scott and Sam Mayer for the opportunity. I also really enjoyed racing on the dirt. It was a lot of fun and something I'd love to do again. We need to stay hungry and keep the success going in the karts, and hopefully we can find an opportunity so I can test my skills at the next level, wherever that may end up being."
This weekend is one of the biggest races of the summer with the SKUSA Pro Tour's SummerNationals at Indiana's New Castle Motorsports Park. Teams from coast to coast will enter New Castle's gates this week to challenge for prestigious Pro Tour victories.
Brandon will be one of the favorites in the X30 Senior category as he looks to build on his P3 finish in the Pro Tour's Round 2 at Phoenix, Ariz., in May.
Brandon Lemke is a 16-year-old national champion kart racer from Eagle, Wisconsin. Lemke is a 13-time national champion, 13-time regional champion and the last driver to win four national WKA championships in a single season, which won him the prestigious Triple Crown award in 2013.
Lemke races his family-owned Franklin Motorsports-backed Merlin chassis in the most competitive sprint series in the country. He's proud to be sponsored by Quickswim, QPS Employment Group, Woltjer Racing Engines and Race Ready Engineering.
To learn more about Brandon, visit BrandonLemke.com and "Like" his Facebook page at "Brandon Lemke Fan Page."