Awning Company Super One Series – OK and OKJ MSA British Kart Championships Round 2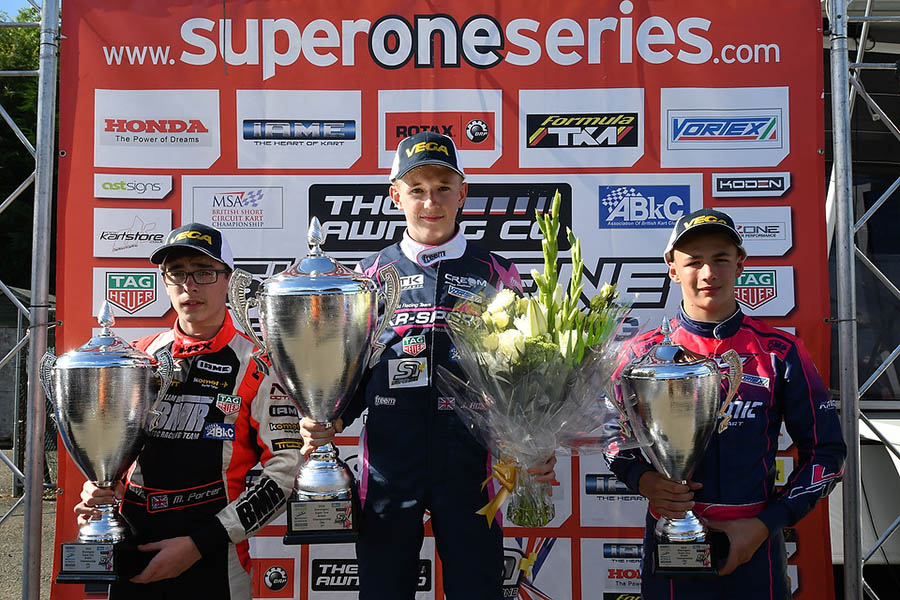 Dean MacDonald and Jonathan Hoggard were the stars of the second round of this resurgent MSA British Kart Championship at Shenington in north Oxfordshire.  The senior grid was increased on last time as more drivers come to love the performance benefits of this CIK international class, whilst the juniors were marginally down due to driver's prior commitments.  Nevertheless there were new faces and Strawberry Racing and Vortex had put up a senior and junior engine to be won by best newcomer which turned out to be Ross Martin and Roman Haskett.  The airfield circuit is just over 1Km but produced some thrilling races and the whole weekend was an extravaganza for the annual Shenington SuperPrix and MSA E Plates.  The winners of the OK classes can now sport the E for England champion number plate for the next year.  Along with live music and a barbeque on Saturday evening there were daily demonstrations from around seventy historic and Legend karts.   The last round of the series for nearly all Super One classes is at PF International on 23-25 September.
MSA British Kart Championship for OK Senior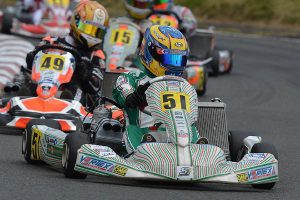 It was Jamie Flynn who took top spot in timed qualifying with Dean MacDonald just a tenth behind Flynn and Oliver Hodgson.  Then MacDonald got into his stride winning both heats with quite a few retirements including Flynn, Harrison Thomas and newcomer Ross Martin now his funding has run dry in single seaters.  MacDonald went onto to stamp his authority on the meeting by winning both finals comfortably.  The flying Scotsman cruised clear of Hodgson in the first final then Toby Sowery dropped out elevating Jacob Stilp.  Stilp was being pressed by Jamie Flynn who had come from tenth on the grid until Flynn also retired, leaving Luke Knott in fourth, well clear of Roy Johnson.  Veteran Bobby Game had been in the mix for fifth, but fell to eleventh.  For the second final Stilp leapfrogged the fast starting Thomas and Hodgson for second but MacDonald had already cleared off.  Thomas nipped past Hodgson in the chicane whilst Flynn roared up from the back to challenge Ross Martin for fifth.
Final 1 (19 laps): 1 Dean MacDonald (Tony Kart); 2 Oliver Hodgson (Birel ART); 3 Jacob Stilp (Mad Croc) 4 Luke Knott (Tony Kart); 5 Roy Johnson (Tony Kart); 6 Harrison Thomas (Kosmic).
Final 2: 1 MacDonald (19 laps); 2 Stilp; 3 Thomas; 4 Hodgson; 5 Ross Martin (Birel-ART); 6 Jamie Flynn (DR). FL Johnson 40.4s. Pole MacDonald.
MSA Junior British Kart Championship for OKJ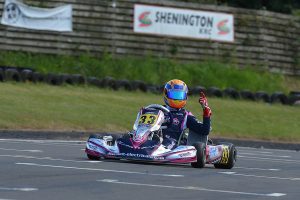 In the Junior OK category Jonathan Hoggard was at one with the track on a very hot weekend unchallenged from timed qualifying through both heats and both finals.  In the TQ Kiern Jewiss was next just ahead of the Frenchman Axel Charpentier but it was the steady but fast Mark Kimber who lined up alongside Hoggard on the first final grid.  In the first Kiern Jewiss lost second to Axel Charpentier before Morgan Porter took them both, the BMR driver being fifth on the grid.  Mark Kimber leapfrogged to third, as Jewiss was penalized to twelfth with a dropped front fairing from contact, elevating Charpentier, Callum Bradshaw and local driver Roman Haskett.  Porter could only reach within 2s of Hoggard with Kimber a second behind.  Hoggard swiftly pulled a gap on Porter in the second final leaving all the action around third place.  Jewiss had put in a stupendous first lap for fifth, he and Charpentier soon joined by Kimber in the battle for third.  Amidst much jostling on the last lap both into the first hairpin and through the chicane, Jewiss held onto third over Charpentier and Kimber.  Local driver Roman Haskett won the engine for best newcomer, finishing a very creditable seventh.
Final 1 (19 laps): 1 Jonathan Hoggard (Kosmic); 2 Morgan Porter (Octane); 3 Mark Kimber (Tony Kart); 4  Axel Charpentier (Tony Kart); 5 Callum Bradshaw (Exprit); 6 Roman Haskett (Tony Kart).
Final 2: 1 Hoggard (19 laps); 2 Porter; 3 Jewiss; 4 Charpentier; 5 Kimber; 6 Bradshaw