Record-Setting Event for West Coast Kart Club at Greg Moore Raceway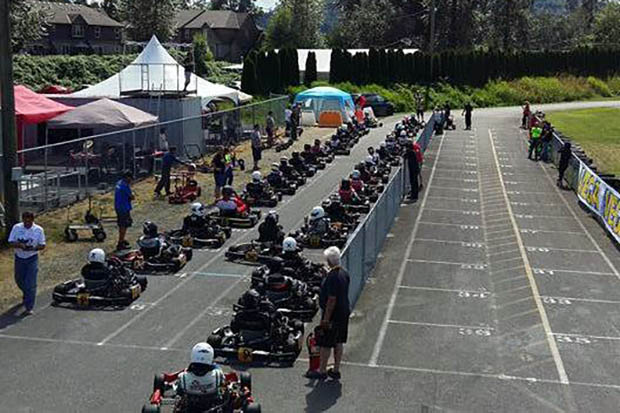 LO206 Senior at Race #5
A late-season uptick in club race participation at West Coast Kart Club in 2015 keeps on rolling in '16, with entries setting new highs at each club race this year.  WCKC Race #5 at Greg Moore Raceway, the west coast's premier kart track, featured 99 entries and the spectacle of a 39-kart LO206 Senior grid hammering into turn 1 …. levels not seen in recent memory.  It's not just all about the 4-strokes though, the growth and good racing is spreading all across the spectrum from Micro Max all the way up to the new 'T3' TaG Heavy class.  Free race entries, tires, or RaceNow arrive-and-drive package prizes drawn at the end of each race may be part of it, or it could be the awesome new WCKC promo video, revival of the newsletter, or club BBQs.  One thing that has not changed is the terrific GMR facility with our first-class track layout and trackside storage facilities for members.  Most likely it's all of the above, plus the good feeling of being in a busy paddock, even on practice day, with family teams of two, three, or even four parents and kids all racing, lots of new faces, and some long-time racers returning after years away.  Bottom line is there's a good buzz around GMR these days!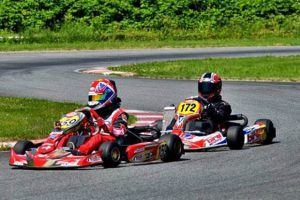 Micro Max started the year with the whole grid having the 'X', surely a good sign for the future.  Addison Jones is following in the footsteps of older brother Logan and dad Sean, both club series regulars.  Ryland Eagles has his sights set on dad Chris' WCKC RoKGP crown, and Katie Musgrave has sister Ellie running up front in Rotax Jr. for inspiration.  Newcomers Dante Bottiglieri (Micro Max) and Kellen Sichewski (Jr. 1 LO206) are also learning the ropes in this group.  Race #5, however, saw experienced visitors Asthon Torgerson and Shawn Kozma, both preparing for the upcoming CanAm Challenge round at GMR, in P1 and P2 with WCKC series leader Antonio Costantino in P3.
Mini Max has grown this year with club regulars Logan Jones and Jason Leung moving up from Micro, plus Alexander Yettaw arriving late last season, joining '15 series points winner Maxwell Inkpen.  At Race #5 CanAm series regulars Asthon Torgerson and Jason Leung ran a close 1-2 in the final, with Ryan Dezall (one of no less than 4 Dezall's racing this weekend) in 3rd.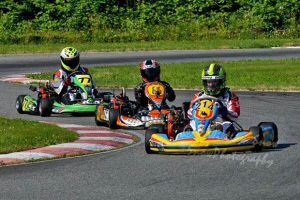 In Jr2 LO206 has sophomore drivers Arjan Mann and Liam MacRae returning, joined by a group of Rotax Jr. regulars doing double-duty: Marco Kacic, TJ Madonna, and Jonathon Yettaw.  Race #5 also featured guests Matthew Taskinen, Carsen Kunz, and Austin Torgerson with Taskinen, Kunz and Kacic P1-P2-P3 in the final.
11 drivers took the Rotax Jr. final start with Taskinen, Kacic and Tyler Kozma finishing 1-2-3 all within 0.50 second; P1 qualifier Ellie Musgrave was an unlucky DNF.
RokGP/T1/T2 brings together the various Senior 2-stroke motor and tire combinations running at light weights, and drew 16 entries for Race #5.  Perennial WCKC front runner Chris Eagles took the final with his RokGP, over another WCKC stalwart Peter Cheung (Rotax) and guest Ben Maxfield (Rotax).  Pre-Final winner Rosario Verderame (Rotax) was a DNF in the final, as was early final leader Richard Lee (Rotax).  This class is paving the way for a headline 2-stroke category that can hopefully overcome the fragmentation of Sr. 2-stroke classes.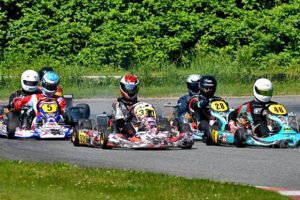 'T3' or 'Tag Heavy' was introduced this season as a sportsman-level class for older 2-stroke equipment to compete.  Perfectly good but 'obsolete' equipment wasting away in shops and garages has long been a curse of grassroots karting, and T3 is providing a cure.  There is no age restriction (as in Masters), but weight at 390 lbs and a three heat (8-8-10 lap)/no qualifying format makes this a good place for new and/or older drivers.  T3 has brought back Christian Fau (former MotoGP mechanic for brother Bernard in the '70's and 80's 'Continental Circus' days) after an absence from karting of almost 10 years, and Kevin Inkpen, after 30 years away.  So what does T3 stand for?  Tylenol 3, of course, which is what some of us in this class need on Sunday night after a race!  For Race #5, rookie Clay Wotherspoon (recently relieved of his 'X' and having upgraded from an old RokTT to a less-old Leopard) found a new level and did the clean sweep of all three heats at Race #5, over current points leader Aleksander Lebeda.  T3 welcomed new driver Robert Samson at Race #5.  T3 is combined on track with our long-standing TKM group, Greg Henderson winning over John McCoy and new competitor Geoff Tupholme.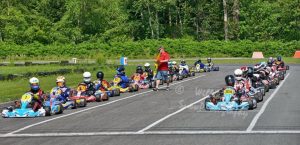 LO206 Senior has become well established over the past couple of seasons, usually with grids of 25 karts, but Sunday's monster grid of 39 took it to a new level.  After trying a standing start earlier in the season (to mixed reviews), first corner carnage was kept to a minimum by returning to a rolling start with the start line moved further down the straight closer to Turn 1.  Battles throughout the pack ensued – in the final WCKC regulars Bryce Choquer and Derek Wang took P1 and P2, followed by Brandon Cusak in P3, the usual 'yawning gap' of 0.216 seconds covering all three across the line.  WCKC Vice President (and all around uber-volunteer) Erik Gerlof was bemused to see his P1 in Qualifying and P2 in the Pre-Final eroded to a P8 in the final, two places behind teenage son Sam, but that's just how this class rolls.  More time testing and less time driving the excavator at track cleanup might fix this Erik!
The weekend following Race #5, the GMR paddock was jammed again for Rounds 3 and 4 of the CanAm Karting Challenge.  Then we're back for WCKC Race #6 July 30-31.  See you at the track!
Website:              www.westcoastkartclub.ca
Facebook:           https://www.facebook.com/WestCoastKartClub/