WKA Bridgestone Manufacturers Cup Series Prepares for Summer Stretch Beginning at New Castle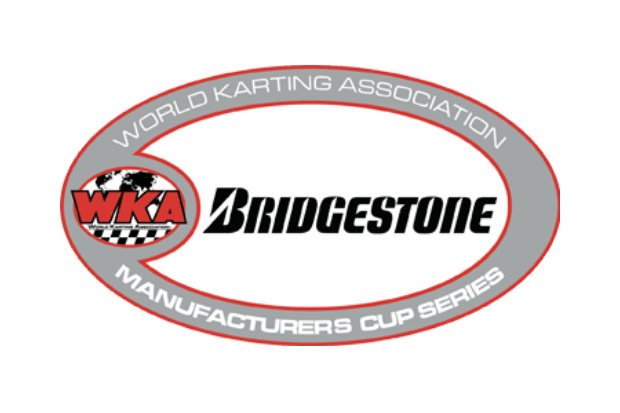 The 3-month hiatus for the WKA Bridgestone Manufacturers Cup Series will come to a conclusion in a big way this weekend, as over 140 pre entries will jam the pits of the famed New Castle Motorsports Park in Indiana for the McLaughlin Motorsports Nationals, stop #3 for the popular 2 Cycle Sprint Series.
Following traditional stints in December at Daytona, followed by an early Spring national 4 months later in April at GoPro Motorplex, the series competitors will now be put to the test with 3 national events in 3 months, with an August run in Pittsburgh, followed by the season finale and Grand National event back at New Castle in September.
This weekends event comes 1 week prior to the SummerNats, also at the Indiana speed plant, with many drivers taking advantage of the Mfg Cup weekend to gain added track time for the latest event for Superkarts! USA, hoping to have back to back weekends of on track success.
Amidst the many entries are several in the Water for a Cause Kid Kart class. Coming off an impressive weekend back in April at GoPro in which he scored his first Kid Kart win on Day 2 of the event, Groveport, Ohio driver Preveil Perkins brings not only momentum from the win, but more importantly a 15 point lead over Terre Haute, Indiana competitor Austin Olds, while Indy Ragan, Tristan Young, and Dusty Larson are a few more of the many who will compete for the weekend title.
Due to recent birthdays, combined with WKA's rule with regards to a driver running his/her attained age, a pair of young aces have elected to graduate up to the CRPRACING.COM Mini Swift class for this event. Grove City, Ohio's Ayrton Grimm, along with Pataskala, Ohio young gun Ava Dutton will take on the likes of the very best in the Mini Swift class, including Mooresville, North Carolina points leader Eli Trull, along with fellow North Carolina stalwart Caleb Gafrarar from Midland, NC. Stevensville, Maryland driver Benjamin Maier will also be in the mix for the title hunt this weekend, as well as Sebastian NG, Jeremy Fletcher, Danny Dyszelski, not to mention western drivers Jace Denmark-Gessell from Phoenix, Arizona, and Piers Aspiras from California, as well as a trio of drivers from Miami including Elio Giovane, Santiago Trisini, and Sebastian Montoya.
The Allison Racing Engines Yamaha Sportsman class is busting at the seams as well, led by Duncannon, Pennsylvania points leader Robert Noaker III, a photo finish winner at GoPro in April, edging Gibsonia, Pennsylvania driver Madison Campeau, who will also be on hand, looking to reverse the finish this time around. Brownsburg, Indiana hot shoe Kaden Wharff will also be on hand this weekend, as well as New Jersey's Connor Ferris, Illinois's Lucas Smalec and Nick Terlecki, Wisconsin competitors Taylor Maas and Kyle Thome, Greenfield Indiana products Garrett and Logan Adams, Ohio's Thomas Schrage, and a host of others.
The Franklinkart.com Yamaha Junior class is also loaded for bear with Go Pro winner and points leader Pauly Massimino from Waxhaw, North Carolina leading the charge. Also in the field will be another GoPro winner in the form of Westlake, Ohio's John Paul Southern Jr, as well as St Louis competitor Spike Kohlbecker, Mason, Ohio's Marina Walters, New Jersey's Tyler Ferris, North Carolina drivers Emory Lyda and Arie Venberg,, as well as Ian Hornish, Connor Cass, Matt Miller, Sam Paley, Chandler Moran, and many more.
The IAME USA East Pro Swift Sportsman class, not to be outdone, brings a wealth of talent to the game this weekend, led by Hackettstown, New Jersey competitor Connor Ferris, the current points leader. Kaden Wharff is also entered this weekend, as well as #3 points driver Zane Maloney, Luca Mars, Robert Noaker III, Nick Terlecki, Thomas Schrage, Owen Mahle, Madison Campeau, Camrin Cass, Rylee Engel, and many more.
The Woltjer Racing Engines Pro IAME Junior class will be led by Pauly Massimino, looking to maintain his points lead in a second class this weekend. Some of Massimino's toughest competitor is expected to come from Spike Kohlbecker, Connor Cass, Tyler Ferris, Myles Rowe, Ariana Gnad, Sam Paley, Jack Gerzabeck, and many others entered.
On the Senior side, the Kartsport North America Pro IAME Senior will again be running for a top overall weekend prize of $1,000, with $500 to second, and a set of Bridgestone Tires for third. Leading the charge is Oviedo, Florida's Jonathan Kotyk, ahead of Eagle, Wisconsin driver Brandon Lemke by a mere 10 points in the battle for the title. Shillington, Pennsylvania driver Brandon Jarsocrak will also be on hand, along with Gahanna, Ohio driver Braden Eves, Jacob Donald from Jeannette, Pennsylvania, Pine Springs, Minnesota campaigner Alexander Kardashian, Old Bridge, New Jersey competitor Nick Landi, as well as Mick Gabriel, Austin Schulz, not to mention a trio of talented female drivers including Julia Boos, Abby McLaughlin, and Olivia Horn.
Nick Landi comes into the Fullerton Karts USA Yamaha Senior class with a scant 20-point edge over Brandon Lemke, with both on hand to continue the battle this weekend. Braden Eves has also entered this class as well, along with long time veteran and champion Dakota Pesek from Centerville, Ohio, Alexander Kardashian, Illinois's Brad Brittin, Charlotte's Jake Venberg, Ohio's Derek Hughes, Indiana's Tony Peterson, and many more.
The battle for Chassis supremacy will continue this weekend as well with Tony Kart holding a 3-win edge over both Merlin and Top Kart, while Praga sits 4 wins out of the top spot. Here's a look at the current chassis standings;
Tony Kart: 8
Merlin: 5
Top Kart: 5
Praga: 4
Margay: 2
Fullerton, Birel, Parolin, Benik, FA, Comp Kart, Emmick, and Energy all have 1 win to date.
In addition to the Pro IAME Senior class honoring their overall top 3 for the weekend with a payout, the IMAE USA East Pro Swift Sportsman and Woltjer Racing Engines Pro IAME Junior classes will also we honoring their overall winner with a $500 payday, with $250 going to second, and a set of Bridgestone Tires for third respectively.
Additionally, start times have changed as well, with the official start time for Friday practice beginning at 8:30am, and each race day mornings activities on Saturday and Sunday getting underway at 7:30am. 1 round of practice, followed by qualifying, 2 rounds of Heat Races, culminating with a final and podium presentations each day will highlight the weekends activities. Be sure and pick up the weekends timelines, as well as all the pertinent info regarding qualifying and tire rules at the tracks official WKA Registration location, which will be conveniently located in the tracks Pro Shop next to Pit Pass Sales.
Since the last visit to New Castle for the Mfg Cup Series, a Sunoco Fuel Pump has also been added, allowing competitors the opportunity to purchase their official Sunoco Race Fuel at anytime, another added convenience to the New Castle event.
Fast Time Awards for the weekend will again be sponsored by Comet Kart Sales, as the run for the Pole will take place each race day. The weekends overall winners in each class will also receive an additional award, sponsored by Checkered Motorsports, while Tillotson will again be providing a generator that will go to 1 lucky winner in either the Pro IAME Senior or Junior classes, though a drawing at the podium at the end of the weekend.
Be sure and check out the 2015 National Champions Flags displayed at the track, honoring the best of last year in their respective classes, sponsored by New Jersey Sprint Series.
To view the weekends activities at New Castle, click here.
eKartingNews.com is returning to Trackside Live coverage on the weekend. After missing the GoPro weekend, EKN will stream the live audio throughout the weekend at ekartingnews.com/live. Race reports, photos and social media updates will be available throughout the weekend as well.