Maranello Kart Putting in Strong Performances with Flavio Sani and Francesco Alaimo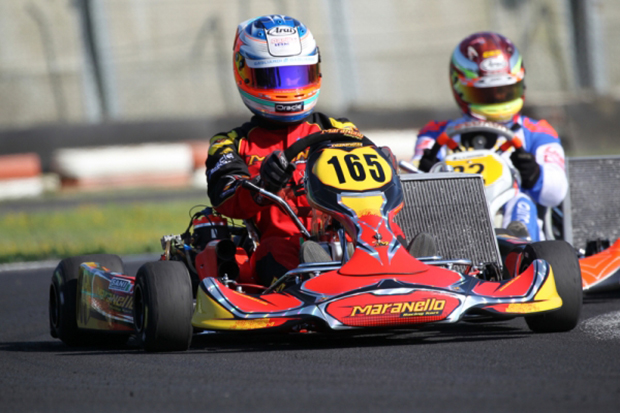 Maranello Kart has obtained good results in the national races with Sani scoring a great second in Siena and Alaimo winning the Sicilian Championship of Prodriver Under. Zanchetta and Mosca fielded in the next important round of the German DKM in Genk.
Maranello Kart's drivers are living a good moment in this "hot" period of the season that involved several different events including some important international appointments. Flavio Sani obtained a good result last Sunday on Maranello-Modena in Siena's Summer Trophy of KZ2, race valid for the Regional Tuscany-Umbria Championship that featrured several strong drivers on track.
Following the fourth time in qualifying and the third in Prefinal, Sani showed a great competitiveness in the KZ2 Final, fighting in the leading group until the end and closing his effort in second place behind the winner Mirko Torsellini. Sani put in a great performance that confirmed his speed and that of the Maranello Kart's chassis ahead of the forthcoming important rounds of the season. Daniele D'Uva has also been shining in Siena and claimed P2 in the Prodriver Under on Maranello-Tm.
Good news came also from Sicily, where the sixth round of the Regional Championship of Prodriver Under took place in Melilli. Francesco Alaimo claimed the victory in the Final on Maranello-Tm which gave him the victory of the championship one race early. Alaimo scored a great result, especially as he is a private driver directly involved with his father in the preparation of engine and chassis. The next racing duties of Alaimo will include the participation to the Italian Championship round of Adria next July 10th.
Meanwhile, Maranello Kart announced its participation to the next round of the German DKM Championship of KZ2 in Genk (Belgium). The race to be held next July 17th will see Marco Zanchetta and Tommaso Mosca on track. This is going to be an important round ahead of the European Championship that will be run on the Belgian track next July 31st.