206 Cup Visits Briggs & Stratton Raceway Park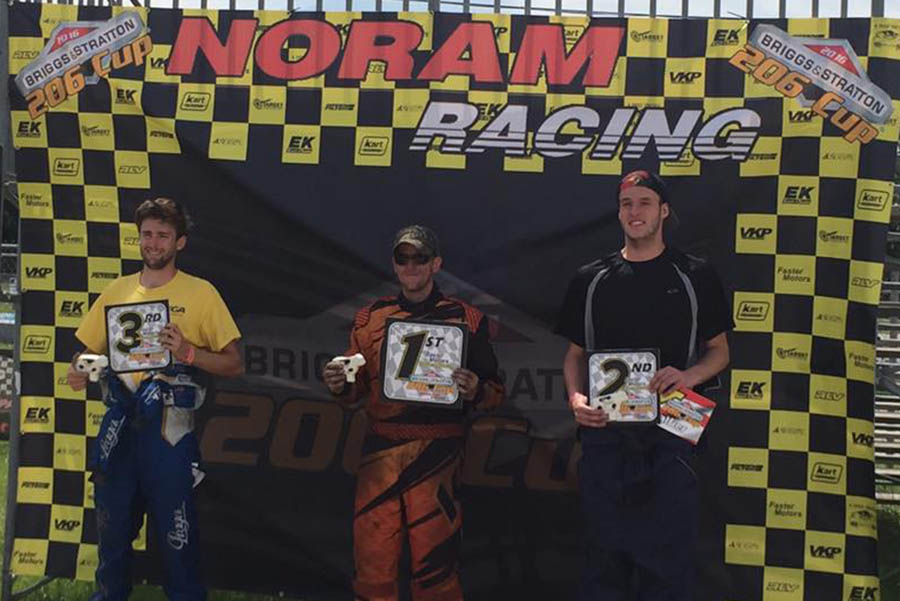 206 Senior Medium Sunday podium
The Briggs & Stratton 206 Cup held its second race weekend at Briggs & Stratton Raceway Park hosted by Badger Kart Club on June 11-12. Briggs & Stratton Raceway Park is a nationally recognized kart track located 30 miles west of Milwaukee in Dousman, Wisconsin. It is owned by a trust and operated by the Badger Kart Club which like the series is dedicated to promoting the grassroots spirit of karting. The track is a very flat and tight, consisting of 12 corners, with names like the hair pin, sweeper, no-mans land, and the boot. After the 2016 season the track surface will be replace and additional configuration options will be added. In addition to being a great race track the club awards much sought after and coveted cheese cows to the top three finishers in each class.
Briggs & Stratton Racing is the primary sponsor with Vega providing support and tires. Vega designed a new tire for the 2016 season specifically for 4 cycle racing with the guidance of the Cup in order to provide a long lasting medium grip tire that is suitable for many styles of chassis. Presenting Sponsor Noram Clutch continues to support the series, and RLV Exhaust is now the qualifying sponsor for the series. Kyle Luttrell's Ionic Edge chassis has come on board as a hosting sponsor. Target Distribution is continuing its support as a series sponsor.
The remaining schedule for the 206 cup:
July 16-27 at Concept Haulers Motor Speedway in Norway, IL
August 6-7 at 61 Kartway in Delmar, IA
September 17-18 at USAir Motorsports Park in Shawano, WI
LO206 Sportsman
Payton Gladowski and Jason Pribyl continued their battle from the previous race at Road America and once again Pribyl could not make his passes stick for more then a lap or two. Each race these two pushed each other to driver faster and harder all weekend long often a just a few hundredths apart. The battle for 3rd was just as fierce between Cale Zimmerman and Will Holtz(a local favorite) each taking one day's 3rd spot.
Saturday: Payton Glodowski, Jason Pribyl, Will Holtz
Sunday: Payton Glodowski, Jason Pribyl, Cale Zimmermann
Viking Karting Products LO206 Junior
Racing was very tight in the LO206 Junior class Justin Wishard, Randy Westie, and local favorite Nick Ksobiech where all running laps with in just a few tenths. Randy Westie did managed to win heat on Sunday, but in the features Wishard was able to consistently push the limits of track and kart to stay ahead, occasionally while on two wheels.
Saturday: Justin Wishard, Randy Westie, Nick Ksobiech
Sunday: Justin Wishard, Randy Westie, Nick Ksobiech
Faster Motors LO206 Sr Medium
Logan Smith seemed to be the driver to beat on Saturday as he was top qualifier and winner of both heats. Jeremy Roche to put it all together in the feature, from a mid pack start rising to third in two laps and then taking advantage of Smith and Clossey as they tangled in the final lap for the win. Allen Borntreger came on strong on Sunday running out front by taking the lead early, while Smith defended attacks from Dylan North who rose from a 5th position start.
Saturday: Jeremy Roche, Logan Smith, Jesse Clossey
Sunday: Allen Borntreger, Logan Smith, Dylan North
Green Filter LO206 Sr Heavy
Returning LO206 Sr champion Connor Lund ran the same kart in both the medium and heavy classes and was the dominant driver on Saturday only to succumb to mechanical failure early in the feature allowing Allen Borntreger and Logan Smith to battle to the finish. Smiths technical problems gave Dylan North second and Mark Beamish third. Logan Smith and Dylan North started Sunday off by teaming up to catch and pass Connor Lund in both heat 1 and heat 2, but in the feature the team work seems to not take them as far, as Connor grabbed an early lead and pulled away from the field for his third series win.
Saturday: Allen Borntreger, Dylan North, Mark Beamish
Sunday: Connor Lund, Dylan North, Logan Smith
Ikart Racing/EK Kart Chains LO206 Masters
Grant Zimmermann once again repeated his sweep of the weekend wining both features, 2 seconds ahead of the field. Briggs and Stratton's own David Klaus held off Randy Raidon in a very tight battle for second, each driver alternating heat wins through out each days racing. Randy picked up the 2nd spot in the feature 4 laps in and held it to the end. On Sunday Randy ran into trouble on the 4th lap but managed to stay ahead of the pack while Klaus pulled away.
Saturday: Grant Zimmermann, Randy Raridon, David Klaus
Sunday: Grant Zimmermann, David Klaus, Randy Raridon
4 Cycle Central Animal
This class did not race this weekend. Animals karts will race next at Concept Haulers Motor Speedway.
For more information on the Briggs and Stratton LO206 Cup please visit http://www.206cup.com