CIK-FIA European Championship: Portugal Report
Portimao launches drivers towards the final sprint for the European titles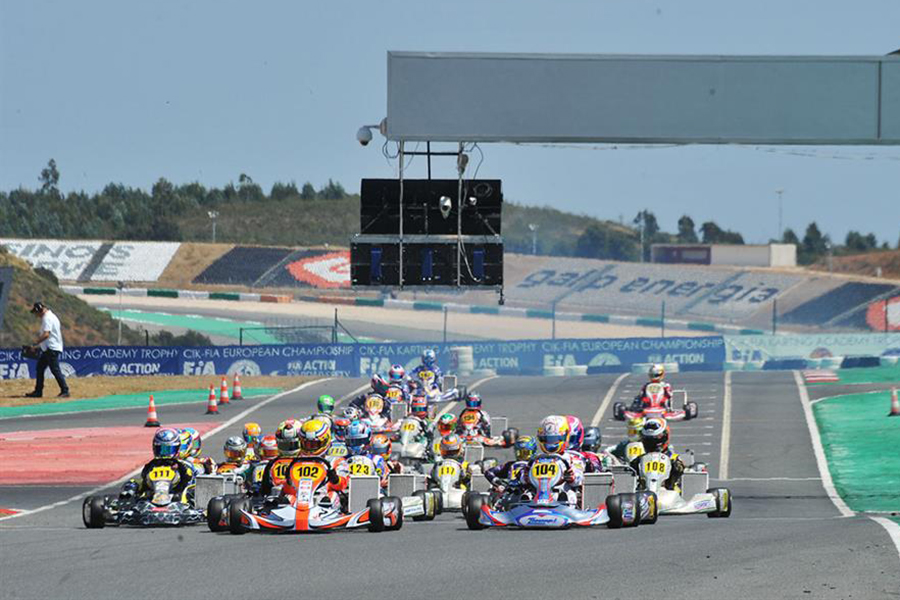 The Finals in Portimao changed the standings of the European Championship. The race at the Kartodromo Internacional do Algarve was the last but one round of the European CIK-FIA Championship: it will be the last round, scheduled on last weekend of July at Genk in Belgium, to assign the titles of all categories. The OK was particularly eventful today (below, the photo of the start at the Final) and the final result said that there are still many drivers that can aim at achieving the title. Before the great Finale in Belgium, fans will be able to enjoy the highlights of the Portuguese weekend thanks to the new special TV report on Motors TV next week.
Weekend at the top for Joyner in OK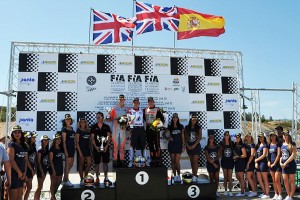 On the last day of the event in Portimao, Tom Joyner (Zanardi-Parilla-Vega) put in a flawless performance and won the OK Final. The Englishman kept at bay another top driver, his fellow countryman Ben Hanley (Croc-TM). The latter – extremely fast today – remained always behind the Joyner and he never managed to attack his rival's leadership. This morning, the excellent Spanish driver Marta Garcia (EvoKart-Parilla) seemed to stand a great chance: she was the pole-sitter of the Pre-final and then, in the Final, she placed 4th. However, the real surprise was Joyner who won against all odds: he won the Final and grabbed the top position in the Championship standings, overtaking the Polish Karol Basz (Kosmic-Vortex). The podium of the Final (photo on top) was completed by the Spanish Pedro Hiltbrand (CRG-Parilla), third.
Martins wins OK Junior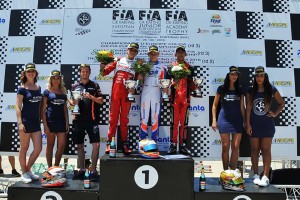 The French Victor Martins (Kosmic Parilla-Vega) won the OK Junior Final with flying colours. At the start he left his main rivals – the Norwegian Dennis Hauger (CRG-Parilla) and the Moroccan Sami Taoufik (FA Kart-Vortex) – behind and pulled away. During the final laps, the Brazilian Caio Collet (BirelArt-Parilla) achieved a great recovery which brought him to the second place, a result which repaid him of a rather troublesome weekend. Third place (above, the OKJ podium) , on the last lap, for the surprising Malaysian Abdul Muizzuddin (DR-TM). The Danish Noah Watt (Tony Kart-Vortex) keeps the head of the Championship.
Handsaeme always at the top in the Academy Trophy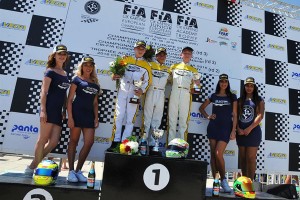 The Belgian Xavier Handsaeme put in a terrific performance in Portimao in the CIK-FIA Academy Trophy: he won the Final after overtaking the Lithuanian Kasparas Vaskelis. The latter did not manage to keep the second position and was third at the finsh, after he was overtook by the English Callum Bradshaw, who keeps the head of the Academy Trophy standings (on the podium in the photo above, all the drivers on Exprit-Vortex-Vega).