Nicholas d'Orlando Takes on Shawano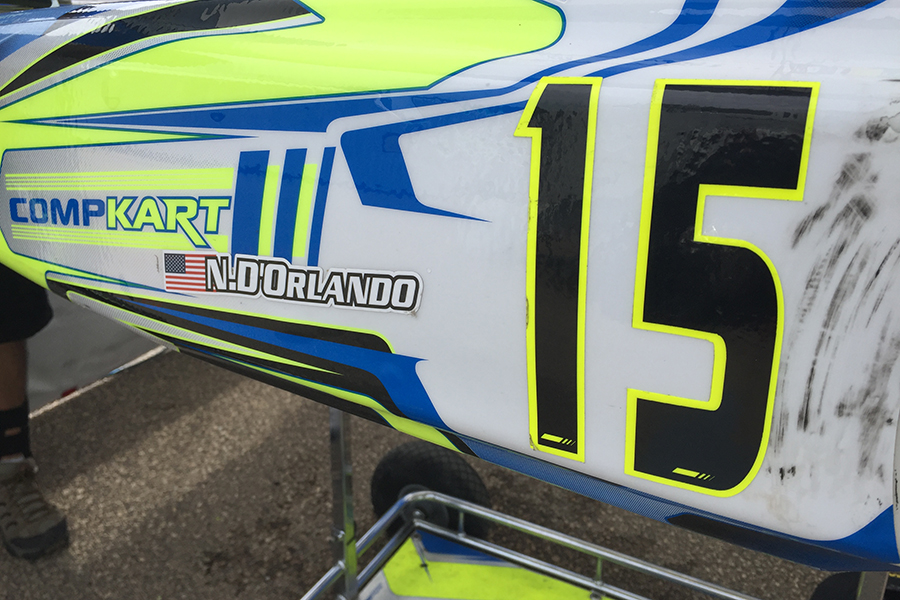 It was another solid race weekend for Nicholas d'Orlando, making his national level debut in his COMPKART chassis and the J3 Competition team, at USA International Raceway, in Shawano, WI. With the track's many elevation changes and two banked turns, it is one of the trickier tracks to get around on the United States Pro Kart Series schedule.  As he brought his No.15 J3 Competition COMPKART chassis home to two sixth place finishes in the IAME X30 Junior class, the results don't truly reflect the progress & speed that d'Orlando and the J3 Competition team found over the weekend's event.
The race weekend kicked off under bright sunny skies on Saturday with the young rookie, in only his second event in the IAME X30 package, qualifying his No.15 COMPKART in the 9th position. Chasing the experienced competition, many of them there the weekend before for a local regional race, d'Orlando would slightly improve his finishing positions to 7th & 8th in the two heat races, Remaining consistent in his results, he would start Saturday's final in 7th spot were he would work his way to a 6th place finish for the day.
Sunday's event would be another perfect sunny day of racing at USA International Raceway, as d'Orlando and the J3 Competition team would continue to work together to develop the driver/chassis combination and start the day qualifying in P8.
After following up the qualifying efforts with a 9th & 6th place finish in the heats, d'Orlando's performance showed enough speed to compete with the leaders.   So going into the final race of the weekend, Nicholas would have to overcome a difficult 8th place starting spot.  Falling back to 9th in the opening circuits from starting on the outside row, d'Orlando would make his way back up the field.  With his lap times matching those of the leaders, after they quickly jumped out to a big gap, it proved that d'Orlando's starting position was too much to overcome as he ended 6th overall, but with the 2nd fastest lap time of the race.
"Our pace was very competitive, especially during the heat races and finals," said J3 Competition's Justin Stefani. "We missed the correct lap on Sunday in qualifying which unfortunately hindered our full potential.  In the end we are pleased with what we were able to accomplish and moving into the next events we are aiming for the top spot."
"The team & I worked together all weekend to get familiar with each other and for me to get more familiar with the COMPKART chassis," said Nicholas d'Orlando. "It is very fast and I'm getting more comfortable with each lap.  As I adjusted to the track we continued to find more and more speed.  I can't wait to get back in it and drive it again. This was a tough a track to get around and I learned a lot with the help of Justin, John (Giacomelli) and my fellow teammates."
"I am looking forward to getting back into the kart at Pittsburgh this weekend" continues d'Orlando.    "The goal is to be consistent and to keep this COMPKART chassis up front and in contention for a race win at the end."
Next stop will see Nicholas in the Gear Up F1 series at Pittsburgh International Raceway this weekend for further seat time and testing in his new COMPKART before heading off to North Carolina in July for the next round of the USPKS series.
About J3 Competition:
J3 Competition's creation was inspired by the willingness to provide the best services and products within the Karting industry.  Since its inception in 2005, J3 Competition has captured ultimate victories and championships on and off the racetrack while simultaneously redefining the mean which the industry is judged by.
Located in Erie, Pennsylvania, J3 Competition successfully took a monumental step in 2015 with the CIK/FIA homologation of its very own chassis line – COMPKART. A revised and bold color scheme underscoring the company's commitment is ushering in a new age, thus leading to another milestone for J3 Competition and the North American Karting industry. A true flag bearer of professionalism with clear objectives to produce the best performing chassis and correlating service platforms is well underway at the newly enhanced J3 Competition.
For more information on Nicholas d'Orlando, please visit www.dorlandoracing.com. Be sure to follow Nicholas on Facebook (Nicholas d'Orlando Racing), Twitter (@dorlandoracing) and Instagram (@dorlandoracing) to stay up to date on news, information, photos and results.