Michael d'Orlando Ready for Round Three of CIK-FIA European Championship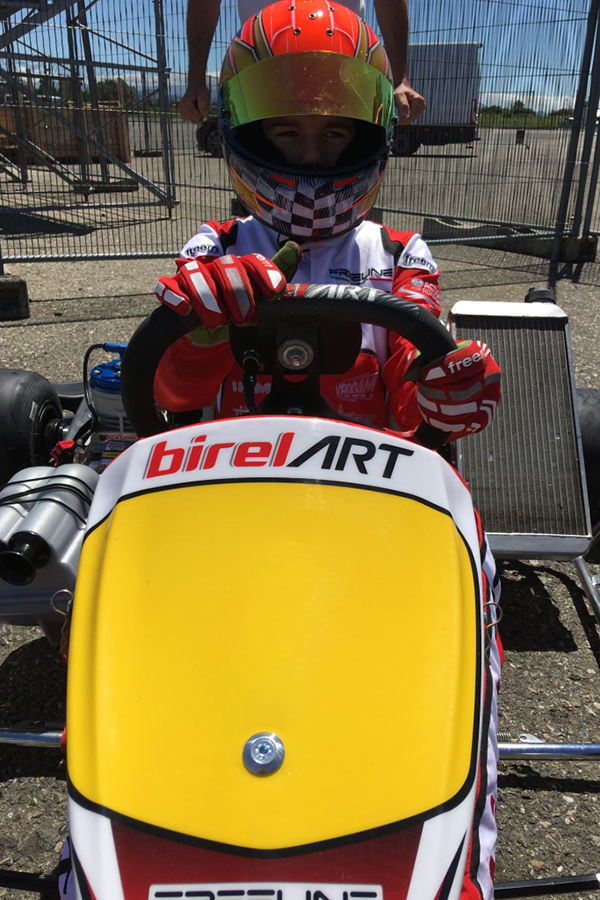 "There is no rest for the weary" and that is so true for Michael d'Orlando as it has been a very busy two weeks in his preparation for his second race of European competition this year, at the third round of the CIK FIA European Championship to be held at the Circuito International do Argarve in Portimao, Portugal this upcoming weekend.
In his effort to prepare, Michael spent the first part of last week in Viareggio Tuscany, Italy training at the world-renowned Formula Medicine facility under the guidance of Dr. Riccardo Ceccarelli and his staff.  Taking into account Formula Medicine's proven performance supported by the successful training of over 75 drivers and teams in Formula 1 as well as over 900 other drivers across all categories, it was a great start for Michael to begin his summer training.  Michael was put through a complete program of medical, mental, and athletic training to help him for his upcoming race in Portugal, as well as future races.
"It was an amazing three days of training at Formula Medicine," says Michael.  "I want to thank Dr. Riccardo Ceccarelli and the entire staff at Formula Medicine who worked with me for those three days. It was an incredible environment to train in and a great experience. I can't thank them enough for their support and can't wait to apply what I learned to my racing preparation. I look forward to training there in the future again."
After Formula Medicine, Michael reported back to the track for two days of testing with the Birel ART Racing Team, under close direction of team Technical Manager Gianluca Beggio, at South Garda Karting in Lonato, Italy and then to the 7 Laghi Kart International Circuit in Castelletto, Italy.  It was a productive two days of testing as he was able to complete a lot of quality laps and continue to work with his Birel ART team since joining their factory program back in May. For this week's race in Portimao, Portugal, Michael knows the competition in OK-Junior class is going to be tough as he will again be racing against the best drivers in the world, and he welcomes the challenge.  His main goals for this round are to apply lessons learned from the last race and testing, develop more consistency, show overall progress in his ability, and ultimately make the final on Sunday.
"It was a great two days of testing and I was able to continue to learn a lot at both South Garda and 7 Laghi Kart International Circuit," Michael continues.  "I am looking forward to my upcoming race at the Circuito International do Argarve in Portimao, Portugal. This is another new track for me. I have been working hard in getting ready for this race, both on and off the track. I feel I learned a lot from my first race last May in Spain and with that race under my belt it gave me more of an idea of what to expect, as well as what I need to do to improve going into Portimao.  The goal for this race weekend is simple… to remain consistent all race weekend and to get my Birel ART kart in the final and a strong finish for the team."
Michael and the Birel ART Racing Team will head to Circuito International do Argarve in Portimao, Portugal for round three of the CIK FIA European Championship starting on June 24-26th.  You can catch the race weekend live on www.cikfia.tv.
BIRELART KARTING
The Birel group and ART Grand Prix joined forces to create Birel ART, an entity that has become a leading player in the world karting scene. The great tradition of the Birel Group, marked by its 55 world and European titles, and its technological capacity, production and organization joined to the extraordinary racing vocation of ART Grand Prix.  The only entity able to be present in virtually the entire supply chain preparation for Formula 1 racing from karting to Formula Renault 2.0 races, GP3 to GP2 Series, and that has seen drivers in its ranks establish themselves such as Lewis Hamilton, Nico Rosberg and Sebastian Vettel and talents of karting as Ben Hanley and Charles Leclerc. For Birel ART team information go to www.http://birelart.com
For more information on Michael d'Orlando, please visit www.dorlandoracing.com. Be sure to follow him on Facebook (Michael d'Orlando Racing), Twitter (@dorlandoracing) and Instagram (@dorlandoracing) to stay up to date on news, information, photos and results.