CRG: European Championship Weekend Kicking Off in Portimao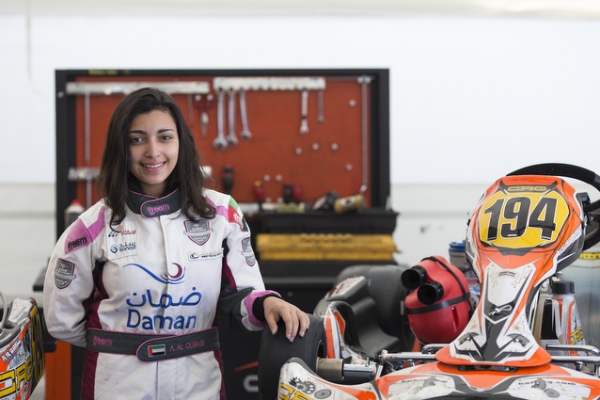 The Algarve Kartodrome of Portimao is the theatre of the penultimate round of the European CIK-FIA Championship for categories OK and OK Junior. CRG to field its full works team in  both categories. Amna Al Qubaisi at the debut with CRG in OK.
A crucial round of the European Championship for OK and OK Junior is about to get underway in Portugal. The third round of the season is in fact scheduled for the weekend of 24-26 June and will lead into the final round of Genk scheduled for the end of July.
HUNTING FOR THE LEAD IN OK
CRG will field its complete lineups in the two categories OK and OK Junior in a quite positive moment after the great performance and speed shown in Adria. The winner of the most recent round Pedro Hiltbrand, on CRG-Parilla, and his team mate Tom Joyner on Zanardi-Parilla, slided in the top positions of the OK classification, closing in on the front runners. Joyner is in fact third at 61 points, while Hiltbrand recovered up to P4 at 56 points.
Felice Tiene is also in the top-ten in ninth place at 32 points, and is quite motivated to put in a strong performance in Portugal. The Finn Paavo Tonteri is not very far at 30 points after being among the main protagonists of Adria. The German Hannes Janker, currently twelfth in the classification at 24 points, will also be back in Portimao.
Amna Al Qubaisi, the quick 15yrs old Abu Dhabi's girl that has been shining in the single branded championships together with her sister Hamda, will debut in OK with CRG.
READY TO SHINE IN OK JUNIOR
The attention of OK Junior is focused on the young driver of CRG Dennis Hauger, who claimed his maiden win in Junior at the recent DKM round of Ampfing (Germany) and put in a very good performance at the European Championship in Adria, despite a series of events prevented him to get at least a podium finish. The victory in the Prefinal and the pole position allowed Hauger to get some ground back in Adria, as he now stands seventh in the classification with 54 points, that is 23 short of the leader.
CRG works team will be completed in Portimao by several very interesting and competitive youngsters like the British Teddy Wilson, who is 16th in the championship, the German  Esteban Muth, who is 17th, and the Brazilian Gianluca Petecof who scored his first European points in Adria. The French Pierre-Louis Chovet will also be present, as the German O'neill Muth and the Canadian Antonio Serravalle.
THE PROGRAMME (GMT+2)
Friday 24 June: free practice.
Saturday 25 June: qualifying from 10:15 and heats from 13:00.
Sunday 26 June: Prefinals from 11:15, Finals from 14:15.
Live Timing, TV Live Streaming and all results will be available at  www.cikfia.com
THE EUROPEAN CIK-FIA 2016 CHAMPIONSHIP
24.04.2016 – Essay (F) KZ, KZ2
15.05.2016 – Zuera (E) KZ, OK, OKJ
05.06.2016 – Adria (I) KZ2, OK, OKJ
26.06.2016 – Portimao (P) OK, OKJ
31.07.2016 – Genk (B) KZ, KZ2, OK, OKJ