CRG Dominant in Spain with 'Pedrito' Hiltbrand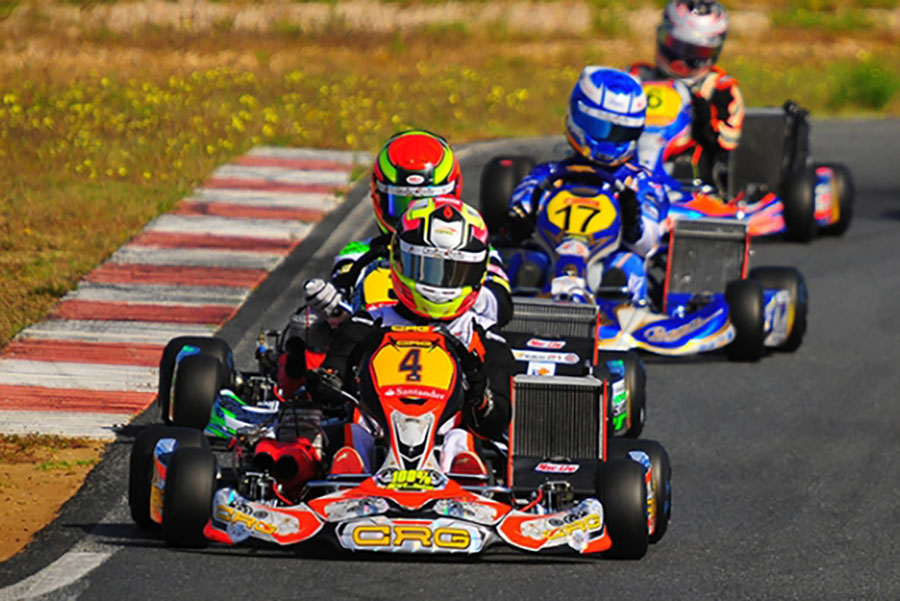 "Pedrito" Pedro Hiltbrand has dominated KZ2 on CRG-Maxter in Portimao's second round of the Spanish championship, confirming his classification lead after the victory in the opener of Recas, Toledo.
CRG colors have been dominating the weekend of June 12th not only in Germany, but also in Portugal at the Circuit of Portimao. In occasion of the second round of the Spanish Championship, "Pedrito" Pedro Hiltbrand has put in a spectacular double win in KZ2 on the Road Rebel chassis produced by the Italian outfit pushed by a Maxter engine unit prepared by Kartissimo by Andreoli.
THE PERFECT WEEKEND OF PEDRO HILTBRAND ON CRG-MAXTER
Hiltbrand completed a perfect weekend in Portugal. He kicked off the racing appointment with the quickest time in qualifying, continued with the third place in the heats scoring a victory, and was rounded up by a stunning win in both Finals. This hat trick allowed the Spanish driver to pull away in the classification on his CRG-Maxter kart, after the double victory obtained in the first round of the championship held in Recas, Toledo.
Among the CRG drivers present in Portimao, the other Spanish Gerard Cebrian Ariza has also put in a bold performance ending his effort with a second and a third place in the two Finals, results that earned him the second place in the championship.
HILTBRAND LEADING THE KZ2 SPANISH CHAMPIONSHIP
The classification of the KZ2 Spanish Championship follows:
Pedro Hiltbrand (CRG-Maxter) points 180; 2. Gerard Cebrian (CRG-Tm) 141; 3. Eliseo Martinez 140; 4. Luis Gonzalez 131; 5. Lisard Santos 129.
The next round of the Spanish Championship is scheduled for July 10th at the Circuit of Zuera.
The Calendar of the Spanish 2016 Championship:
10.04.16 Recas Toledo
12.06.16 Portimao (Portugal)
10.07.16 Zuera
28.08.16 Alcaniz
25.09.16 Valencia