Briggs & Stratton 206 Cup Kicks Off Season at Road America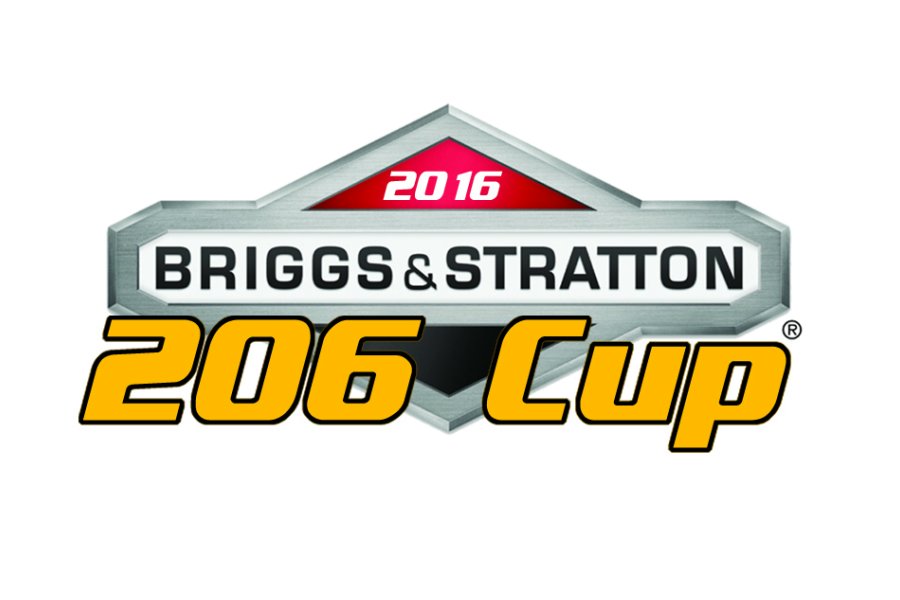 The Briggs & Stratton 206 Cup held its season opener at Road America on May 21st and 22nd.  This is the third season for this Midwest race series and is looking to be its biggest with 5 classes dedicated to the spirit of grassroots motorsports.  Greg Jasperson and Steve Vermeer started the series in 2014 to provide a budget-minded racing series and bring the driver back to the forefront of kart race.
In 2015, Briggs & Stratton Racing joined the series as the primary sponsor with Vega providing support and tires.  Vega designed a new tire for the 2016 season specifically for 4 cycle racing with the guidance of the Cup in order to provide a long lasting medium grip tire that is suitable for many styles of karts.  Presenting Sponsor Noram Clutch continues to support the series, and RLV Exhaust is now the qualifying sponsor for the series.  Kyle Luttrell's Ionic Edge chassis has come on board as a series sponsor, joining returning sponsor Target Distribution.
The series also brought on Glen Firing as race director.  Glen has been involved in karting for many years and was most recently the race director for USPKS .  The 206 cup team has once again stepped up to their promise of a well run and affordable race series.
Road America, located in Wisconsin, is not only one of the nation's best road courses but also has an excellent multi-use track which sports a 50ft elevation change with a fast sweeping upper section and a tight and technical lower section.  The track was set up for the long course but was missing the usual off-camber left midway down the hill; it was replaced by an earlier sweeping left.  This made for a faster downhill run into the right handed drop off turn leading the way to the lower section.  The racing was very exciting as this was a new track configuration for everyone and required adjustment in kart setup and racing lines.
The remaining schedule for the 206 cup:
June 11-12 at Briggs & Stratton Raceway Park in Dousman, WI
July 16-27 at Concept Haulers Motor Speedway in Norway, IL
August 6-7 at 61 Kartway in Delmar, IA
September 17-18 at USAir Motorsports Park in Shawano, WI
LO206 Sportsman
Local favorite Payton Gladowski managed to hold off the constant hounding of returning champion Jason Pribyl in very close racing between these two drivers.  On both days Gladowski managed to keep Pribyl from holding on to P1 on the few occasions he was able to get out front.  Gladowskis had a clear advantage being able to work his craft on his home track.  The battle for 3rd was just as fierce between Cale Zimmerman and Will Holtz, with each taking a days 3rd spot.
Saturday: Payton Glodowski, Jason Pribyl, Cale Zimmerman
Sunday: Payton Glodowski, Jason Pribyl, Will Holtz
Viking Karting Products LO206 Junior
Justin Wishard, the 2015 defending champion in his first visit to Road America displayed his superior skills by winning both Saturday and Sunday's races by seconds.  Randy Westie worked his home track to hold off Rob Radmann landing the second spot on both days.
Saturday: Justin Wishard, Randy Westie, Rob Radmann
Sunday: Justin Wishard, Randy Westie, Rob Radmann
Faster Motors LO206 Sr Medium
Shawn Zanon and Allen Bortreger spent Saturday running nose to tail, Shawn leading just a few more laps than Allen and ultimately leading the last lap and winning by just .346 seconds.   Sunday's racing brought a new group of frontrunners with Scott Kelman setting the pole and being the guy to catch.  Connor Lund started the day qualifying 9th and worked his way up each race to challenge Kleman for the lead in the feature but not quite getting it done.   On both Saturday and Sunday Jordan Benoleher worked his way from mid pack to take the last podium spot.
Saturday: Shawn Zanon, Allen Borntreger, Jordan Bernloehr
Sunday: Scott Kleman, Connor Lund, Jordan Bernloehr
Green Filter LO206 Sr Heavy
Returning LO206 Sr champion Connor Lund ran the same kart in both the medium and heavy classes.  He was the Sr Heavy dominant force throughout the weekend, with Allen Borntreger next fastest,  Jordan Bernloehr and Logan Smith continued to battle for 3rd with Jordan eventually making it to the podium.
Saturday: Connor Lund, Allen Borntreger, Jordan Bernloehr
Sunday: Connor Lund, Allen Borntreger, Jordan Bernloehr
Ikart Racing/EK Kart Chains LO206 Masters
After qualifying 3rd on Saturday and then dropping out of the first heat with mechanical issues Grant Zimmermann when on to win almost every race by either taking an early lead or making a last lap pass for the win.  Bryan Bernloehr and Randy Raridon battled in Saturday's races for 2nd until Boernolehr spun in the 5th lap.  Brandon Steinhauer worked his way up from the 5th spot to edge out Raridon in the the closing laps.  On Sunday while Grant was leading the pack, Bernloehr and Briggs & Strattons' own David Klaus fought over second until a last lap pass by Bernloehr secured the position.
Saturday: Grant Zimmermann, Brandon Steinhauer, Randy Raridon
Sunday: Grant Zimmermann, Bryan Bernloehr, David Klaus
4 Cycle Central Animal Sr
Saturday race could have been won by any of the front 4 drivers. Regan Vehring (2016 Animal Sr Champion) drove hard and was often up on two wheels while Seth Johnson (2016 Animal Jr Champion) made bold moves to grab the lead at the halfway mark.  All the while both were stalked by Bob Markiewicz and Jason Pribyl looking for mistakes in the lead pair.  With two laps to go Bob had worked his way through to take the lead and the win.  On Sunday, Vehring put it together and jumped to the front of the field quickly.  Johnson and Pribyl tried to put a draft team together to catch Vehring but were unable to make it work.  Regan took the win by seconds followed by the closely paired Johnson and Pribyl
Saturday: Bob Markiewicz, Regan Vehring, Seth Johnson
Sunday: Regan Vehring, Seth Johnson, Jason Pribyl
For more information on the Briggs and Stratton LO206 Cup please visit http://www.206cup.com