Prokart Series Titles to Woolssey, MacKenie and Cullum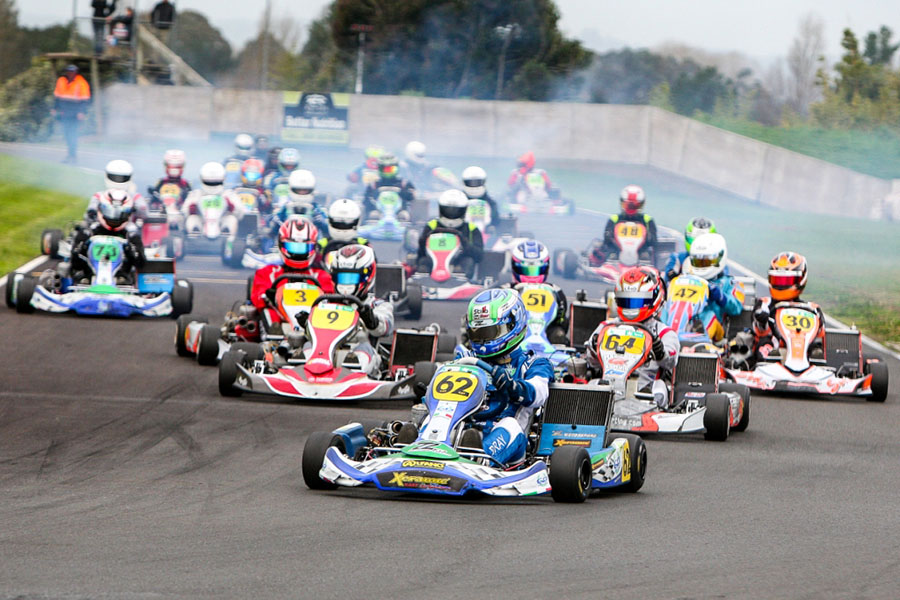 (Photo: Fast Company/Graham Hughes)
Simeon Woolsey, Jared MacKenzie and Garry Cullum took out their respective class titles at an all-action 2016 ProKart Series final at the KartSport Hamilton club's Winter Cup meeting over the weekend.
That, however, was only part of the story from Agrisea New Zealand Raceway. Case in point, KZ2 class victor Simeon Woolsey.
Though the 16-year-old from Auckland won his class at the first two rounds of this year's series and took a seven point lead into the final one, he had a horror round.
After fuel problems saw him fail to finish the Final Woolsey ended up an uncharacteristic seventh overall for the round with the decision as to who would take the 2016 KZ2 title going to countback after he and fellow Aucklander Aaron Wilson – who in stark contrast won the first heat and finished second in the Final for one of his best rounds this year – ended up tied on 352 points.
Woolsey got the nod but it was as close a finish as anyone involved in the ProKart Series could remember.
KZ2 class victory at the round actually went to Auckland-based international Daniel Bray, from Wilson, Mat Kinsman, local ace Rhys Tinney and Brays' fellow series' returnee Graeme Smyth from Auckland.
Smyth, who this year has been racing KZ2 karts and a Ferrari 458 car across the Tasman, definitely took the battle to Bray and Wilson at Hamilton and looked set to challenge for the lead in the Final only to be forced out with six laps to go by a sticking throttle.
In the other two ProKart Series classes victory was a little more clear-cut for Jared MacKenzie (KZ2 Masters) and Garry Cullum (KZ2 Restricted).
MacKenzie qualified quickest in class and only conceded one heat race win (the first) to season-long rival Steve Brown before sealing series victory in class  by a margin of 12 points. Third on the day was Aucklander Mark Lane but former Stock Car ace Graeme Lambert from Mangakino – who finished two places back – had enough points in hand to claimed third place series honours from Lane and Andrew Hunt.
Garry Cullum, meanwhile, successfully defended his 2015 KZ2 Restricted class title with a round win over Connor Adam, Shaun Curran, Michael Connell and Gerhard Benadie. Cullum and Adam were again the quickest of the Restricted class starters, the pair often running ahead of the front-running Masters class drivers in the combined KZ2/Masters/Restricted field.
As well as winning the KZ2 class Simeon Woolsey also won the Alan Wilson Memorial Trophy for the series' most improved driver awarded at the meeting.
Logan Brown won the President's Cup for the best performance by an under 18-year-old driver, and Enrico van der Griend won the prize for the top over 50-year-old in the Masters class.
In the other classes contested on Sunday at the Winter Cup meeting, Mike McCulloch won 125cc Rotax Max Light, Stuart Marshall DD2, Fynn Osborne Rotax Junior, Blake Austin Vortex Mini ROK and Kaden Probst Cadet ROK.
2016 ProKart Series
KZ2
Round
Daniel Bray; 2. Aaron Wilson; 3=. Mathew Kinsman & Rhys Tinney; 5. Graeme Smyth; 6. Logan Brown; (also) 7. Simeon Woolsey
Final series placings & points
Simeon Woolsey 352 points; 2. Aaron Wilson 352; 3. Rhys Tinney 338; 4. Logan Brown 337; 5. Mitch Brown 251; 6. Daniel Bray 182
KZ2 Masters
Round
Jared MacKenzie; 2. Steve Brown; 3. Mark Lane; 4. Andrew Hunt; 5. Graeme Lambert; 6. Leo Bult
Final series placings & points
Jared MacKenzie 363 points; 2. Steve Brown 351; 3. Graeme Lambert 344; 4. Mark Lane 341; 5. Andrew Hunt 329; 6. Enrico van der Griend 324
KZ2 Restricted
Round
Garry Cullum; 2. Connor Adam; 3. Shaun Curran; 4. Michael Connell; 5. Gerhard Benadie.
Final series placings & points
Garry Cullum 362 points; 2. Connor Adam 350; 3. Shaun Curran 346; 4. Gerhard Benadie 254; 5. Andrew Jackson 171; 6. Aarron Cunningham 89.
Winter Cup classes
125cc Rotax Max Light
Round
Mike McCulloch; 2. Sam Hunter; 3. Brad Wenzlick; 4. J. Butterworth; 5. Vaughan Jones; 6. Terry Palmer
DD2
Round
Stuart Marshall
Junior Rotax
Round
Fynn Osborne; 2. Brandon Lambert; 3. Sam Wright; 4. Billy Frazer; 5. Joshua Parkinson; 6. Cullern Thorby
Vortex Mini ROK
Round
Blake Austin; 2. Connor Davison; 3. Clay Osborne; 4. Breanna Morris; 5. Asten Addy; 6. Ayrton Williams
Cadet ROK
Round
Kaden Probst; 2. Mason Potter; 3. Jay Urwin