Fresher Takes Third at Whiteland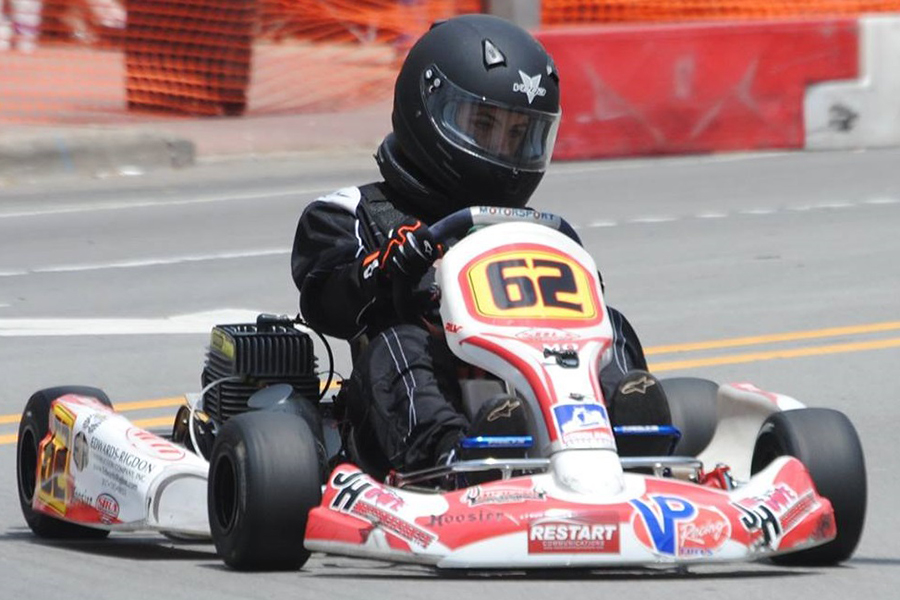 Jordan Fresher and his Edwards-Rigdon Construction / Jim Howe Motorsports LLC #62 Birel (Photo: Ashley Powell)
The temperature was hot and no one could relax due to the tight competition but Jordan Fresher (Avon) posted his best-ever laps with Jim Howe Motorsports LLC at the historic Whiteland (IN) Raceway Park in his outstanding drive to third in the Junior Sportsman feature Saturday night under the lights in the Tony Stewart Racing Series.
Fresher, 13, and his Edwards-Rigdon Construction / JHM #62 Birel started fifth in the nine-kart field run on the long-forward WRP eight-turn, half-mile configuration. He battled Maxine Corsat for fourth for most of the race before finally getting by her around lap 8. Fresher got alongside her several times only to have her battle back on the outside in what was certainly one of her best drives ever at WRP.
When Vincent Carfiro looped his mount in the hairpin past the high-banks three laps from the end, Fresher then moved up to third with his BBS Race Engine Development-powered kart and safely took the checkered flag there in the 15-lap Junior Sportsman feature.
It was a welcome finish to what was otherwise a challenging evening between handling, traffic, and carburetor problems for the team.
Fresher battled a tight kart for all of the practices run in the sweltering, 90-degree plus heat. Plus, the engine showed excessive exhaust temperatures at the end of practice and the JHM crew scrambled to figure out what was wrong. The problem was a punctured diaphragm and dirty screen in the carburetor, thus starving the engine of fuel. A quick carburetor rebuild put Fresher back in business before the first heat.
The first heat featured all kinds of fireworks with heavy traffic challenging all the drivers. Fresher tangled with a slower kart in one of those racing accidents where nobody was at fault, ripping the front bumper off and earning a quick trip to the pit area before the end of the race. The JHM crew effected quick repairs and ran a strong fourth in the second heat with no added fireworks.
Jordan's third-place feature finish not only featured his personal best laps but was also his career best finish at WRP in the ultra-competitive Junior Sportsman class.
The team is off next week then heads to the Goodland (IN) streets for the famous "Goodland Grand Prix" on June 25-26. This will be round three of the 2016 Southern Indiana Racing Series (SIRA) street series and is one of the top races on the SIRA schedule, as well as among street races in the U.S.