Southern Stays Perfect in KT100s and Wins Open Class at Victorville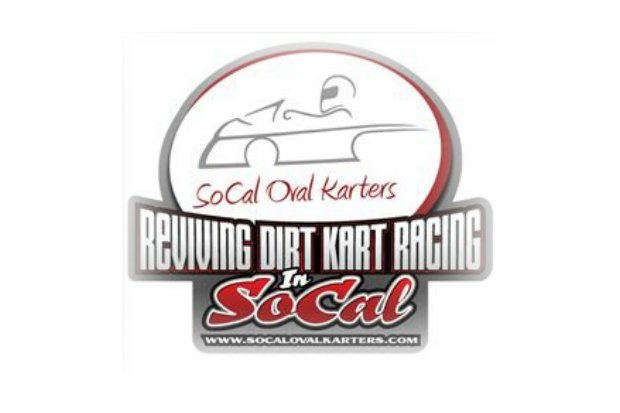 Hesperia's Chris Southern continued his dream season with the So Cal Oval Karters when he won his fourth straight KT100 main event and backed that up with a win in the Open Class at Wheel2Wheel Raceway in Victorville last Saturday night.  The win in the Open's was his first of the year in that class and it halted the three race win streak of Joe Gibb.
After winning one of the two heat races in the KT100's, Southern started on the pole in the main event and that spelled predictable bad news for the competition.  The racer, who also races in the resident Wheel2Wheel Dirt Kart division, drove to his fourth victory in a row over San Diego veteran Randy Truax, Oxnard's Rob Marion, Gibb, who resides in Long Beach, and Southern's son Thomas, who also calls Hesperia home.
However, the victory was not as easy as it reads.  Gibb, who had to start sixth in the main after losing a chain in the first heat, caught leader Southern, but spun out and had to restart at the back.  He was only able to get as far as fourth when the checkered ended the race.  Hard Charger in the KT100's was Marion.  The Southern's each won one of the heat races.
Making an appearance in the Open Class, Southern's winning ways were on display when he and Derek Burris of Fountain Valley split the victories in the two heat races.  In the main, Southern parlayed his pole position starting spot into his fifth SCOK trophy for the mantel piece this year.  South Pasadena's Trevor McCalister took the show spot with Fountain Valley's Scott Bohle third.  Gibb, who ran his KT100 in the Open Class after burning up his clutch in the Open kart, was fourth.  San Marcos veteran Norm Reynolds came home fifth.  Bohle, who went from sixth to third, was the open class "Hard Charger."
Menifee's Don Holdsworth remained hotter than the High Desert weather when he swept the show winning both heats and his third straight Senior 4 Cycle main event.  Speedway Motorcycle racer Tony de Almeida of Chino Hills, Banning's Desiree Gaynor, Scotty Bassett of Van Nuys and Norwalk's John Leonhart rounded out the field.  De Almeida was the SR4 Cycle "Hard Charger" gaining two spots in the final.
Whittier's Steve Juillerat scored his second win in four 2016 races in the F200's.  2015 class champion Troy McIntosh of Lake Elsinore was second followed by Banning's Scott Gaynor and Jason Voss of Lake Elsinore.  Juillerat and McIntosh won the heat races.
Taking part in the Junior/Junior class was Kailana Franklin, Tristan Juillerat and Troy McIntosh Jr.
After four races Southern leads Gibb by 40-points in the KT100 championship standings.  Gibb holds down the top spot in the Open class with Bohle 45-points behind.  Juillerat is on top of the F200's with Scott Gaynor trailing by 30-points.  The biggest advantage in the standings belongs to Holdsworth who has a 55-point lead over Leonhart.
The SCOK has this weekend off and will return to action with its first of three appearances at world famous Perris Auto Speedway on June 18th.  The race at The PAS will take place under the sun.  Gates will open at 9:00 AM with racing at 11:30.
During intermission at the Perris race, potential new drivers can jump in a kart built by the So Cal Oval Karters and cut some laps.  The cost is $25.00 for 10 laps (there is also a $10.00 admission fee to the facility).  The "Arrive and Drive" is designed for kids age 8 and up and for adults as well.  Drivers have to wear tennis shoes, a long sleeve jacket and jeans.  If they have a helmet, it is recommended they bring that as well, but for those who do not have one, some helmets will be available.  Gloves and racing collars will be supplied by the SCOK.   For more information or to reserve your ride, call or E-mail Mike Night at: Mike Nigh at (805) 857-2595 mailto:scokart@gmail.com.   Anyone wanting to race in the SCOK or interested in purchasing a race ready kart can use the same contact information for Nigh.
The So Cal Oval Karters would like to thank the following sponsors for helping make the 2016 championship series possible.  Burris Racing, Cory Kruseman Sprint Car Driving School, Hubcapmike.com, Perris Auto Speedway, R&J Motorsports, THC Home Medical Services, T-MAC Racing and Yamaha of America Racing Engines.  If you or your business would like to become a partner of the So Cal Oval Karters 2016 season, please call or E-mail Mike Nigh at (805) 857-2595 or mailto:scokart@gmail.com.
KT100 Wheel2Wheel Main Event (with starting positions)
Chris Southern – Hesperia – 1st
2. Randy Truax – San Diego – 3rd
3. Rob Marion – Oxnard – 5th
4. Joe Gibb – Long Beach – 6th
5. Thomas Southern – Hesperia – 6th
6. Ted Marshall – 4th
7. Tanner Smith – Los Angeles – 7th
Don Amigliore – Menifee – DNS
Open Class Wheel2Wheel Main Event (with starting positions)
Chris Southern – Hesperia – 1st
2. Trevor McCalister – South Pasadena – 3rd
3. Scott Bohle – Fountain Valley – 6th
4. Joe Gibb – Long Beach – 4th
5. Norm Reynolds – San Marcos – 5th
6. Derek Burris – Fountain Valley – 2nd
Senior 4 Cycle Wheel2Wheel Main Event (with starting positions)
Don Holdsworth – Menifee – 1st
2. Tony de Almeida – Chino Hills – 4th
3. Desiree Gaynor – Banning – 2nd
4. Scotty Bassett – Van Nuys – 3rd
5. John Leonhart – Norwalk – 5th
F200 Wheel2Wheel Main Event (with starting positions)
Steve Juillerat – Whittier – 1st
2. Troy McIntosh – Lake Elsinore – 2nd
3. Scott Gaynor – Banning – 3rd
4. Jason Voss – Lake Elsinore – 4th
Junior/Junior
Kailana Franklin
Troy McIntosh Jr. – Lake Elsinore
Tristan Juillerat – Whittier
KT100 Points
Chris Southern – Hesperia – 540
2. Joe Gibb – Long Beach – 500
3. Matt Drotz – Long Beach – 495 *
4. Rob Marion – Oxnard – 485
5. Ted Marshall – 465
* Non Member
Open Points
Joe Gibb – Long Beach – 540
2. Scott Bohle – Fountain Valley – 495
3. Dillon Hoffman – Cathedral City – 490
4. Norm Reynolds – San Marcos – 475
5. Chris Southern – Hesperia – 340
Senior 4 Cycle Points
Don Holdsworth – Menifee – 540
2. John Leonhart – Norwalk – 485
3. Desiree Gaynor – Banning – 476
4. Tony de Almeida – Chino Hills – 340
5. Ryan Sherman – Lake Elsinore – 335 *
* Non Member
F200 Points
Steve Juillerat – Whittier – 530
2. Scott Gaynor – Banning – 500
3. Justin Garcia – Riverside – 490
4. Troy McIntosh – Lake Elsinore – 350
5. Jason Voss – Lake Elsinore – 320
KT100 Main Event Winners
3-12 Wheel2Wheel – Chris Southern
4-23 Wheel2Wheel – Chris Southern
5-14 Wheel2Wheel – Chris Southern
6-4   Wheel2Wheel – Chris Southern
F200 Main Event Winners
3-12 Wheel2Wheel – Jason Morheiser
4-23 Wheel2Wheel – Steve Juillerat
5-14 Wheel2Wheel – Troy McIntosh
6-4   Wheel2Wheel – Steve Juillerat
SR 4 Cycle Main Event Winners
3-12 Wheel2Wheel – Jason Morheiser
4-23 Wheel2Wheel – Don Holdsworth
5-14 Wheel2Wheel – Don Holdsworth
6-4   Wheel2Wheel –  Don Holdsworth
Open Class Main Event Winners
3-12 Wheel2Wheel – Joe Gibb
4-23 Wheel2Wheel – Joe Gibb
5-14 Wheel2Wheel – Joe Gibb
6-4   Wheel2Wheel – Chris Southern