EKN One-on-One: Nathan Thibodeaux – Tri-C Karters
SoCal focusing on affordable classes and fun atmosphere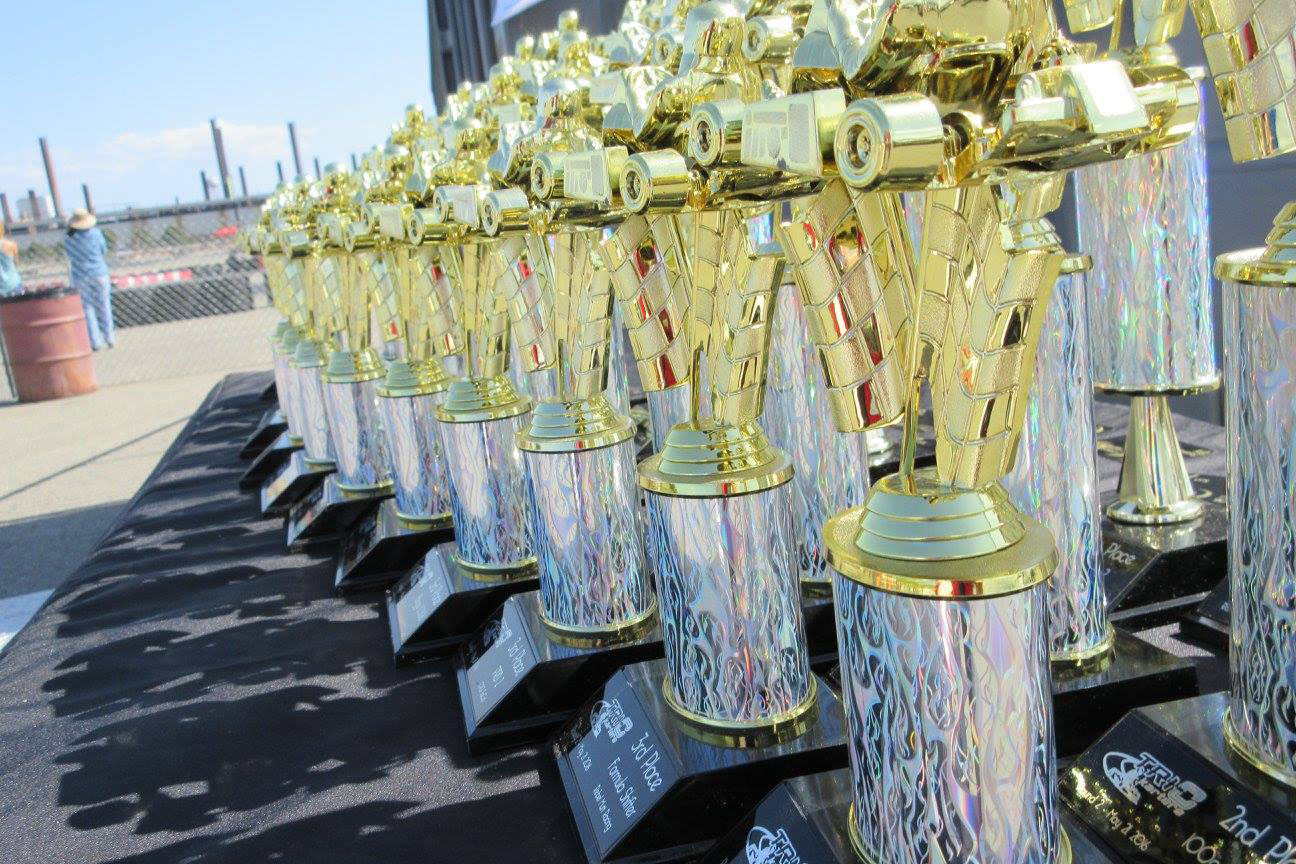 If you talk to people in the karting industry or in the community, on the whole, and ask them what part of the sport we need to work on, they'll all tell you we should be focusing on the foundation.  If karting is viewed as a pyramid, with national competition making up a small 10% piece at the very top of the triangle, the strength and stability is certainly the wide base…which is club racing.  Here at EKN, we're dedicated to supporting and growing club karting, and we're developing loads of new editorial to help increase awareness and strengthen our sport.  The recent area of acknowledgement has been Southern California, where a call to grow affordable karting is being heard by many.  SoCal karting has some incredible regional programs in place with the SKUSA ProKart Challenge and the Los Angeles Karting Championship, but the once-strong club scene has been severely depleted.  Thankfully, there are people and programs in place offering racers with a more affordable option.
The Tri-C Karters organization has evolved into one such club, promoting the Briggs Racing World Formula engine, along with a place to run the once-popular Yamaha and KPV engines, as well as a mixed-engine TaG format.  They are now stepping into the spec Briggs LO206 program, which now offers SoCal karters the most affordable program in the sport.  We reached out to club president Nathan Thibodeaux in an effort to provide Tri-C with some much-needed exposure for both the club program and their upcoming Cal State Championship event.
eKartingNews.com: Nathan, thank you for taking the time to chat with us.  As always, our goal at eKartingNews.com is to promote the sport and spread the word.  In recent weeks, there has been considerable social media discussion about the condition of karting in Southern California and that there is a real need for increased focus on affordable club level racing.  Based on the initial numbers from the first Tri-C Karters race of the year, you guys are off to a solid start and are truly offering a much different set of classes to what is available with Superkarts! USA and the LAKC, who are obviously doing a tremendous job servicing their unique clientele.  We love seeing the World Formula and the Briggs 206 classes on the Tri-C line-up, and it's nice to see that you have a race group for KPV and Yamaha engines.  There's certainly a ton of them out there, and they're affordable to run.  Can you give us a little insight into the first Tri-C club races of the year?
Nathan Thibodeaux: The first race of a new season can be particularly nerve- racking, especially when a club doesn't really know what to expect with regard to entry numbers.  Will we get enough to pay the bills?  Do karters even still want to race with us?  When you are overshadowed by two other very large organizations, those concerns are immediate.  I've learned over the years not to count an entry number until the driver signs the insurance waiver.  That being said, our opening race was a great success: no red flags or injuries, the race staff did a flawless job keeping the day moving with no hiccups, and a great deal of the racers left with a smile. And yes, we were able to cover the expenses.
The turnout for the TaG Masters, World Formula and 100cc classes was solid.  These have been our main classes over the last few years.  We are the only local club that currently allows Rotax, Leopard, X30 and Rok to race to together in TaG. The debut of the LO206 class had a relatively strong four entries.  Understand that LO206 is almost completely un-established in Southern California and not yet strongly promoted by the local race teams.  That's a good beginning in developing a core group.
EKN: Affordable classes are key to bringing new people into the sport.  Do you guys see the Briggs 206 as a core component of Tri-Cs future?
NT: Absolutely. In fact, the Briggs World Formula class has been one of our strongest classes over the last 7-8 years.  They have a home at Tri-C and, quite frankly, without them Tri-C would not still be around. So, absolutely, we look forward to welcoming new, current and returning karters to join us.  We just introduced the LO206 at our opening race in April and had four entries. With the support of Full Throttle Karting's 206 Lounge program and RLV, the May LO206 entries grew to 10 drivers.  We have the beginnings of a core group and I definitely believe that it can grow. I know other shops have started looking at the LO206 program.  It's a great opportunity to introduce new people to karting, while also keeping racers in the sport and Tri-C will always give them a place to race.
EKN: We've spoken with people who've offered the idea that there is a conception that only the professional programs offer a high-quality race day experience. This is obviously incorrect, because karting has always been supported by volunteers.  Can you give us some insight into the staff that you've assembled for this year's Tri-C club?
NT: I've heard the phrase "amateur club" used to describe Tri-C.  Unfortunately, races are judged more on the entry counts then on the quality of racing and the staff running the events.  'Pro' races have high entries, 'club' races have smaller numbers. Tri-C Karters is a not-for-profit organization and there are five volunteer board members.  Three of us currently work in some facet of the karting industry and we each have extensive racing experience.  Our treasurer and registrar has been working in the club for over four years. My wife handles publicity and runs the race day Tri-C tent and she came with me when I started my karting career. I am truly thankful for that.
There is a core staff of 10 people and in terms of overall years of experience, I've been in karting for about 12 years and I'm on the lower end of the experience scale, so we have seen and handled it all. At the end of the day, professionalism means organization, mindset and a positive attitude. We all share the same philosophy: make a great race day experience for everyone.
EKN: One of the biggest races in SoCal in past years was the California State Championships.  The struggle and loss of many of the stand-alone clubs have knee-capped this event. Simply put, it's hard to attract at the state's club racers to an event if there are no clubs.   Let's start by providing the base information on this year's CSC.
NT: I will say the lack of a larger karting base certainly hinders entry numbers.  Right now, the small base of active racers and their families are being asked to support most of the racing series in the area. This strains financial resources, but also the amount of time they have to commit. Balancing family, work and school time along with race weekends, practice and traveling time is extraordinarily tough.  This also goes for the race teams supporting the drivers.
So with all that being said, I'll introduce the Cal States:
The 48th annual Cal States will be held on June 17-19.  The official practice day is Friday, June 17, with qualifying and two heat races on Saturday and the final heat race and the Main Event on Sunday.  It'll take about 60+ laps of racing to determine the California State Champion in each class.  There are only 10 race classes, but we have covered the general spectrum of engine types: 100cc air cooled, TaG, four stroke and 125cc Shifter.  Along with title sponsor APM Racing, we have partnered with MG Tires, Motul, Courtney Concepts, Autodromo, FTK, MRC and RLV to help bring this race event together.  We are doing a lot this year to hopefully make the weekend more than just a race, but a destination race for the future.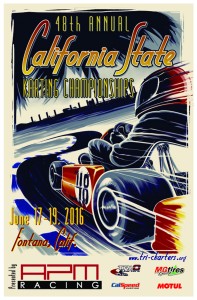 Here's a look at what we have going on:
– Custom designed trophies
– A new custom designed Top Qualifier award – The Grizzly
– A custom engraved Autodromo Veloce watch for each Champion
– The Jerry Henderson Sportsmanship Award
– Free In-n-Out Burger lunches on the Friday practice day
– The Saturday Night Slowdown: a club sponsored ice cream social and video game trailer with six gaming consoles on HD big screens.
– Free overnight camping
– We encourage summer night BBQing
– Free driver's event t-shirt for all registrations made by May 31
The most exciting addition this year is that Kart Racer TV will be filming the weekend's events. Utilizing four on track cameras and onboard footage, the final produced film will show each Main Event race in its entirety with dual live color commentary provided by Tim "Chappy" Chapman and J.R. Ybarra. The video production will also include driver and class sponsor interviews and podium presentations. The final high definition videos will be available free for everyone to watch on YouTube. This will be a unique opportunity for drivers and sponsors to be a part of a true television-style production.
We are very excited about this!  Not only will the racing be showcased, but so will the drivers and sponsors.  All class sponsors will have an interview session to promote their business and karting.  That interview will be at the beginning of their sponsored race classes main event video.
This isn't just a "club" race with a big title.  We want a highly competitive race for the championship on the track, but still hold on to the notion that kart racing, when all is said and done, can still have a fun atmosphere with family and friends.  I think it's possible to do both.
EKN: You guys have obviously put in the work to design and lay out a really solid event that should draw a great list of drivers.  Your class structure offers more opportunity for club-level racers, and we look forward to hearing the names of drivers who are entered.  Can you provide the EKN readership with the only registration links and the club's website, should they need more information?
NT: We will be accepting online pre-registrations until June 15 on the California State Karting Championships page. Walk up registration will also be available on Friday and Saturday at the gate (although at a slightly higher price). Anyone interested in general karting questions or wanting to join us at our next club race, feel free to check out our website at tri-ckarters.org or contact us at flybythebook@yahoo.com