Pearcy, Fresher, 1-2 in Mel Kenyon Classic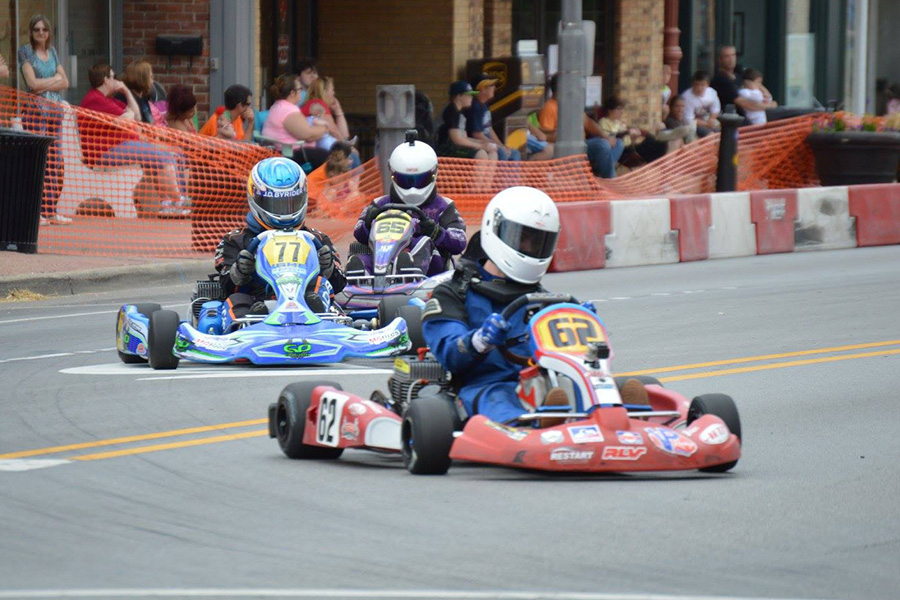 Daniel Pearcy and his Jim Howe Motorsports #62 Birel known as "Karma" set up for a turn during the "Mel Kenyon Classic" Senior Yamaha feature, just ahead of Colton Aldridge (#77) and Garritt Powell (#65) (Photo: Ashley Powell)
Daniel Pearcy (Shelbyville, KY) and Jordan Fresher (Avon, IN) posted impressive 1-2 finishes for Jim Howe Motorsports LLC in the "Mel Kenyon Classic," honoring racing legend Mel Kenyon.
The Southern Indiana Racing Association (SIRA) event was run in the streets of Lebanon (IN), Kenyon's hometown. The legend was on hand during both days' events talking to racers, autographing trophies, and checking out all the karting action.
Pearcy's victory in the 18-lap Senior Yamaha feature completed his sweep of the class for the weekend, after winning the rain-soaked heat race on Saturday. Starting on the pole, Pearcy was never bested on the eight-turn, two-block course run around the Boone County Courthouse in downtown Lebanon. Sunday's feature was run in bright sunshine, a sharp contrast to the Saturday events run in pouring rain.
For most of the race, Pearcy had at least a half-straightaway lead but things got interesting for the last handful of laps. A local caution in the back sector allowed Colton Aldridge and Garritt Powell to close up on the rear bumper of Pearcy's JHM #62 Birel affectionately known as "Karma." Despite fighting a fiercely tight kart, Pearcy's line or speed never varied and he took the checkered flag, his first win since 2013.
"The kart got really tight there at the end," Pearcy said in victory lane, "but we absolutely hit the right gear and our BBS Race Engine Development Yamaha was just unbelievably fast."
Fresher, the junior member of the JHM team, completed the weekend for the team with an impressive runner-up finish in the Junior 1 (Sportsman) feature. Fresher stalked eventual winner and defending class champion Carter McFall for all 18 laps but couldn't power his Edwards-Rigdon Construction / JHM #62 Birel around McFall.
This was Fresher's second street race and lapped karts proved to be a problem all day long. Often, Fresher had a run going only to get backed up behind a slower kart while McFall used his experience to correctly guess the right lane to get by.
"The lapped karts were in my way all day long," a frustrated Fresher said later, "I just couldn't figure out where they were going."
Both racers were equally impressive in Saturday's preliminary action in the rain. Pearcy drove away from everybody in his six-lap heat while Fresher ran second in the first Junior 1 heat before capturing the second Junior 1 heat.
"I'm thrilled for both of my boys," team General Manager Jim Howe added. "It feels good to get Daniel back in the groove like a few years ago when he ran for us and I continue to be amazed by how fast Jordan picks things up and runs like a veteran out there [on the track]."
Jim Howe Motorsports is back in action Saturday night, June 11, for the Tony Stewart Racing Series club race at the historic Whiteland (IN) Raceway Park. Fresher will run the Junior Sportsman class for the team while Pearcy takes the night off.