Awning Company Super One Series Round 5: Llandow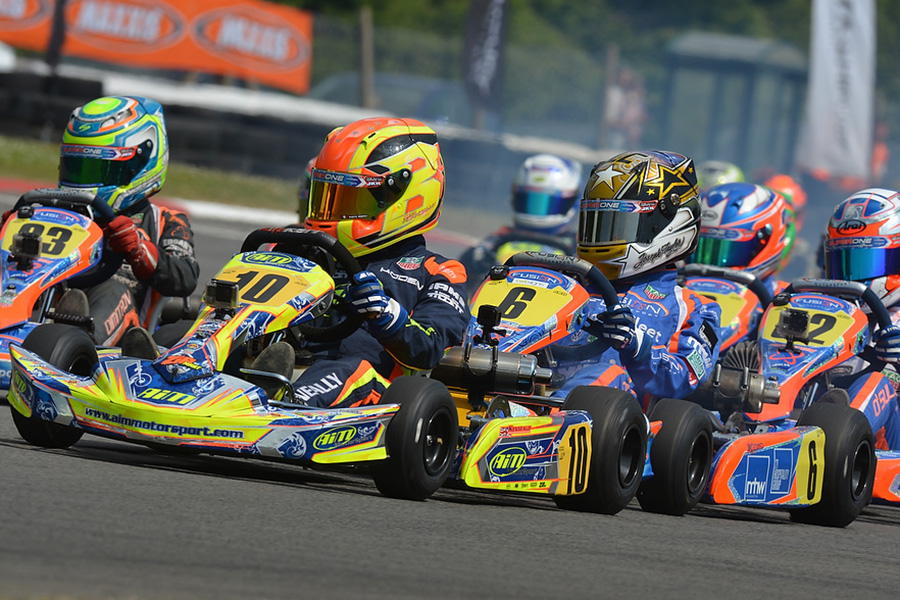 (Photo: kartpix.net)
For the fifth round of the series the championship moved to the 1050m south Wales circuit of Llandow.  The track layout lent itself of some of the most exciting racing seen so far this year, especially with the late dives into the last hairpin and the run to the finish line.  For this round the IAME Cadet, TKM and X30 classes were joined as guests by the MSA British Bambino Championship, Rotax and Honda Cadet taking a rest.  The weather was sweltering and the racing hot.
MSA British Cadet Championship for IAME
Bray Kenneally took two stunning maiden Super One victories lifting him to third in the championship standings behind Harry Thompson and Joseph Taylor.    The AIM Motorsport driver had to settle for fourth in the timed qualifying joint results behind Thompson, Van Knapton and Arvid Lindblad.   The latter went on to be probably the youngest driver to win a heat in Super One, Thompson taking the other two and initially leading the first final.  Kenneally soon took over at the front, throwing off further lead challenges from Thompson, Joseph Taylor and Georgi Dimitrov to win by a nose width.  Championship leader Thompson was forced to settle for fourth behind Dimitrov and Taylor aided by a late race clash between him and Linblad.  However final two was the highlight of the weekend as Kenneally had to contend with no less than half a dozen Fusion karts plus several others as a lead pack of ten broke away. But every time either Thompson or Joseph Taylor forged ahead Kenneally fought straight back, fearful that he would be elbowed to the rear of the lead group.  With a lap and a half to go, just as Kenneally was looking at his most vulnerable Thompson and Taylor began to battle over second, delaying each other and allowing Kenneally to make his escape to a popular win.  Thompsons' move for second on the last lap on Taylor allowed Dimitrov to follow through with Jonny Wilkinson climbing up to fifth.
Final 1 (16 laps) 1 Bray Kenneally (AIM/ZIP); 2 Georgi Dimitrov (Fusion/Synergy); 3 Joseph Taylor (Fusion/Synergy); 4 Harry Thompson (Fusion/Synergy); 5 Zak O'Sullivan (Fusion/Synergy); 6 Kai Askey (Fusion/Synergy).
Final 2 (16 laps) 1 Kenneally; 2 Thompson; 3 Dimitrov; 4 Taylor; 5 Jonny Wilkinson (KMS/ZIP); 6 O'Sullivan.
ABkC Junior TKM National Championship
Bradley White just pipped Abbi Pulling by a tenth for honours of pole for the heats, with an on form Joe Fowler next.  White went onto win both heats. In the first final Fowler first took Pulling then snatched the lead from White, the latter falling to third but fighting back to the front which had been briefly held by Pulling.  So White was at the front when it mattered from Pulling, Fowler and Ian Sisson.  The second final was punctuated for dealing with a crash of Sisson, then at the restart Pulling was quickly to the front and holding all the way to her maiden Super One victory.
Behind, and challenging all the way, White and Fowler traded second with Kristian Brierley always there in fourth.
Final 1 (17 laps) 1 Bradley White (Tal-Ko Racing/Tal-Ko); 2 Abbi Pulling (Tal-Ko/Tal-Ko); 3 Joe Fowler (Jade Karts/Jade); 4 Ian Sisson (Privateer/Jade); 5 Kristian Brierley (Litchfield Motorsport/Tonykart); 6 Lee Whittingham (Privateer/Tonykart).
Final 2 (17 laps) 1 Pulling; 2 White; 3 Fowler; 4 Brierley; 5 Jordan Lee-Chapman (Klaassen Motorsport/Tonykart); 6 Lucas Sullivan (Privateer/Tonykart).
ABkC TKM Extreme National Championship
Harry Moore prevailed over Simon Vercoe and Sam Fowler at the top of a massive 42 kart entry, Moore winning two heats to Sebastian Hutchison's one.  Moore enjoyed a lights to flag victory in the first final followed almost all the way by Vercoe until Matt England leapfrogged two karts on the last lap to take second.  However his day was done when he crashed out on the formation lap of the second final, leaving Moore more or less in charge after retrieving the lead briefly held by Vercoe.  Fowler had fallen to the back of the first final and could only make it up to 14th in the second with a total of nine karts penalised for displaced front fairings across the two finals.
Final 1 (17 laps) 1 Harry Moore (Jade Karts/Jade); 2 Matt England (Tal-Ko/Tal-Ko); 3 Simon Vercoe (Tal-Ko Racing/Tal-Ko); 4 Owain Rosser (Jade Karts/Jade); 5 Ryan Edwards (Privateer/Tonykart); 6 Phil Smith (Precision Racing/Tonykart).
Final 2 (17 laps) 1 Moore; 2 Vercoe; 3 Rosser; 4 Hutchinson; 5 Smith; 6 Lewis Wadley (Precision Racing/Tonykart).
Junior X30 International Qualifier
Angus Fender dominated Saturday's timed qualifying and heats but points leader Gordon Mutch battled back to win Sunday's first final from grid five. Mutch also crossed the line first in final two but was excluded for not having done up his helmet strap and so the win went to Oliver Clarke, who passed Fender at the final corner with Shane White in third.  Fender leads the standings with Mutch falling to fourth.
Final 1 (17 laps) 1 Gordon Mutch (Clan Racing/Mad Croc); 2 Oliver Greetham (S8 Racing/Alonso); 3 Oliver Clarke (M Sport/Tonykart); 4 Angus Fender (Jade Karts/Gold); 5 Shane White (Litchfield Motorsport/Tonykart); 6 Harry McQuillan (Protrain/Tonykart).
Final 2 (17 laps) 1 Clarke; 2 Fender; 3 White; 4 McQuillan; 5 Ethan Pitt (Jade Karts/Gold); 6 Ewan Long (Privateer/Compkart).
Senior X30 International Qualifier
Local ace Josh Collings had a perfect weekend winning every race with points leader Matt Davies second every time, never close enough to challenge.  Scott Mackrell was third in the first final, Jack Partridge in the second one, recovering from eighth after a 10s displaced front fairing penalty.
Final 1 (18 laps) 1 Josh Collings (Dan Holland Racing/Alonso); 2 Matt Davies (Privateer/Tonykart); 3 Scott Mackrell (Coles Racing/Tonykart); 4 Matthew Hirst (KR Sport/Kosmic); 5 Brett Ward (MLC/Mach 1); 6 Euan Wilson (S8 Racing/Alonso).
Final 2 (18 laps) 1 Collings; 2 Davies; 3 Jack Partridge (Melliosport/Gold); 4 Ward; 5 Mackrell; 6 Hirst.