More Wins for O'Meara-Hunt and Rooney at Waitara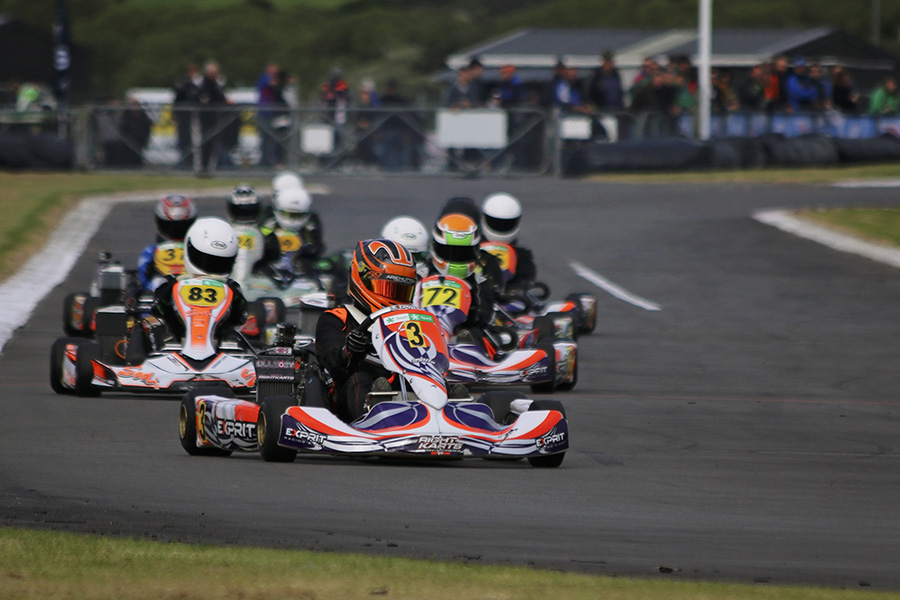 Rianna O'Meara-Hunt (Photo: Fast Company/Vicky Jack)
The wins kept on coming for 2015/16 Bayleys WPKA Goldstar class champions Rianna O'Meara-Hunt and Jackson Rooney at the series' annual season-ending one-day 'Championship' meeting in Taranaki on Sunday.
O'Meara-Hunt from Wellington won three of the five Formula Junior class heats to claim overall day victory in that class while Jackson Rooney from Palmerston North won three of his five Vortex Mini ROK heats as well as the stand-alone class Grand Prix race to top score in that class.
The pace was fast and furious in the cool, dry conditions at host club KartSport Taranaki's Todd Energy Raceway at Waitara, with O'Meara-Hunt twice lowering the track lap record in her class before Tom Greig from Palmerston North claimed it for himself.
Greig also won the Junior Grand Prix race after finally taking the lead on the last lap, and ended up a close second (there was just one point in it) behind O'Meara-Hunt in the Formula Junior class standings with second-generation Hawke's Bay racers Zac Stichbury and Ronan Murphy third and fourth respectively.
Second both for the day and in the Vortex Mini ROK class Grand Prix was top local driver Thomas Boniface with Ryan Crombie third in class and fourth in the Grand Prix race.
Three heat race wins were also enough to give reigning New Zealand Sprint champion Mason Potter overall victory in the Cadet ROK class,  though it was fellow Aucklander Liam Sceats who won the class Grand Prix race from Potter, Logan Manson and class round runner-up and first heat race winner Kaden Probst.
In the Senior classes Zach Zaloum dominated 125cc Rotax Max Heavy with four heat wins from five starts, while victory in 125cc Rotax Max Light went to young gun Jacob Cranston from Senior Grand Prix race winner Ethan Hourigan and James Higgins.
Brent Hickmott, meanwhile, proved the man to beat in ClubSport 120, winning four of his five heats to lead home the winner of the other heat, Braden Parsons and the consistent Brent Robinson in the day standings.
2015/16 Bayleys WPKA Goldstar Series Championship Sun June 05 2016 Championship round Todd Energy Raceway Waitara Taranaki Sun June 05 2016
125cc Rotax Max Light
Jacob Cranston; 2. Ethan Hourigan; 3. 3. James Higgins; 5. Jonathan Dwyer
125cc Rotax Max Heavy
Zach Zaloum; 2. Campbell Jamieson; 3. Ashley Higgins; 4. Jayden Smith; 5. Francois Rauterbach
ClubSport 120
Brent Hickmott; 2. Braden Parsons; 3. Brent Robinson; 4. Garth Lacey; 5. Richard Krogh; 6. Roger Pepperell
Formula Junior
Rianna O'Meara-Hunt; 2. Tom Greig; 3. Zac Stichbury; 4. Ronan Murphy; 5. Riley Jack; 6. Cameron Spargo
Vortex Mini ROK
Jackson Rooney; 2. Thomas Boniface; 3. Ryan Crombie; 4. Logan Smith; 5. Riley Spargo; 6. Zeal Jones.
Cadet ROK
Mason Potter; 2. Kaden Probst; 3.Ryan Bell; 4. Logan Manson; 5. Liam Sceats; 6. Hugo Neale
GPs
Senior GP
Ethan Hourigan; 2. Jacob Cranston; 3. James Higgins; 4. Jayden Smith; 5. Braden Parsons
Junior GP
Tom Greig; 2. Rianna O'Meara-Hunt; 3. Ronan Murphy; 4. Riley Jack; 5. Frank May; 6. Zac Stichbury
Vortex Mini ROK GP
Jackson Rooney; 2. Thomas Boniface; 3. Riley Spargo; 4. Ryan Crombie; 5. Logan Smith; 6. Louis Redshaw
Cadet ROK GP
Liam Sceats; 2. Mason Potter; 3. Logan Manson; 4. Kaden Probst; 5. Tom Bewley; 6. Ryan Bell