Dunlop Chosen to Supply Dry Tyres to KartSport New Zealand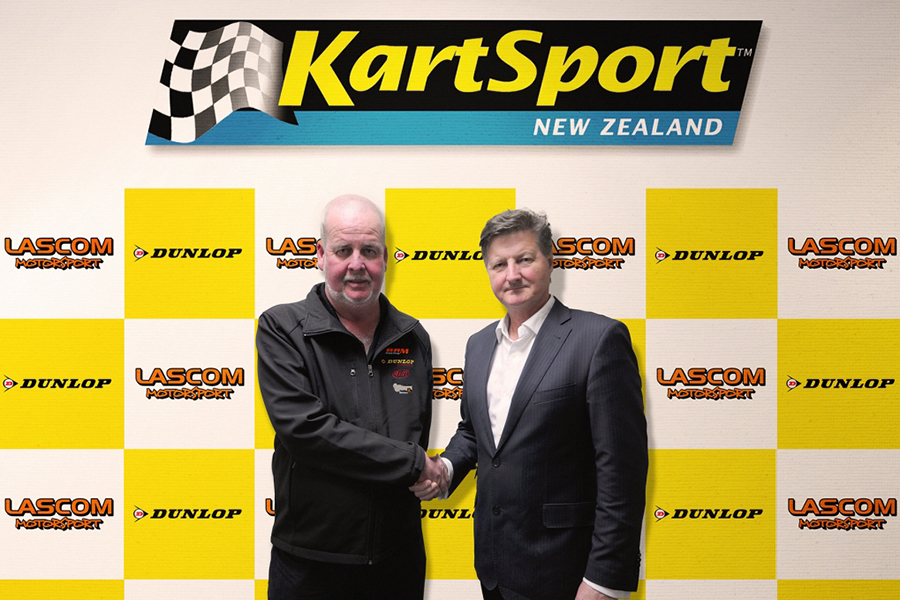 Brian Waldmeyer, Director Lascom Motorsport and Graeme Moore, National President KartSport New Zealand at the contract signing (Photo: Fast Company/ Mark Baker)
KartSport New Zealand is pleased to announce that the Dunlop DFH tyre has been chosen as the dry tyre for tyre-restricted classes for the next contract period (1-1-17 to 31-12-19 inclusive) following comprehensive on-track testing and a subsequent contract evaluation process.
Dunlop NZ Motorsport Manager, Richard Fraser said, "Dunlop is delighted to add the supply of dry (slick) tyres to our current wet tyre contract. We have noted that KartSport New Zealand has made major strides over the last few years to restructure and proactively rejuvenate karting in New Zealand. Both Dunlop NZ and Lascom Motorsport are very keen to work in partnership with the sport and its other brand partners to further enhance competitor experience at all levels, from the grassroots to the elite. Dunlop has a proud global history in all forms of motorsport, including circuit racing and rallying, and we recognise KartSport New Zealand's key role in the success of former and current kiwi motorsport competitors around the world."
KartSport New Zealand National President Graeme Moore added, "KartSport New Zealand is delighted that Dunlop and Lascom Motorsport will be investing in the sport via a significant promotional partnership in terms of financial assistance, services and product to support Championship events, promotional material at Clubs and a new International Competition Travel Fund for drivers winning overseas drives from classes using the Dunlop DFH tyre. We look forward to a mutually beneficial partnership over the three years commencing January 2017."
More details regarding the $7000+ per annum International Competition Travel Fund will be announced soon.
The Dunlop DFH tyres  are manufactured by Sumitomo Rubber Industries, Japan, imported into New Zealand and bulk warehoused in both Islands by Goodyear and Dunlop Tyres (NZ) Limited and distributed exclusively via Lascom Motorsport.
Extensive testing of the tyres submitted by four different manufacturers took place during January 2016 and contract negotiations have recently been concluded. As previously advised in February 2016, due to the current MG-AZ tyre not being submitted for the next contract period, a change of tyre had to occur after the end of the current tyre contract.
KartSport New Zealand would like to sincerely thank the four organisations that submitted tyres for evaluation. KartSport New Zealand would also like to acknowledge and thank MG Tyres NZ for its strong support since the MG-AZ tyre was introduced in January 2011.