Product Spotlight: eShifterKart – AF Radiators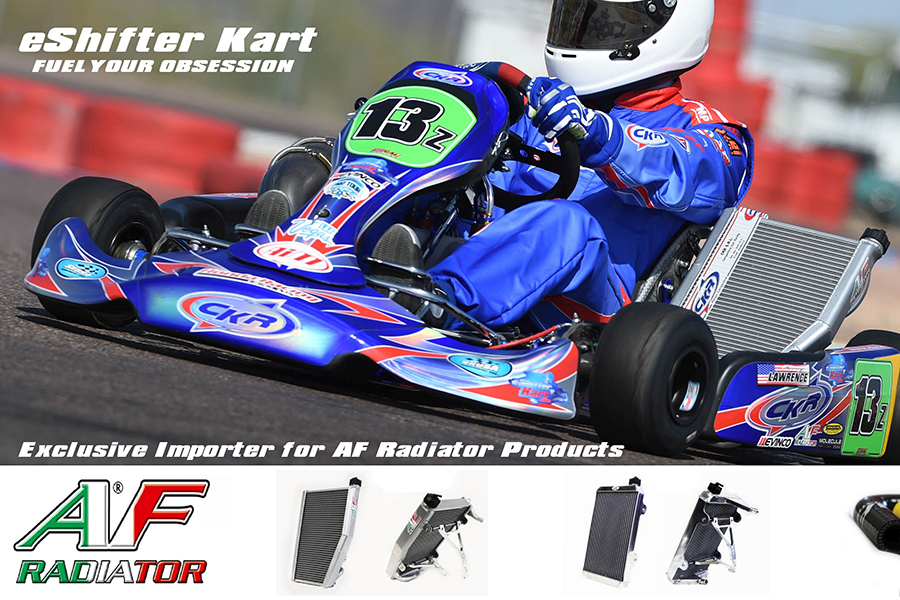 The product roster at the storefront of the Garden City, Idaho business eShifterKart.com continues to grow. This growing operation added the CKR chassis lineup prior to the 2016 season, ramping up with an east coast dealer in March to expand the brands exposure. Now, owner James O'Brien and the eShifterKart staff have reached a deal to become the North American importer for the AF Radiator.
These quality radiators are made in Italy, and provide a perfect range of cooling products for any environment and a variety of applications. Three different sizes are available through AF Radiator and eShifterKart.com. The 'Pentagonal' (450mm x 290-230mm) is the most popular model and thoroughly tested here in the United States against high temperature environments. AF Radiators also manufacture silicone hose with 90 degree elbow and the radiator curtains to avoid the messy tape system, all available through eShifterKart.com.
AF Radiators are in stock now along with a wide range of products for all age levels. Please view their online store at eShifterKart.com often as they continue to grow the inventory of AF Radiator products. Dealer pricing available by calling 208.384.KART.