Mosca and Zanchetta Great Protagonists of the Italian Championship with Maranello Kart in Sarno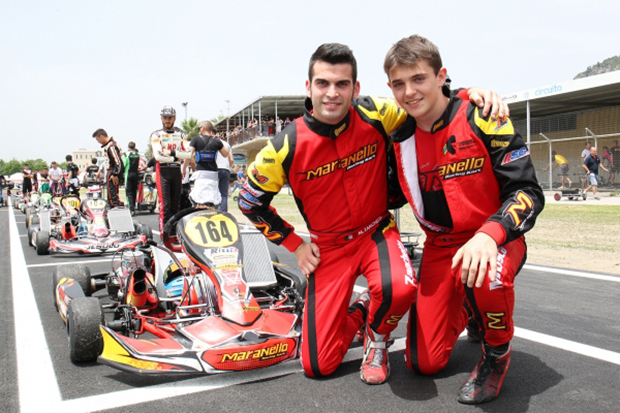 Marco Zanchetta and Tommaso Mosca
The two Maranello Kart's drivers fielded in Sarno put in an exciting race, as Mosca ended Race-1 at the feet of the podium and Zanchetta was seventh, both being very quick in qualifying and heats. Both drivers had to retire from Race-2 instead, but their performance has been strong anyway. The European Championship KZ2 to get underway this weekend in Adria with Mosca and Cavalieri on track.
The second round of the Italian ACI Karting Championship, race held at the International Circuit Napoli of Sarno, highlighted the colors of Maranello Kart, that has been shining with its protagonists Tommaso Mosca and Marco Zanchetta, who was back among the ranks of the Italian outfit.
Mosca and Zanchetta put in a great performance in most of the weekend and obtained two great results in the first Final, where Mosca claimed an excellent fourth place and Zanchetta completed his crescendo of results with a very good seventh place in his comeback race with Maranello.
The two Maranello Kart drivers Tommaso Mosca and Marco Zanchetta have been assisted by SG Race led by Stefano Griggio with TM engines by Rizzi. They started this round on the renewed 1.550 meters of Sarno in the right way since qualifying, as Mosca posted the quickest lap of his group in 56.589s which was the second absolute, while Zanchetta was eighth in his group in 56.945s and thirteenth absolute. In the heats, the two Maranello Kart's drivers kept their momentum: Mosca was fourth absolute (thanks to two second and a fourth place) and Zanchetta was tenth, as he scored three fifth places.
The top eight grid inversion of the second Final offered better chances especially to Zanchetta, who lined up on the first raw of the grid due to the seventh place in Race-1. Zanchetta did not miss out on this chance, sliding in among the protagonists also of this second race. Mosca unfortunately had to retire in lap one instead. That was a real pity for the young driver of Maranello Kart, especially as he was fourth in the classification after Race-1.
Zanchetta's performance has been very exciting until halfway through Race-2, as he also had to retire when he was third. He was in fact flawlessly involved in the accident for P1 between Pezzolla and Torsellini.
Despite the double DNF in Race-2, the runs of Tommaso Mosca and Marco Zanchetta have been really convincing, as Maranello's pairing confirmed to be among the quickest and most competitive of this second round of the Italian Championship, making a good display of the competitiveness of Maranello Kart's chassis.
The Italian Karting Championship will resume from the Adria Karting Raceway next July 10th.
The second round of the European KZ2 Championship will take place in Adria this coming weekend. Maranello Kart will be a protagonist again with Tommaso Mosca and Alberto Cavalieri on track, as the latter will use an official engine unit by Modena Engines.