Awning Company MSA British Kart Championship – Round 1 Whilton Mill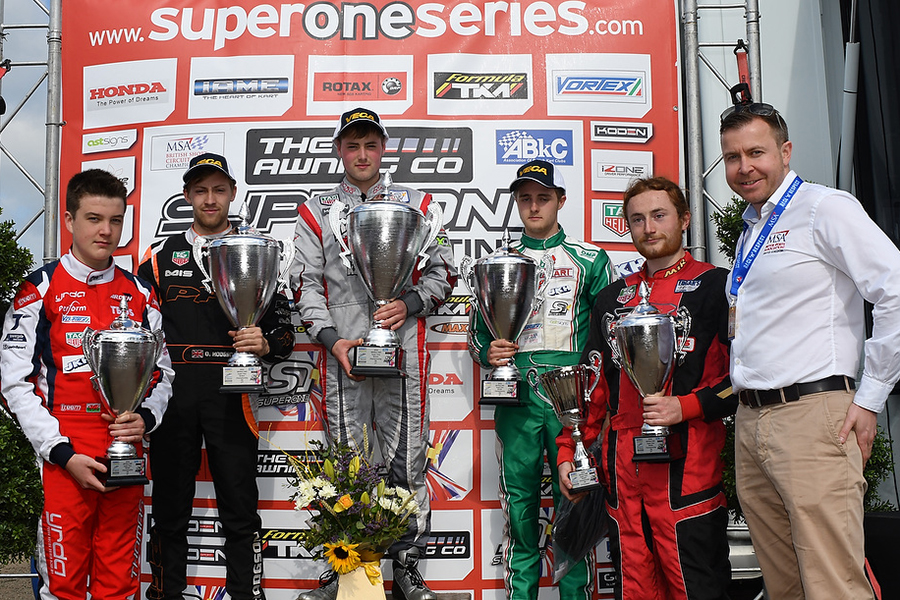 (Photo: kartpix.net)
The first round of the new MSA British Kart Championships for non-gearbox promoted by Super One generated lots of interest for the new CIK OK classes.  There are three rounds, the first in Northamptonshire at Whilton Mill, the second at Shenington SuperPrix in July and the last at PF International in September, all to count for the crown.  So mistakes in any of the rounds would be punishing. Twenty-two Juniors and twenty-one seniors contested this first round, some of the drivers finding the very fast karts quite tough to handle on the twisty hilly circuit.
OK Senior
Dean MacDonald looked strong from the outset winning both heats from Oliver Hodgson although he was pipped to fastest time in qualifying by Max Stilp.  Harrison Thomas joined Max Stilp on the second row of the first final grid behind MacDonald and Hodgson.  After throwing off a challenge by Hodgson, who led a couple of early laps, MacDonald cruised to victory, albeit not overly comfortable.  After problems on Saturday Jacob Stilp had to start from row five but was by far quickest on track and one more lap would have probably seen him take victory as he took Hodgson for second on the last lap.  Thomas stayed in touch for third but Max Stilp was some five seconds back.
So it was no surprise when Jacob Stilp sporting the Jules Bianchi livery on his Mad Croc stormed away to take Final Two victory by almost two seconds. MacDonald did the opposite going backwards to sixth and losing out to Hodgson, Knott, Thomas and the Privateer Ryan Green who was arguably the surprise package of the weekend.  Controlling tyre life on the Vegas was starting to come into effect so MacDonald and Hodgson are tying for top of the championship standings meantime.
Final 1: 1 Dean MacDonald (Tony Kart); 2 Jacob Stilp (Mad Croc); 3 Oliver Hodgson (Birel ART); 4 Harrison Thomas (Kosmic); 5 Max Stilp (Mad Croc); 6 Luke Knott (Tony Kart).
Final 2: 1 Jacob Stilp (Mad Croc); 2 Hodgson; 3 Knott; 4 Thomas; 5 Ryan Green (DR); 6 MacDonald.
OK Junior
After being excluded from qualifying for a rear bumper infringement Jewiss gave himself a lot of work to do in the heats.  Topping that timed qualifying was Tom Canning from Johnathan Hoggard and Hoggard won both heats whilst Jewiss recovered to fifth and fourth.  From there he unsurprisingly took victory in the first final, passing Hoggard mid race after taking a couple of laps to pass Morgan Porter.  The latter soon retired whilst MacDonald was kept honest by his team mate Hoggard. Holding onto third for the latter half of the race was Callum Bradshaw.
Final Two saw a massive fight on the opening laps between Jewiss and Bradshaw with the latter taking the lead on lap five. But as Jewiss re-passed the BKC Racing driver for the lead Bradshaw dropped to fifth. Up ahead Hoggard was once again in close pursuit of Jewiss who eventually came off at the last corner in what he said was his own mistake. This left Hoggard to go on to take victory with Mark Kimber producing a fine drive gaining twelve places to inherit second with Axel Charpentier a close third with Bradshaw recovering only to fourth.  Other hard chargers included Morgan Porter and Gordon Mutch who gained thirteen and sixteen places respectively to finish fifth and sixth.
Final 1: 1 Kiern Jewiss (Kosmic); 2 Johnathan Hoggard (Kosmic); 3 Callum Bradshaw (Exprit); 4 Lorcan Hanafin (Tony Kart); 5 Tom Canning (Kosmic); 6 Axel Charpentier (Tony Kart).
Final 2: 1 Hoggard; 2 Mark Kimber (Tony Kart); 3 Charpentier; 4 Bradshaw; 5 Morgan Porter (Octane); 6 Gordon Mutch (Mad Croc).