Tri-C Karters Round 2 Report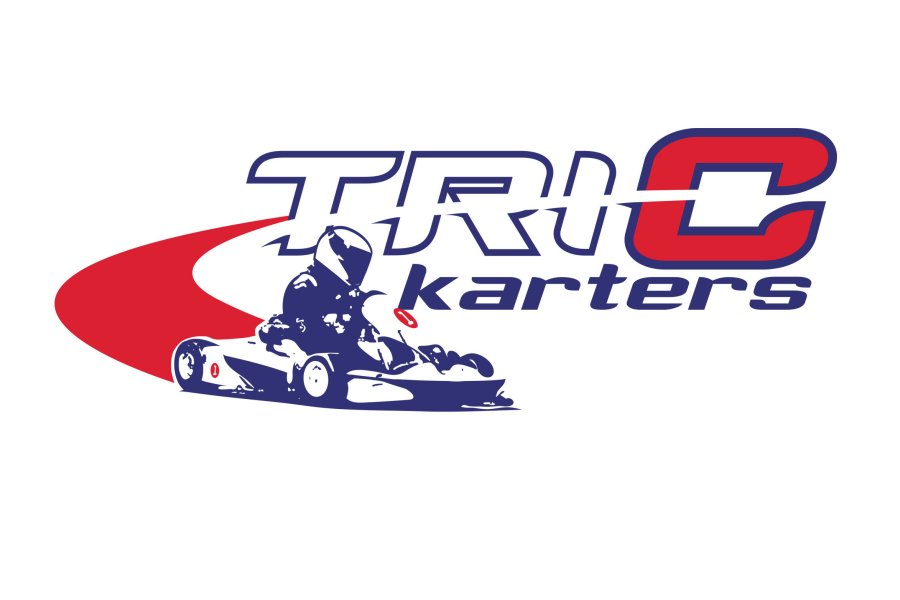 The 2016 racing season is well under way and the Spring-like weather attracted even more drivers and spectators to the second round of the Tri-C Karters May event.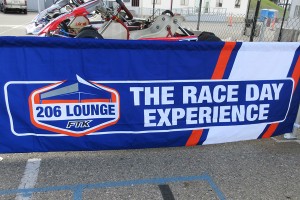 With coffee and donuts in hand, drivers congregated to the grandstands for the morning drivers meeting.  A new addition to the paddock area this weekend was the debut of the M2/FTK 206 Lounge.  An arrive and drive program that is attracting new karters to the sport; a place to welcome new drivers and get them acclimated to racing with a race ready LO206, pit support and guidance.  "It's a chance for someone interested to show up and experience the joy and excitement of racing without any major financial investment," stated Andy Seesemann of Full Throttle Karting, based in Orange, CA.
With ten entrants in the LO206 class, it was a fun class to watch.  While the #27 of David Bell was getting quicker in every session, he had an early off after losing a chain in the main, still coming off track stating, "That was beyond fun!"  Terry Nash, running in the #66 LO206, was 4th quick in qualifying, but ended his day early with mechanical issues.
Coming out of racing retirement, or perhaps finally getting a break in their college studies, the #307 of Breanna Miscione, running in TaG Senior and the #5 of Cameron Jocelyn in World Formula traded school life for track time and won in their respective classes.
The future of the sport – the kids — are so much fun to watch. The TaG Mini class, with 9 drivers this month, had some very close racing and even more exciting to see – all the parents lined up along the fence line cheering everyone on. In between heats, some of these young drivers had fun in the paddock playing street hockey and then got back in the zone once the helmets went back on. Their never ending energy is enviable!
The much talked about TaG Masters class, with 17 entries, was led by Ty Matta and Paul Bonilla much of the the day. In the main, 3rd thru 7th had a tight battle with Trevor Graegin joining Ty and Paul on the podium.
Not only did the 206 Lounge have a number of drivers under their tent, 2 Wild Karting had a busy tent tending to over 6 drivers.  Nash Motorsports and Pacific Rides stayed busy as well with multiple drivers under their tents.
Class Results: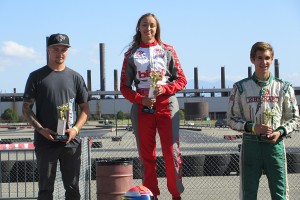 Full Throttle Karting – TaG Masters: 1-Ty Matta (73), 2-Paul Bonilla (227), 3-Trevor Graegin (326c)
SeventhGear.com – TaG Mini: 1-Cole Morgan (66), 2-Chance Gibson (777), 3-Dakota Tate (14)
Team T Racing – World Formula: 1-Cameron Jocelyn (5), 2- Kari Hillwig (33), 3-David Carlisle (77)
RLV – LO206: 1-Adam Verlengiere (18), 2-Hannah Grisham (8), 3-Steve Jasinski (4)
Rebel Mutt Racing – Formula 125 Shifter: 1-John Nielson (23), 2-Leo Lebel (38)
2 Wild Karting – TaG Senior: 1-Breanna Miscione (307), 2-Robby Stanovich (44c), 3-Gregory Osborne Jr. (998x)
CRG SoCal – PRD Jr. II: 1-Lauren Adams (77)
TDC Components – Jr. 1 Comer: 1-Dakota Tate (14), 2-Bentley Adams (79), 3-Lucas Robertson (24)
100cc Senior: 1-Martin Harnois (27), 2-Nathan Thibodeaux (39), 3-Wesley Thu (51)
100cc Masters: 1-Kanji Tagaki (89), 2-Philip Friese (91), 3-William Frye (13)
Coming up next on the racing calendar is the 48th Annual California State Championship on June 17-19. There is still time to register and get your spot reserved today.  Registration includes a designated pit spot, free camping Friday and Saturday and lunch from In and Out on Friday.  Register at www.tri-ckarters.org
Please note that due to the recent addition of the HARD Summer Music Festival at the Auto Club Speedway, Round 3 will be scheduled for Sunday, July 10th.  Mark these important dates on your calendar and we will see you at the track!