Matt Jaskol: Watching Indianapolis 500 History from the Beginning to the End
A span of 16 years brings three people together in Victory Circle at Indy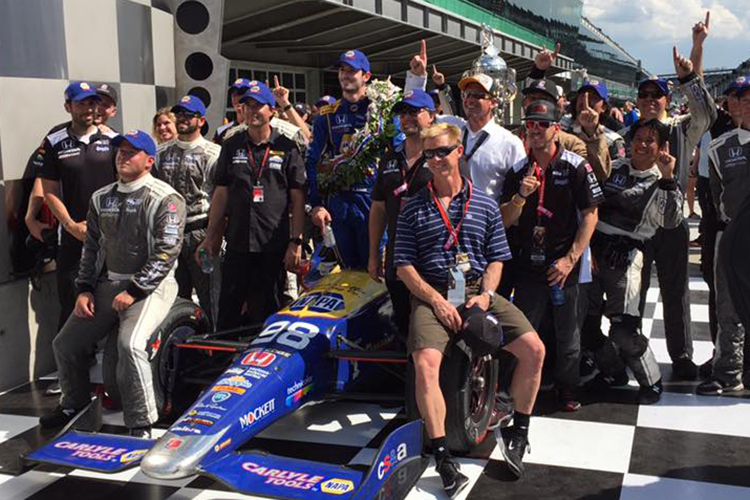 The paths of Bryan Herta, Alexander Rossi and Matt Jaskol spans 16 years to the Victory Circle at the Indianapolis Motor Speedway (Photo: Matt Jaskol)
The following are words directly from veteran karter and racer Matt Jaskol. The Las Vegas resident has been involved in the sport for over three decades, including a victory at the SKUSA SuperNationals in 1998. Jaskol was among the many drivers fighting their way up the motorsports ladder after a successful career in karting. Matt was among the few selected to the Red Bull Driver Search program in 2003, representing the then-growing Red Bull Junior Team racing program for the energy drink in Formula BMW competition, giving them their first North American win in Montreal and followed it up with a victory during the United States Grand Prix at the Brickyard. The goal of Jaskol's was one day to compete at the Indianapolis 500, and he came one step short, racing in the IndyLights Freedom 100 in 2007, finishing a respectable 7th for Michael Crawford Motorsports.
Ironically, it was the Formula BMW program that helped to launch Rossi's career in Europe and the Formula One paddock after winning the 2008 FBMW World Championship at 17-years-old. Fast forward to 2016 and Rossi was signed to drive a car owned by Bryan Herta for the IndyCar Series.
Below is a review of how all three world's came together and how they all ended up in victory lane at the Indianapolis 500.
What a weekend… And to think I wasn't even going to go to Indy. It is really strange how things come together when you are willing to just show up. Even more strange how things in life, especially in racing, always seem to come around full circle.
About 16 years ago a boy named Alexander Rossi and his father Pieter came to a kart track (XPLEX) in Las Vegas, where I was an instructor for a kart racing school. That same kart track was then co-owned by Bryan Herta, who gave me my first job working at that track. I met Herta through Holis Brown, who was a significant role in the sport of karting, and began working there following the SuperNationals in 1999.
Not less than a year later, I was barely 16-years-old, when the Rossi's landed in front of me. He was maybe 9 and his dad wanted to give him a taste of what it's like to get into racing. Karting was the best option and I told him this was a good place to start. Rossi took part in a three-day racing school where he drove a kart for the very first time and I taught him the basics of driving.
At the end of the three days, Pieter asked me "What do you think?" I told him he had a lot of passion, focus and raw talent, and if they considered getting into the sport, he could do very well. And trust me, I was not shy about telling dads otherwise. I quite often would tell a dad that their child would be better if 'Other Sports Beckoned' and not to pursue racing. It may have been harsh but it was just honesty. That wasn't the case with Alex.
Fast forward to this past Sunday, things came full circle as that same kid made his first start at the Indianapolis 500 in a car owned by the same person who once owned the kart track that began this motorsports journey.
The truth is I really wasn't going to be in Indy for the event. Yes, it's the biggest race of the century, but I was not racing so why go. My best friend Grant works with Andretti Autosport on Marco's car. I met him through Sam Schmidt in 1999, and lived at his house on and off during my Red Bull days. His wife and family talked me into flying out, so I booked a last minute flight for Thursday night. After being there and catching up with everyone, including Alex and Pieter, I decided to miss my early flight out on Sunday. A few hours before the race, Alex and I were in the garage just chatting and catching up. I didn't have a crew shirt and the team manager of Marco's car offered me one. There were five to choose from. He went to give me a Marco's shirt and I said "Actually, I used to work with Alex, let me get on me of those shirts."
Most of the time leading up to the race I was hanging out with Pieter. We kept joking about how it was my fault starting him into the mess. During what was a gorgeous afternoon at the greatest spectacle in racing, I stood next to Alex's father and watched his son be one of the famed 33 drivers to take on the 2.5-mile oval for a chance to make history by winning the Indy 500. Absolutely unreal!
Driving for Andretti Autosport, Rossi made history by winning the 100th running of the Indy 500. Most people not involved in racing will ever understand how monumental that really is. I can honestly say I have never in my life felt an emotion like that, watching someone else win a race. But it wasn't just a race, it was the Indianapolis 500. I was allowed to be in Victory Circle with he, his father, friends, family and also friends of mine. It was absolutely amazing. I even shed a few tears if I'm completely honest. It was my first time in the Indy 500 Victory Circle and not how I always imagined or hoped I'd be there, but I'll never truly be able to express the gratitude I had for being there in that moment.
I want to thank Alex, Pieter and the entire Andretti Autosport / Bryan Herta Racing team for allowing me to share in one of the biggest moments in Auto Racing history. To have even had the smallest part in the big circle that lead to that moment, is unbelievable to me and something I will never forget and will be grateful for the rest of my life.