New Auckland KartSport Track One Step Closer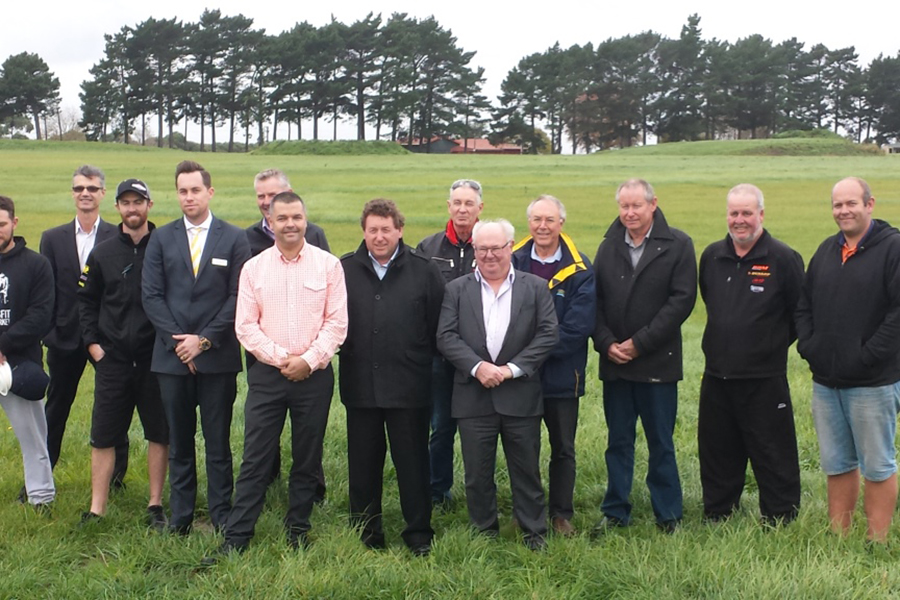 Members of New Zealand's KartSport fraternity gather for a group photo at the site of the new track at Colin Dale Park near Auckland International Airport on Wednesday (Photo: Fast Company/Ross MacKay)
Auckland's new international-spec KartSport track is one important step closer now that the venue – Colin Dale Park between Papatoetoe and Auckland International Airport – has been officially handed over to the six user groups by Auckland Council's Otara-Papatoetoe Local Board.
The official ceremony was conducted on Wednesday afternoon, and spokesman for the KartSport user group, Bob Cunningham, said now that the roading and car parks have been completed at the venue, the track is next.
"Excavation work is due to start in September this year with the expectation that track work will be completed by the end of summer and the first scheduled race meetings will be held in September or October next year," he said.
The KartSport complex will be built and managed by a trust and operated by one or more of the existing regional KartSport Clubs.  The trust will be one of six different user groups which will manage recreational activities at the expansive site between Prices Rd (the main arterial route between Manukau City and Auckland International Airport) and Puhinui Reserve.
The other groups represent BMX, off-road racing, jet sprint boating, supercross motorcycle racing, and radio controlled car racing interests.
Mr Cunningham says that the KartSport facility will be truly world-class with a multiple track layout built to full CIK-FIA (the world governing body of KartSport) specifications. The main track will be 1650 metres long and there will be two other slightly shorter 'national' and 'club' tracks plus the option to run as many as 20 different track configurations depending on need or demand.
"The plan," he said on Wednesday, "is to make this New Zealand's premier KartSport facility offering international meetings, national and club meetings, hire facilities and corporate events.
"It will be world class and will put New Zealand karting on the international map."