Michael d'Orlando Makes Birel ART Debut at Zuera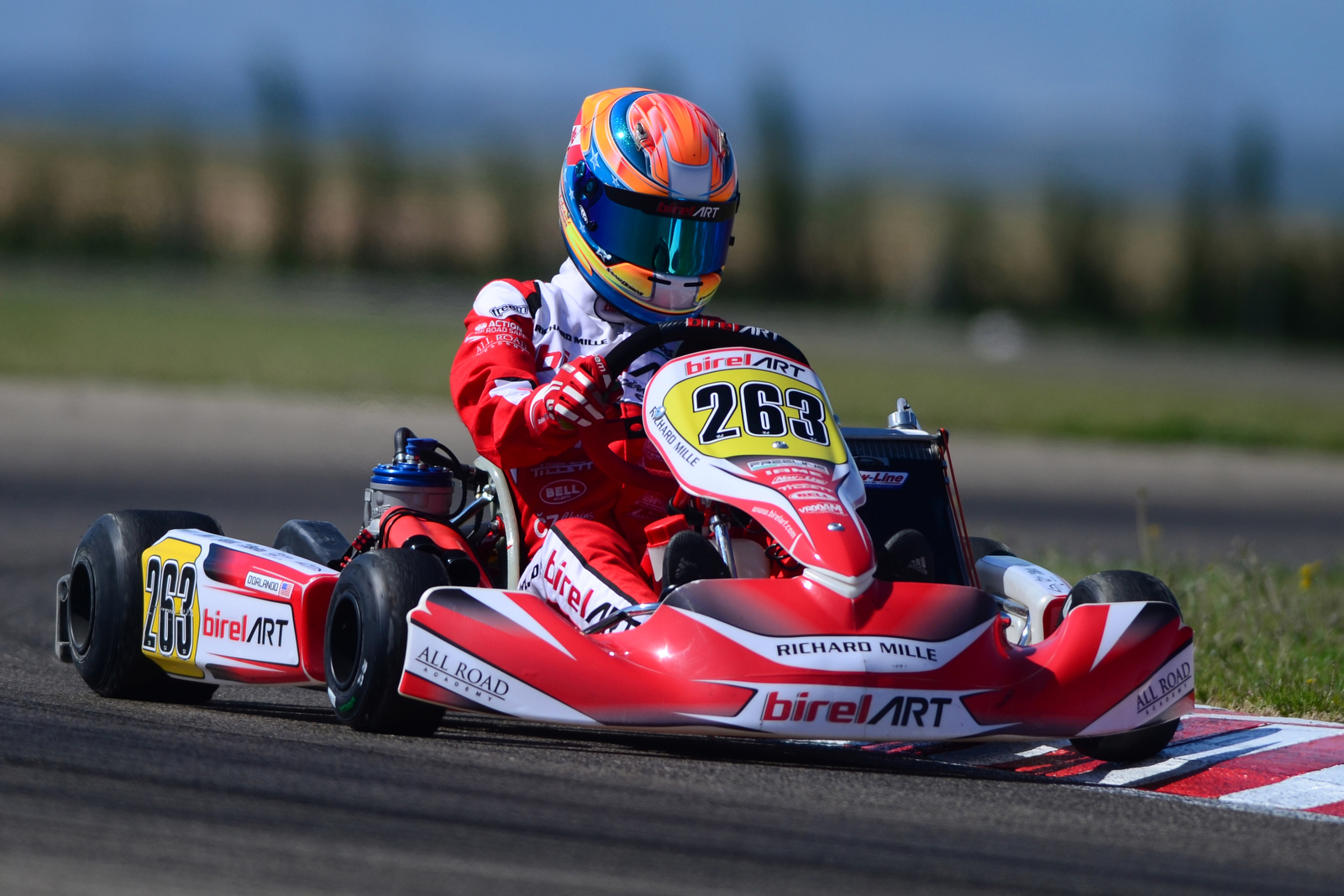 Leaving the familiarity of his North American racing behind, adapting to change is exactly what Michael d'Orlando had to do in his European debut.   And he did, but not without hard lessons and struggles in the meantime.  d'Orlando made the maiden trip across the pond for his CIK-FIA European Championship competition debut, with his Birel ART factory team, in the OK-Junior category  at the International Circuit of Zuera in Zuera, Spain. Despite a tough weekend against 76 of the best drivers in the world he did not let it get him down and showed improvement throughout the weekend.
Starting out with a short test with the Birel ART factory team in Italy the week before, d'Orlando headed to Zuera with some familiarity of his new equipment.   A couple short days practice to get familiar with the circuit, and it was race day.
Clear, but windy weather conditions set the stage for the three day event.  Friday would prove a steep learning curve for the sophomore, after putting his No. 236 Birel ART machine in the 56th Qualifying spot, therefore setting him up for a challenging 23rd starting position for each of the four heat races through Saturday.   Determined to move forward, he would make his way up as far as 12th and 10th in two heats before on-track contact and post-race penalties sent him back down the order in the final results.   But he would survive another day for a position in the Sunday morning pre-final.
Starting from the 34th position, forward progress was the goal and he did all he could to drive his No. 236 Birel ART kart back up through the field.    Contact in the early laps set him back once again but he was able to recover some lost ground.  Officially finishing 22nd, unfortunately he would be five positions short of making the Final race.
"It was exciting to race here at Zuera" said Michael d'Orlando. "There is extremely tough competition in this series, and even though my results did not show the improvement that I did make, I learned a lot.  It was just one of those race weekends you just have to learn from and I will use it to help me in preparing for the next round."
"There are some differences racing in Europe that I have to adjust to and I can't thank my Birel ART team enough as they help me transition into European racing and give me a great kart to drive."
Change isn't easy.  We all know that.  And for his European debut at the CIK-FIA European Championships in Zuera, Spain, Michael d'Orlando was no exception.  But he's a survivor.  He'll be back.
For more information on Michael d'Orlando, please visit www.dorlandoracing.com. Be sure to follow him on Facebook (Michael d'Orlando Racing), Twitter (@dorlandoracing) and Instagram (@dorlandoracing) to stay up to date on news, information, photos and results.
BirelArt Team information go to www.http://birelart.com