GoPro Motorplex Karting Challenge Presented by Hoosier Racing Tire – Round Four Report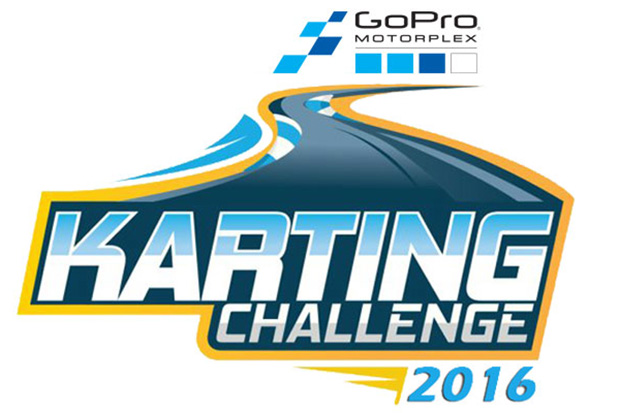 Sunny skies were a pleasant surprise to begin Saturday's Round Four of the GoPro Motorplex Karting Challenge Presented by Hoosier Racing Tire after thunderstorms and heavy rain were forecasted. A total of 87 entries competed within nine divisions of the 10-round championship club series.
Congrats to all Round Four winners: Ian Habiuk (Briggs LO206 Junior), Danny Dyszelski (IAME Mini Swift), Bree Miller (Briggs LO206 Cadet), Drew Lindley (Yamaha Junior), Brent Crews (IAME Swift), Nick Tucker (IAME Heavy), Luke Wallace (IAME Junior), Nick Tucker (Briggs LO206 Senior), Nick Losito (IAME Senior).
Briggs LO206 Cadet Division Sponsored by EnforcerOne powered by FireAid:
In the Briggs LO206 Cadet Division 12-lap final, Aiden Baker Crouse led a train of three karts in the lead pack that included drivers, Bree Miller and Alex Delemo. After just two quick laps, Delemo found a way around Miller for second position and continued his charge to take the top spot from Crouse as well. As the halfway flags were displayed, Delemo was giving it everything he had to hold on to the lead and hold off Crouse. The pack of three leaders were all bumper-to-bumper with three laps to go. In a last-lap move in the Hoosier Hairpin, Miller took advantage of contact between Delemo and Crouse to score her first-ever win. Crouse settled for second and Delemo finished third.
Yamaha Junior Division:
In the Yamaha Junior 14-lap final, cloud cover and rain drops moved into the area slickening the racing surface. However, it didn't dampen the racing action on track with a tight battle ensuing between Emory Lyda and Drew Lindley. As laps wound down, Lyda and Lindley took turns leading the race. With one lap remaining to settle it, Lindley and Lyda battled through a series of cross-over moves in the final corners. With impressive race craft, Lindley controlled the top spot when it mattered to score the final win, followed by Lyda and Taylor Stanford.
IAME Swift Division Sponsored by HMS Motorsport:
As the sun returned over the track, 11 IAME Swift drivers took the green for their 14-lap final. Aiden Baker Crouse led the charge with Brent Crews hot on his heels. After just four laps, Crews took the top spot from Crouse with a flawless move into Turn Four. Just before halfway, Crouse stole the lead back from Crews and the rest of the four-kart train followed, sending Crews to fourth. Leaders, Crouse, Isabella Robusto, Devin Gomez and Crews, ran nose-to-tail as laps closed. On the final lap, Crews earned himself a well-deserved win with a move into Turn Four to take the lead and final win. Rounding out the podium was Robusto in second and Gomez in third.
IAME Heavy Division Sponsored by Stitch 98:
After suffering a disqualification following the pre-final, Nick Tucker started shotgun on the field in the final. However, in just one lap Tucker had maneuvered his way into the top position. Steve Frank and John Wehrheim chased from the second and third positions. Tucker scored the win, followed by Frank and Wehrheim.
IAME Junior Division:
In the IAME Junior Division 15-lap final, Luke Wallace looked to finish off a perfect day with a final win after winning the pole in qualifying and the pre-final. Wallace controlled the lead for the opening laps with a four-kart-length lead on second place of Pauly Massimino. As laps wound down, Wallace's lead improved to over two seconds on Massimino. Earning himself a first-ever win in the IAME Junior division, Wallace took the checkered flag in first, followed by Massimino and Mark Manno.
Briggs LO206 Senior Division Sponsored by Todd Shockman RV Sales:
In the Briggs LO206 Senior division 14-lap final race, the 14-kart field was full of close competition. Dominating through qualifying and the pre-final was Nick Tucker who was out front again in the final. Tucker had a huge advantage after contact between second and third place collected several drivers in the Hoosier Hairpin allowing Tucker to check away from the field. Brian Collins and Billy Duff attempted to work together on drafting efforts from the second and third position to run down Tucker. However, Tucker proved uncatchable, scoring the win by over 10 seconds, followed by Duff and Collins.
IAME Senior Division Sponsored by MPI:
In our largest field of the day with 18 total competitors, the first few laps of the IAME Senior final shook out relatively calm with Nick Losito controlling the lead. However, it wasn't long before the action heated up with Michael Bovim passing up Losito for the top spot. Bovim held steady in the lead until the hard-charging Blake Hunt overtook Bovim just before halfway. Hunt really settled into his stride following the halfway flags and earned a five-kart-length lead over Bovim. However, with less than two laps two go, Hunt suffered a heartbreaking mechanical issue removing him from the lead and race. This allowed Losito to take the lead and a wild last few laps ensued. When leaders ran down lap traffic in Turn Four, Losito drove wide allowing Bovim and Justin Neu to take over the top-two spots. On the white-flag lap, Neu passed Bovim into Turn One for the lead, only for Bovim to attempt a pass back in Turn Four. However, Bovim locked his brakes, spinning and collecting Neu to hand the lead back to Losito. Losito scored the win, followed by Varun Choksey and Austin Schulz.
IAME Mini Swift Division:
Dark clouds once again threatened the racing action just before the IAME Mini Swift Division 12-lap final. It was a start and first lap full of calamity for most drivers in the seven-kart field excluding Danny Dyszelski. Dyszelski took the lead and never looked back, checking out to over a second lead on Alex Delemo. However, as the halfway flags came out, it was Delemo who was clocking the fastest laps on track, nearly a second faster than Dyszelski. With much faster lap times, Delemo was able to quickly chase down Dyszelski, trimming the gap to just a kart length between the two drivers. Defending from Delemo, Dyszelski led every lap of the race to take the win. Delemo settled for second and Sam Corry for third.
Briggs LO206 Junior Division Sponsored by Race City Mobile Detailing:
The Briggs LO206 Junior division 12-lap Final almost squeaked in a rain-free race. However, just before halfway, heavy rain drops began to fall on the racing surface with Ian Habiuk in the lead. The race was cut short with impending thunderstorms coming quickly, allowing Habiuk to take the win, followed by Alex Keadle and Jadyn Daniels.
Round 4 Results & Standings>> (http://www.gopromotorplex.com/race-events/kart-owner-events/gopro-motorplex-karting-challenge/2016-karting-challenge-results)
GoPro Photo Gallery>> (http://www.gopromotorplex.com/gallery/2016-karting-challenge)
UP NEXT:
The Karting Challenge Presented by Hoosier Racing Tire will return for Round 5 on Saturday, June 11. Spectator admission is just $5 and children under age five are free. Competitors can save $15 by pre-registering on MotorsportReg.com.
For more information on the Karting Challenge club series, CLICK HERE>> (http://www.gopromotorplex.com/race-events/kart-owner-events/gopro-motorplex-karting-challenge)