Top Kart USA Off to a Good Start in USPKS Competition
One pole and three wins to kick off the season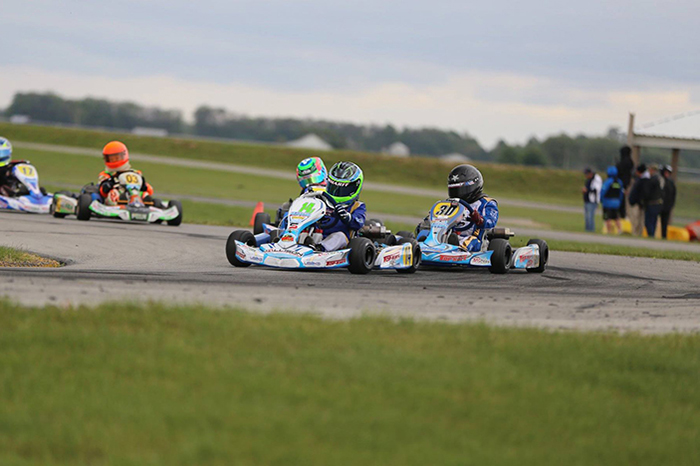 Top Kart USA started the United States Pro Kart Series (USPKS) season off on the right foot, scoring one pole position and three wins in the first weekend of competition, held May 13-15 at New Castle Motorsports Park in New Castle, Indiana.
"Even though the weather wasn't so great, we did not let that stop our hard effort of performance," said Blake Deister, co-owner of Top Kart USA. "With many Top Kart drivers in the top end of the field in most classes throughout the weekend, our team was able to pull of three victories throughout the two days of racing."
In Yamaha Senior Pro, Dakota Pesek took the win in Saturday's action. On Sunday, he started on pole but would finish third. Teammates Josh Fierke and Zachary Lynn both showed consistent speed all weekend, bringing home several top-15 finishes among them.
"The weekend was very solid and consistent. With the kart dialed in and a strong motor, we were able to pull off a win on Saturday," Pesek said. "Sunday was also a very strong day, unfortunately I wasn't able to get the win, but it came down to a three wide finish at the line."
In X30 Junior, Max Peichel finished sixth on Saturday and eighth on Sunday. Myles Rowe added a seventh place finish on Saturday and a ninth place result on Sunday. Teammate Jacob Abel was unable to complete Saturday's race but brought home a 14th place finish on Sunday.
Yamaha Rookie saw Top Kart USA's Cash Wyke endure a rough Saturday, failing to finish the race. Looking for redemption on Sunday, he improved to an eighth place finish.
In Mini Swift Cadet, Top Kart USA pilots Kyle Ford, Gray Leadbetter and Kaden Wharff were able to secure four top-20 finishes between them and will now set their sights on the top-ten at future events.
In IAME Pro Senior, Abby McLaughlin brought home a 13th place finish on Saturday and improved to 12th on Sunday. Teammate Jonathan Kotyk had a rough weekend, finishing 33rd on Saturday and failing to finish on Sunday but had the speed to challenge at the front of the field.
Yamaha Junior drivers Dalton Peak and Jacob Abel were both very consistent all weekend long. Peak finished ninth on Saturday and tenth on Sunday. Abel finished 12th on Saturday and 13th on Sunday.
In Yamaha Cadet, Top Kart USA's Kaden Wharff dominated the weekend, winning both Saturday's and Sunday's finals. Teammates Kyle Ford and Jack Woerl brought home consistent results all weekend long running inside the top-ten.
"We couldn't be more proud of Kaden for sweeping the Yamaha Cadet class this past weekend in the first two rounds of the USPKS series," said Matt Wharff, Kaden's dad. "The competition is always very strong, which makes the wins even sweeter. Kaden's Top Kart chassis was on point and the continued track support given by Bill and Billy McLaughlin, Blake Diester and the rest of the Top Kart team is amazing. Our Allison Racing Engine, thanks to Brandon Jenkins, was powerful and never lets us down, allowing us to compete against the best. Also our tuner, Cal Stewart, has been the best addition to our team. He brings so much knowledge and talent to the team, and Kaden is excited each weekend to spend this time with him."
"I'm very proud of all of our Top Kart customers this weekend," said Bill McLaughlin, owner of Top Kart USA. "Everyone showed great speed and performance throughout the weekend, with great results to show for it. I want to thank everyone on a Top Kart for their efforts and for their dedication to our product."
About Top Kart USA – Top Kart USA is located in Indianapolis, Indiana and is a distributor for the Top Kart product line. Housing a national level race team and competing in the World Karting Association and SuperKarts! USA programs as well as throughout the regional level in the Midwest, Top Kart USA is continuing to evolve and develop Top Kart dealerships throughout the United States. Supported by Top Kart importer Grand Products, Top Kart USA is owned and operated by McLaughlin Motorsports.