The Awning Company Super One Series Round 3: Glan y Gors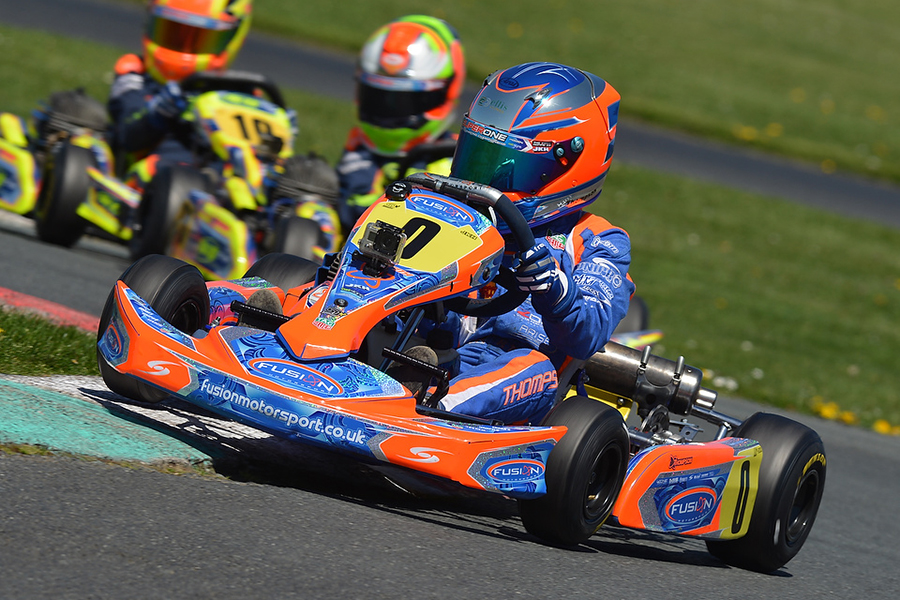 (Photo: kartpix.net)
Blistering hot weather kept yet another Super One round all dry at the undulating north Wales circuit and the first chance to see the very quick KZ1 gearbox karts competing for their own MSA British crown.
MSA British Cadet Championship (IAME)
Although Harry Thompson was quickest in the first timed qualifying session he was pushed back to fourth overall by Kai Askey, Jonny Wilkinson and Joshua Rattican in the second session.  Then Taylor Barnard won the first heat with Joseph Taylor and Bray Kenneally taking the others.  For the first final Taylor led all but the last quarter lap of the first final, tracked all the way by Harry Thompson once he had quickly taken Jonny Wilkinson.  Taylor defended strongly on the last lap but Thompson swooped round the outside to win, Wilkinson third.  Fourth on the road Joseph Rattican was excluded for a technical non-compliance, elevating Alex Simmonds and Maxwell Dodds.  Thompson traded the lead in the second final with Wilkinson, Simmonds and Taylor in a frantic opening five laps then established himself in the lead over Bray Kenneally.  Dodds had been fourth but went back to last after an incident.  Kenneally pulled of an incredible last lap pass to put his nose ahead going into the last sequence of corners but Thompson squeezed to the inside of the last corner for the win. Taylor Barnard finished in seventh with a grassy trip over the finish line, losing out to Simmonds.
Final 1 (16 laps) 1 Harry Thompson (Fusion/Synergy); 2 Joseph Taylor (Fusion/Synergy); 3 Jonny Wilkinson (KMS/ZIP); 4 Alex Simmonds (AIM/ZIP); 5 Max Dodds (Fusion/Synergy); 6 Georgi Dimitrov (Fusion/Synergy).
Final 2 (16 laps) 1 Thompson 13m 14.47s; 2 Kenneally +0.29s; 3 Taylor; 4 Dimitrov; 5 Wilkinson; 6 Simmonds.
MSA British Short Circuit Gearbox Championship (KZ1)
Local driver John Pike had the legs on everyone in the TQ session but it was Dan Kelly who took first heat honours in a close finish.  Pike redressed the balance in the Sunday heat though.  Scott Allen made a great start to take the first final lead for the win whilst polesitter John Pike took eight laps to find a way past Dan Kelly for second.  Allen was best again off the line at the start of the second final but this time Pike took only three laps to move into the lead and eke out over a second's cushion on Allen who was contending with a loose Nassau panel.  Kelly and Josh Smith traded third on the opening laps, but Kelly prevailed.
Final 1 (19 laps) 1 Scott Allen (Jade Karts/Gold/IAME); 2 John Pike (Privateer/NJR Octane/Maxter); 3 Dan Kelly (AFR/Birel ART/TM); 4 Josh Smith (Privateer/BirelART/TM); 5 Hannah Lang (MK Racing/Tonykart/Vortex).
Final 2 (19 laps) 1 Pike; 2 Allen; 3 Kelly; 4 Smith; 5 Lang.
ABkC National Championship for TKM Extreme
A massive fifty competitors contested the rejuvenated senior TKM class with Phil Smith looking unbeatable in the first TQ.  But he was pushed back to sixth by the faster second session karts of Rob Wallace, Kyle Sproat, Ryan Edwards and Gemma Golba.  Smith took two heats with Paul Monks winning the first.  Smith enjoyed a lights to flag victory in the first final, nearly three seconds to the good at the chequer whilst behind Kye Springfield, Matthew Allnutt and Rob Wallace traded second until Matt England leapfrogged into that place.  Wallace lost third with a 10s penalty for a displaced front fairing.  Smith had what looked like a another runaway victory in the second final only to be found 0.3kg underweight at the end and thus handing the win to England, second on the road throughout.  The battle behind resolved in favour of Sproat followed by Allnutt.
Final 1 (18 laps) 1 Phil Smith (Precision Racing/Tonykart); 2 Matt England (Tal-Ko/Tal-Ko); 3 Kye Springfield (Privateer/Tonykart); 4 Kyle Sproat (Litchfield Motorsport/Tonykart); 5 Matthew Allnutt (TWM/Tonykart); 6 Matthew Taylor (Flex/Tonykart).
Final 2 (18 laps) 1 England; 2 Sproat; 3 Allnutt; 4 Monks; 5 Gemma Golba (Privateer/DSG Marco); 6 Wallace.
ABkC National Championship for Junior TKM
Joe Fowler took the timed qualifying honours but Adam Sparrow and Bradley White won the heats.  Any one of half a dozen drivers could have won the first final, such was the frenetic action.  Sparrow and White shared the lead but White held it for the last two laps that mattered.  Lee Whittingham relieved Abbi Pulling of third, yet she fell to tenth owing to a displaced front fairing penalty.  She made a great recovery in the second final to take runner up behind debut winner Sparrow after White spun on the last lap trying to retrieve the lead.  He also had the ignominy of having a 10s penalty added for the front fairing displaced.  Fowler also had a brief period in the lead but had to settle for third.
Final 1 (18 laps) 1 Bradley White (Privateer/Tal-Ko); 2 Adam Sparrow (Tal-Ko/Tal-Ko); 3 Lee Whittingham (Privateer/Tonykart); 4 Ian Sisson (Privateer/Jade); 5 Joe Fowler (Jade Karts/Jade); 6 Ross Deal (SJM/Tonykart).
Final 2 (18 laps) 1 Sparrow; 2 Pulling; 3 Fowler; 4 Whittingham; 5 Sisson; 6 Kurt Roberts (Privateer/Jade).
ABkC National Championship for Honda Cadet
Despite it being first our Alex Eades was quickest in the time trials over Harry Thompson and Reggie Duhy with both Duhy and Thompson winning a heat.  Ben Kasperczak won the first heat.  Duhy led the first half of the first final until displaced by Thompson for a couple of laps then Kasperczak went to the front.  He hung on despite picking up a six kart train by 0.06s over Archie Brown, Thompson third and Duhy down to fifth.  The second final was even more hotly contested with Kasperczak, Thompson, Wesley Mason, Brown, Duhy all having a turn at the front and eventually Alex Eades taking the win.  Mason, Thompson and Duhy followed in quick succession.
Final 1 (16 laps) 1 Ben Kasperczak (BRK/BRK); 2 Archie Brown (Privateer/BRK); 3 Harry Thompson (CER/Synergy); 4 Archie Swinscoe (BRK/BRK); 5 Reggie Duhy (Privateer/Synergy); 6 Alex Eades (Global/ZIP).
Final 2 (16 laps) 1 Eades; 2 Wesley Mason (Project One/Project One); 3 Thompson; 4 Duhy; 5 Swinscoe; 6 Kasperczak.
Junior X30 International Qualifier
Gordon Mutch enjoyed a clean sweep from TQ through both heats and both finals, never seriously challenged.  Harry McQuillan was second on the road after displacing Ethan Pitt in the first final, but fell foul of the front fairing rule, that also elevated Angus Fender to third.  McQuillan made amends in the second final as he hammered his way to second, Mutch a second and a half further down the road.  Pitt and Fender were next.
Final 1 (18 laps) 1 Gordon Mutch (Clan Racing/Mad Croc); 2 Ethan Pitt (Jade Karts/Gold); 3 Angus Fender (Jade Karts/Gold); 4 Oliver Greetham (S8 Racing/Alonso); 5 Harrison Smith (Privateer/MS); 6 Alicia Goundry (Goundry Girls/Kosmic).
Final 2 (18 laps) 1 Mutch; 2 McQuillan; 3 Pitt; 4 Fender; 5 Greetham; 6 Dragan Pinsent (DKR/Tonykart).
Senior X30 International Qualifier
Brett Ward pipped Matt Davies in the timed qualifying but Davies was back on top step from there onwards.  The first final was a static affair, Davies followed by Ward, Jack Partridge and Scott Mackrell.  Sam Marsh was the big mover coming up to fifth after having some engine issues in the heats.  Ward had the jump over Davies in the second final, Davies waiting until there was four laps to go before making his winning move.  Partridge held third throughout but was excluded elevating Marsh and Charlie Turner.
Final 1 (18 laps) 1 Matt Davies (Privateer/Tonykart); 2 Brett Ward (MLC/Mach 1); 3 Jack Partridge (Melliosport/Gold); 4 Scott Mackrell (Coles/Tonykart); 5 Sam Marsh (DHR/Alonso); 6 Charlie Turner (Protrain/Tonykart).
Final 2 (18 laps) 1 Davies 12m 49.30s; 2 Ward +0.41s; 3 Marsh; 4 Turner; 5 Mackrell; 6 Josh Collings (DHR/Alonso).