Sodi in the Race for the European Title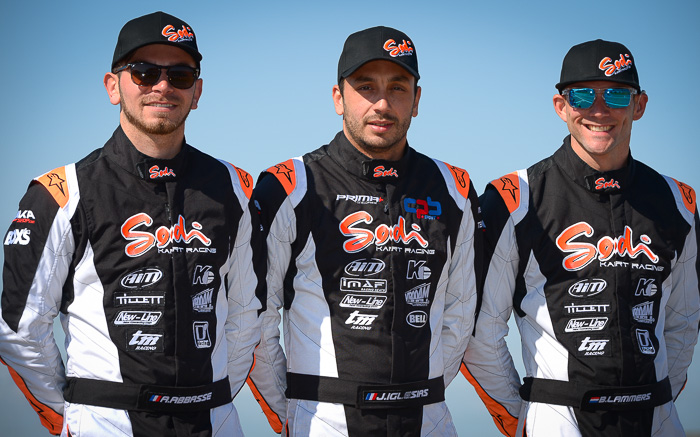 After the start of the season, the Sodi chassis continues to play a leading role in the European KZ Championship. Jérémy Iglesias was already on the podium in the first race at Essay, now he has taken 2nd place at Zuera while the drivers from the Sodi Racing Team Anthony Abbasse and Bas Lammers completed the top five of the second meeting despite a series of upsets.
Equipped with a TM Racing engine – the Italian partner who is fully participating in this great challenge alongside Sodi – the 2016 Sodi Sigma KZ chassis are formidable weapons in the current premier class of karting.
Working in full cooperation with the Sodi Racing Team, Team CPB Sport repeated leading results with its top driver Jeremy Iglesias in the first two rounds of the 2016 CIK-FIA European Championship. At Essay, for first European race of the season, the changing weather and the rapid degradation of the tyres on a very abrasive surface made it a particularly tough competition. Iglesias still managed to constantly stay in the top five before finishing on the third step of the podium, a regular at the front which gave him 2nd in the provisional standings.
The second event has just taken place in Spain, at Zuera, on a very fast, but also technical track which strains the equipment. Lammers posted the 3rd fastest time in Qualifying, then obtained a 2nd place and a victory in the heats. Iglesias was consistently in 4th place with very fast laps, while Abbasse lost time during a clash on the first lap. Starting on the front row of the Prefinal, Lammers was a victim shortly after the start of the over-enthusiasm of a young rival who was not even competing in the KZ championship. The Dutch driver limited the consequences and set off doubly motivated and posted the fastest race lap on the way. Iglesias had meanwhile given Sodi a 2nd place.
During the 18 laps of the Final, Iglesias was on a par with his main opponents and ended the meeting with a new podium, this time on the second step, ahead of Ardigo, the current leader of the Championship. Meanwhile, Abbasse came back to 4th position and Lammers overtook repeatedly to gain 11 places to finish 5th overall.
The beginning of the European Championship once again confirms the performance of the Sodi chassis and the great form of their drivers. Iglesias is still in 2nd place in the provisional standings, only two points away from 1st, before the awaited conclusion at Genk, Belgium in late July, when and Sodi and CPB Sport will have a good card to play in winning the title. But before then, Abbasse will have the opportunity to defend his 2nd position in the WSK Super Master Series at the Italian circuit of Adria.