Nicholas d'Orlando Joins J3 Competition for Remainder of 2016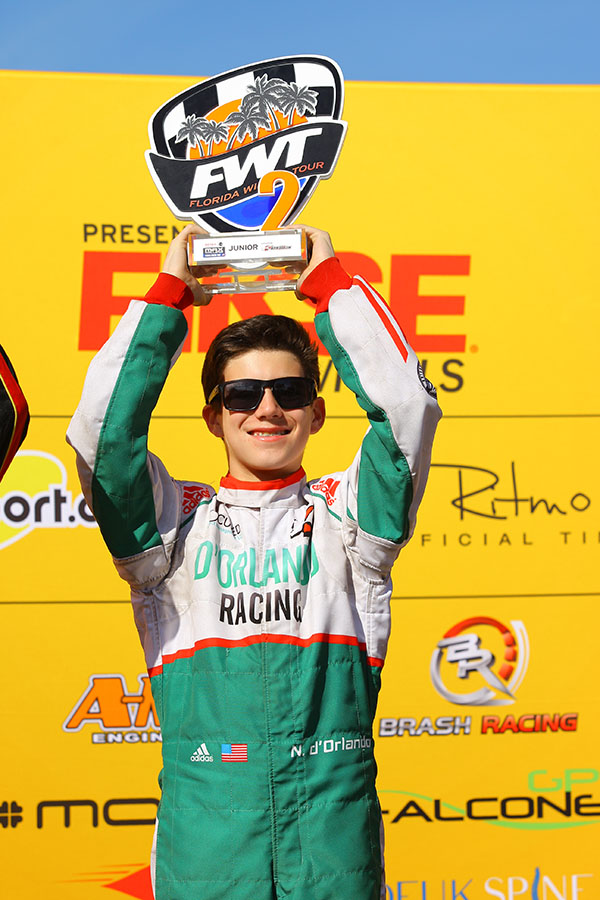 Building upon a year of change, d'Orlando Racing and driver Nicholas d'Orlando, is once again upsetting the "apple kart" by ending their three and a half year run with KoeneUSA and signing with J3 Competition to contest the remainder of the 2016 season.  After a successful start to his rookie season in the Junior ranks, including pole awards and a Florida Winter Tour podium result, Nicholas will be replacing the familiarity of the TonyKart product with the excitement of jumping into the ultra competitive COMPKART tuned by the Factory J3 Team.
J3 Competition management and team is no stranger to the d'Orlandos as they were members of the successful program in 2012 on the OTK Kosmic chassis.  The leadership of Jim & John Giacomelli and Justin Stefani has a highly successful resume since their inception in 2005 and now more recently in 2015, they launched their own COMPKART brand and can be found at the front of grids across the United States in all levels of competition.
For owners Michael and Sherri d'Orlando the decision to make the change was not taken lightly.
"This was certainly not an easy decision." explains Sherri d'Orlando.   "We had many sleepless nights going over our options and felt we had to look at what was best for us and to continue with Nicholas' development.  We have followed J3's program throughout the years and we know that they have the program, knowledge and commitment to continue to develop Nicholas' driver skills, based from the foundation that has been built over the past four years (and prior).  We look forward to the continuation and restart of a great working relationship."
Nicholas will join J3 Competition in May and will be competing this season in various series such as USPKS, GearUp F1 & WKA events, in addition to the International & National level series and events including Rotax Max Challenge, SKUSA Pro-Tour and the Rotax US Open.
With the team and chassis change, and with older brother Michael making the move across the pond for the next step in his development, the landscape of Nicholas's karting is undergoing a complete evolution. Adding to the change, Nicholas, for the first time in five years, will be moving out from under the wing of tuner, Adam Johnson and establishing a new working relationship with J3 personnel.
"It is very tough to be leaving KoeneUSA but I am looking forward to joining back with Justin, Jim and John," says Nicholas d'Orlando.  "They have a great program with winning results over the past years.  I am proud to be joining their team in the Junior categories and helping develop the new COMPKART brand."
Nicholas continued… "I'd like to thank my friend (and tuner) Adam Johnson for all his help and commitment over the past four & a half years.  We did some great things together and look forward to taking that success and lessons to the next level.  Thanks, Buddy."
About J3 Competition:
J3 Competition Inc. through its COMPKART ™ brand will provide a full line of high-quality chassis and products designed and engineered for the Karting industry. J3 Competition is among the most successful Karting brands and companies internationally. J3 Competition will aim to deliver the COMPKART ™ chassis line to the North American market as well as customers globally in 2015 and beyond with unprecedented performance and service. Visit www.J3Competition.com, along with all its social media outlets, to stay up to date on the latest releases and happenings regarding the COMPKART brand.
For more information on Nicholas d'Orlando, please visit www.dorlandoracing.com. Be sure to follow Nicholas on Facebook (Nicholas d'Orlando Racing), Twitter (@dorlandoracing) and Instagram (@dorlandoracing) to stay up to date on news, information, photos and results.